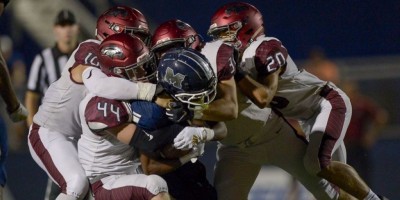 Daniel Varnado/Special AJC
Top-ranked Marietta scored a thrilling 21-17 win over Pennsylvania powerhouse St. Joseph's Prep on Friday to improve to 2-0. The rest of the Class AAAAAAA poll also retained their spots from last week.
In Class AAAAAA, Northside-Warner Robins fell to No. 6 following its loss to Class AAA No. 1 Cedar Grove. Bainbridge keeps its top spot in Class AAAAA after it beat Cairo 14-10 on the road last week. The Bearcats host North Miami Beach, Fla. on Friday. Buford is No. 2 again this week in a poll that did not change.
Blessed Trinity defeated Class AAAAAAA South Forsyth 34-31 and jumped Cartersville for No. 1 and Troup took over No. 3 after Cairo's loss to Class AAAAA No. 1 Bainbridge. In Class AAA, Peach County the No. 1 ranking from Cedar Grove, now No. 2, after the Trojans defeated Class AAAAAA No. 2 Northside-Warner Robins 21-13. Two teams, No. 4 Lovett and No. 5 Pace, suffered large losses – Lovett lost to Marist and Pace lost to ELCA, both 49-0 – which sent the programs tumbling. Lovett fell to No. 9, Pace fell out of the top 10. Hart County enters the poll at No. 8 and Appling County at No. 10.
Rockmart leads Class AA ahead of Dublin again this week. Hapeville Charter is No. 3 and Washington County moved up from No. 6 to No. 5 following Fitzgerald's fall from No. 5 to unranked after losing to Irwin County 35-8.
The ELCA Chargers asserted dominance in its 49-0 blanking of Pace Academy on Friday which avenged Pace's streak-snapping victory last year. Athens Academy is No. 2 again this week with Darlington, Prince Avenue Christian and Aquinas rounding out the top 5.
Class AAAAAAA
1. Marietta
2. Colquitt County
3. Parkview
4. Archer
5. McEachern
6. Grayson
7. North Gwinnett
8. Lowndes
9. Hillgrove
10. Milton
Class AAAAAA
1. Lee County
2. Dacula
3. Valdosta
4. Coffee
5. Harrison
6. Northside-Warner Robins
7. Creekview
8. Stephenson
9. Lanier
10. Allatoona
Class AAAAA
1. Bainbridge
2. Buford
3. Warner Robins
4. Carrollton
5. Dutchtown
6. Jones County
7. Rome
8. Stockbridge
9. Wayne County
10. Clarke Central
Class AAAA
1. Blessed Trinity
2. Cartersville
3. Troup
4. Marist
5. Cairo
6. Sandy Creek
7. Woodward Academy
8. Denmark
9. Mary Persons
10. Thomson
Class AAA
1. Peach County
2. Cedar Grove
3. Calhoun
4. Pierce County
5. Greater Atlanta Christian
6. Crisp County
7. Benedictine
8. Hart County
9. Lovett
10. Appling County
Class AA
1. Rockmart
2. Dublin
3. Hapeville Charter
4. Callaway
5. Washington County
6. Rabun County
7. Swainsboro
8. Brooks County
9. Heard County
10. Dodge County
Class A-Private
1. Eagle's Landing Christian
2. Athens Academy
3. Darlington
4. Prince Avenue Christian
5. Aquinas
6. Fellowship Christian
7. Wesleyan
8. North Cobb Christian
9. George Walton Academy
10. Calvary Day
Class A-Public
1. Clinch County
2. Irwin County
3. Pelham
4. Marion County
5. Commerce
6. Turner County
7. Mitchell County
8. Schley County
9. Manchester
10. Trion