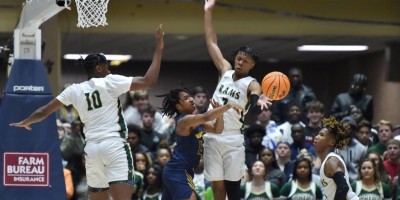 The GHSA basketball state playoffs are right around the corner and top teams are battling for playoff seeding in the ongoing region tournaments. The region tournaments not only set the seeds, but they also serve as the last shot for many teams to spark a run and earn a spot in the playoffs. Many regions have clear tournament favorites and battle-tested powerhouses that have already had tremendous success against their region counterparts during the regular season, but there are also regions that boast significant depth and have multiple teams capable of taking the top seed. Here's a look at some of the state's most impressive regions this season.
BOYS TOP 3 REGIONS
3. Region 2-AAAAAAA
This region is stacked with multiple programs that have found themselves at the top of the national polls over the last several seasons and that level of experience and success continues to culminate this year. Teams like Newnan, McEachern and Pebbebrook are familiar competing against the state's top brass and have been factories for producing nationally ranked players and top college prospects as well.
Pebblebrook has been the top team this year and is currently the No. 13 ranked team in the nation with a 23-2 overall record. The Falcons have not having lost a single game in the region or the state of Georgia this season and are currently riding a 16-game winning streak. They're followed by McEachern—whose current record is 14-8. The Indians, opened the year 1-4 against a gauntlet of ranked opponents and recently fell short 76-75 to Pebblebrook—in a game that came down to the last second. McEachern has proven to have the ability to compete with the best teams in the state and has tremendous potential. East Coweta is 3rd in the Region 2 standings at a 16-9 record and 4-4 in the region. All five Region 2 teams have at least 11 wins on the season—including Newnan (17-9) and Campbell (12-14).
2. Region 3-AAA
Region 3-AAA houses seven teams that have all found the win-column within region play. The top four teams (Windsor Forest, Groves, Beach, Johnson) winning records in the region, Liberty County and Southeast Bulloch are both 3-9 and Savannah is 1-11. Liberty County recently fell 65-63 to Beach on Feb. 4 and 46-42 this past Saturday—showcasing the competiveness between this Savannah-based power region.
Windsor Forest sits at the top of the region standings with a record of 11-1 and are No. 2 ranked Class 3A team with an 18-4 overall record, a perfect 7-0 home record and just one loss within Class 3A (Liberty County 52-48 on Jan. 28). Groves is 9-3 in the region, followed by Beach and Johnson with 7-4 and 7-5 region records respectively. Although last place team Savannah High is 1-11 in the region, they are 7-3 when playing outside of the region. This region tournament has no clear winner heading into the tournament, so this'll be a show.
1.Region 4-AAAAA
There are eight teams in Region 4-AAAAA and each one has posted at least 10 wins on the season. This region is home to the No. 1 ranked program in Class 5A (Eagle's Landing). The Eagles are 23-3 record overall and a 15-0 record in the region. All three losses were decided by three points (Grayson, Pace Academy, North Gwinnett) and the team is riding a 10-game win-streak and is yet to lose within Class 5A. Woodland-Stockbridge is currently second-place in the region standings with an impressive 22-5 overall record and an 11-3 region mark.
It will be a battle for the four playoff berths out of this region and Jones County, Stockbridge and Dutchtown will all be vying for postseason slots with Eagle's Landing and Woodland. Even the bottom-three teams have outstanding records outside of their region at 8-4 for Union Grove, 9-3 for Ola and the worst team in the region Locust Grove with the best out of region record at 9-2.
GIRLS TOP 3 REGIONS
3. 2-AAAAAA
Region 2 has three programs with 20-plus wins, five of seven teams with a record above .500 and one team that is just one game under .500. The top four teams have at least eight wins in the region. Six of the seven teams have a positive scoring differential in this region so they all have a sense of winning and can get it done when the opportunity presents itself.
Brunswick leads the way in the standings at 23-1 with their only loss coming 59-54 to Bradwell Institute in region play last month. Statesboro and Bradwell Institute are both 9-3 in the region and have each won 20 games this season. Additionally, Bradwell Institute is currently riding a nine-game winning streak—the longest ongoing streak in the region.
2. 1-AAAAAA
Class 6A has another power region with Region 1 and this group may end up making even more noise as the playoffs approach. There are only four teams in this region, but every team has a record above .500. Every team has at least one win in the region and all boasts a scoring differential of at least plus-90.
Every team has single digit losses in this region, with three of the four teams having over 16 wins. Houston County leads the region with a 5-1 record and an overall of 18-4. Valdosta is second at 16-8 and 4-2 in the region while in third Lee County lies with a 2-4 region record and 17-5 overall.
Every team has the capability of beating another, this region tournament will have fans on the edges of their seats come playoff time.
1. 1-AAAA
The closest top to bottom standings of all regions this year is Region 1-AAAA. Six teams are in this region and the top five are two games apart from each other. The top five teams have at least two more wins than they have losses and a point differential of over 100 points. These same five teams all have a plus-point differential in their region.
Clearly the most competitive region in the state, as just about every team out of the previously mentioned five have beaten each other throughout the season at some point. Three of the teams have single digit losses but the second ranked team in the standings has a record of 14-12 overall as Monroe settled at that spot with a 6-4 region record. Their 6-4 record is tied with Bainbridge and Westover in the region.
Thomas County Central is 5-5 in the region with an overall record of 17-8, they're fifth. Even at fifth, they've shown they have the talent to make a deep run in the regional playoffs as they beat the number one team in the region Doughtery. Doughtery is 7-3 in the region and 16-7 overall, while they haven't necessarily dominated their region they etched out the number one ranking in a region that is anybody's for the taking come time for the 1-AAAA tournament.