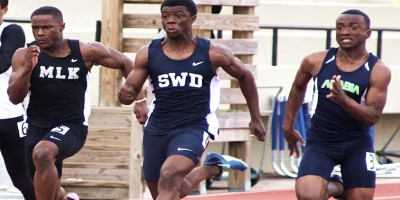 The 2018-19 GHSA Track and Field State Championship will begin on Thursday at three locations across the state – Hugh Mills Stadium in Albany, Valhalla Stadium at Berry College and Grisham Stadium at Carrollton High School.  Three classifications will compete at each location including the Wheelchair Adapted competitors before the state champions are crowned on Saturday.
Running events will include the 4×100 meter relay, the 400 meter dash, 100 meter dash, 110 meter hurdles, 800 meter run, 200 meter dash, 300 meter hurdles, 1600 meter run, 4×400 meter relay and the 3200 meter run. Field events will include the high jump, pole vault, shot put, triple jump, long jump and discus.
At Berry College, three classifications will compete – AAAAAAA, AA and A-Private. In the state's highest classification, Parkview's boys and Marietta's girls are the defending state champions. In Class AA, Elbert County's boys and Vidalia's girls will be looking to defend their 2018 titles. For Class A-Private, Riverside Military's boys and Wesleyan's girls enter as the defending state champions.
In Carrollton, Classes AAAAAA, AAAAA and Wheelchair-Adapted will compete. In Class AAAAAA, Allatoona's boys will be looking for their third-straight track and field championship while the Alexander girls look to defend their 2018 crown. In Class AAAAA, Dutchtown's boys and Buford's girls return to defend their titles from last year. Buford's girls will be in the hunt for a three-peat.
At Hugh Mills Stadium in Albany, Classes AAAA, AAA and A-Public will compete. St. Pius X's boys are looking to defend while the Chapel Hill girls have a shot at a third-straight title. Cedar Grove's boys have won four-straight AAA titles and return for a chance at a fifth-consecutive crown. The Monroe girls return to defend their AAA title from last year. In Class A-Public, the Montgomery County boys will try to defend their title. On the girls side of A-Public, Telfair County is in the hunt for its third-straight title.
Events will begin at 9:30 a.m. on Thursday and Friday with the last events of the day scheduled for an 8:15 p.m. start time. On Saturday, the opening ceremonies are slated for 11:15 a.m. with the trophy presentations scheduled for 4:30 p.m.