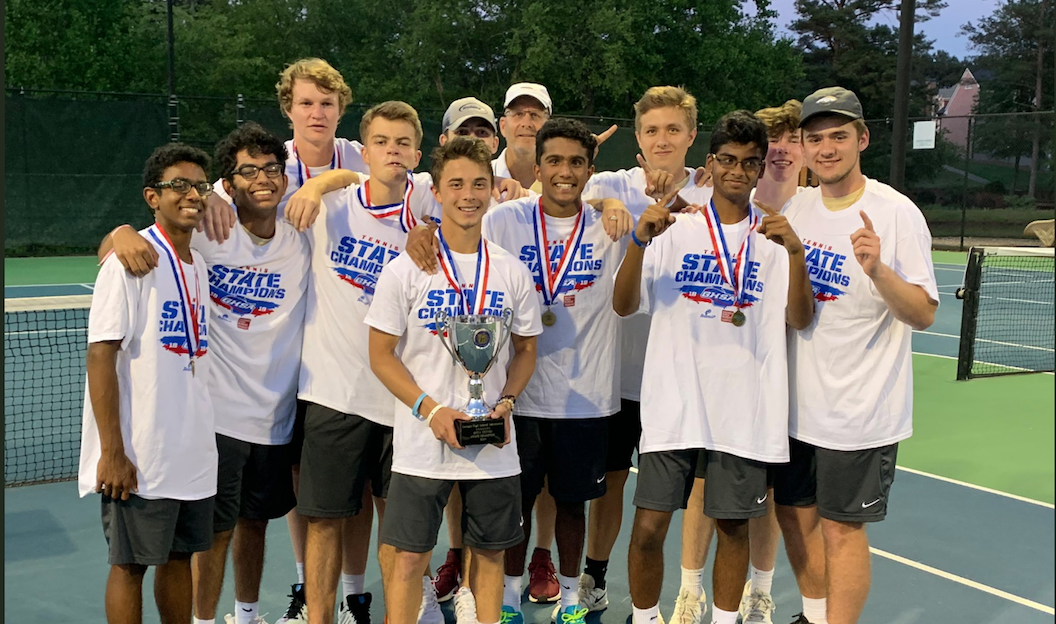 It was an emotional night for the Brookwood boys tennis team as Thomas Montroy took the court against North Cobb in the Class AAAAAAA state championships. They were originally set to be played this Saturday, but the weather interrupted and the higher seeds of the uncompleted dozen matches that either started for the girls or didn't get started for the boys on Saturday were dispersed to this Monday or Tuesday and booked for the higher seed's location.
Montroy, Brookwood's nationally-ranked senior and No. 1 singles player took his two sets 6-0, 6-2 and helped move the boys to a 3-0 sweep for the program's first state title since 2014 the night after his mother had passed. Andrew Pietkiewicz (6-2, 6-1), Hap Howell (6-2, 6-3) and the duo of Carter DiFonzo and Bruce Starks (6-2, 6-1) swept past Grady for the program's first state title since 1998.
Johns Creek scored a 3-0 win over Northview in the boys Class AAAAAA finals. Stratford Academy defeated Paideia 3-0 for the Class A-Private boys state championship and Telfair County closed out a 3-2 battle with Seminole County. For the two girls matches, Marist and North Oconee were tied 1-1 in Rome for the Class AAAA finals this Saturday, but Marist would go on to take it 3-2 in front of the home crowd. Pace Academy left Rome trailing 1-0, but celebrated a 3-2 win at home in the Class AAA championship.
Four girls state champions were crowned Saturday at the Rome Tennis Center before rain postponed the remaining in-progress girls matches and cancelled all the boys matches. Cambridge (Class AAAAAA), Chamblee (Class AAAAA), Bleckley County (Class AA) and Telfair County (Class A-Public) were the four champions. In Class AAAAAAA, Lambert led the Milton girls 2-1 before the matches were called and finished off the Eagles 3-2 on Monday to clinch the program's first-ever crown.
Also on Monday, the North Oconee boys swept Woodward Academy 3-0 to take the Class AAAA boys state title. In Class AAA, Pace Academy claimed a 3-2 win over Lovett in the boys state finals, Rockmart swept the boy in Class AA and the Brookstone girls avenged last year's loss to Walker by taking the Class A-Private state title 3-2.