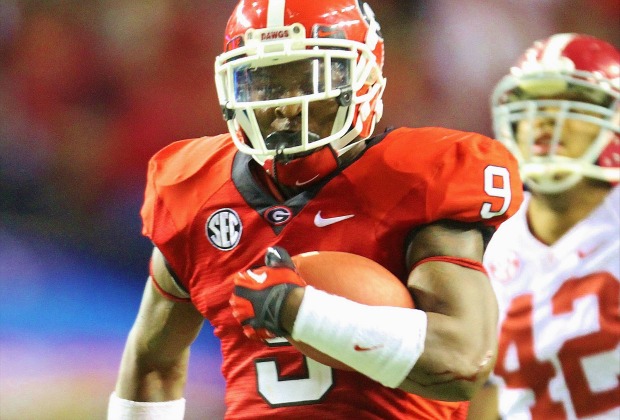 Rob Saye
What has long been considered a formality has now been confirmed.
Georgia's junior linebacker Alec Ogletree will forgo his senior season to enter the 2013 NFL Draft. Ogletree played in 10 games for the Bulldogs racking up 111 tackles, 11.5 tackles for a loss, three sacks, and one interception.
Originally recruited as a safety, Ogletree is expected to be a first-round draft choice in this year's draft. He is rated by ESPN's Mel Kiper Jr. as the ninth-best prospect and the second-best inside linebacker available in the draft.
Ogletree's decision to go pro brings the number of inside linebackers leaving Georgia to three as the team will lose seniors Christian Robinson and Mike Gilliard to graduation. That leaves Georgia with Amarlo Herrera, Brandon Burrows, and Ramik Wilson as players that are currently on scholarship at that position.
Herrera has started numerous games in his two years at Georgia and will be looked at as a veteran leader at inside linebacker next season. He should be a lock for one of the two starting spots. Burrows has seen sparse playing time in his time with the Bulldogs due to injuries but will have the opportunity to compete for playing time in the spring. Ramik Wilson saw time at outside linebacker this season but was originally recruited to play the inside, so the switch should not be difficult.
Georgia was not able to reel in any inside linebacker recruits a year ago and that is a reason why there is little depth at the position. However, defensive coordinator Todd Grantham has made a point to make inside linebacker a priority in this year's recruiting class. The Bulldogs currently have four commitments at the position and each player will have the opportunity to compete for playing time come fall camp. Two of the four, Ryne Rankin and Reggie Carter, will both enroll at UGA in January to get an early lead on their fellow recruits on earning playing time. Rankin actually practiced with the team before they left for their bowl game.
Jones gets sack record
Although he missed two games this season, All-American linebacker Jarvis Jones broke two school records this season belonging to former star defensive end David Pollack. Jones notched 14.5 sacks and 24.5 tackles for a loss this season to break Pollack's records of 14 sacks and 23.5 tackles for a loss. Jones came dangerously close to breaking Pollack's sack record last season, but fell short with 13.5 sacks.
If Jones decides to forgo his senior season, he will likely be a high pick in this year's draft. However, Jones said in an interview days before the bowl game that graduating with his degree is important to him and that there are still records for him to break. He also cited winning a national championship as something he had not yet done in the college ranks.
"I mean it is a tough decision," said Jones on deciding on staying or leaving. "I've got a bunch of teammates that look up to me and that I lead here every day. I've got a family that I want to support and a mother that I want to give the world to. My sister, my nieces, my nephew and the people back in Columbus that support me the most and the Bulldog Nation as well. I know they do not want to see me go. I wish that this could be my NFL career. Just play how long I want in college and be here every day. That'll be fun and just be around all these guys all the time. I know they wish they didn't have to leave and go to the NFL. It's all about experiencing new things and growing in life. That's how you have to look at it."