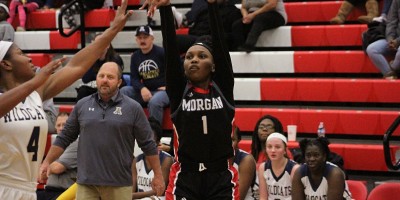 Photo by: Hannah Knight
Let's take a look at the basketball action from across the state tonight: On the girls side, Mill Creek's Madison Riley led all scorers with 22 points and six assists as the Hawks defeated Peachtree Ridge 61-35 in a Class AAAAAAA Region 6 game. Sydnie Smith added 16 points with 12 points coming from beyond the arc. In a Class AAAAAA Region 7 game, Johns Creek defeated Chattahoochee 58-29 behind an 11-point effort from Wilnie Joseph. Ahmia Childs scored nine points. Jillian Davis netted eight points and Kate Powers scored seven points. Eagle's Landing moved to 13-4 on the year with an easy win of Union Grove at home 57-11 in a Class AAAAA Region 4 game. The Eagles enjoyed a 35-5 lead at the half before expanding the lead to 47-9 in the third quarter. In a Class AAAA Region 1 game, Anson Hundley's Carver-Columbus girls remained perfect on the year (19-0, 10-0) following its 88-30 victory over Dougherty. Carver's 31-11 lead after the first quarter was as close as the game would get. The Tigers pushed the lead with a 28-3 run before the half and a 14-6 run after the break to maintain control of the game. In another Class AAAA game, this time in Region 8, Madison County defeated St. Pius X 86-53 behind Kayla McPherson's 41 points. Jordan Bailey added 16 points with 10 rebounds. Westside-Augusta outlasted Hephzibah 64-37 in a Class AA Region 4 game after taking a 27-10 lead in the first quarter. Westside pushed the lead to 41-18 at the break and, following a 17-10 run in the third quarter, the game was out of reach. In another Class AA game, Bremen held off Heard County 53-36 in a Region 5 matchup. Bremen led 20-14 after the first quartet and 34-26 at the break. The teams slowed in the third quarter with Bremen besting Heard 8-7 in the frame. Heard outscored Bremen 13-11 in the fourth quarter but time ran out, thwarting the comeback. In Class A, Clinch County jumped to a 20-5 lead after the first quarter on the way to a 56-34 victory in a Region 2 contest against Charlton County. Clinch enjoyed a 30-18 lead at the break and in the third quarter it expanded the lead with an 18-9 run to put the game away.
For the boys in a Class AAAAAAA Region 2 matchup, No. 8 East Coweta outlasted and upset No. 5 Pebblebrook in overtime 64-62. In a Class AAAAAA Region 6 game, Sprayberry defeated River Ridge 72-54. Darren Patrick led with 18 points, five rebounds and three steals and assists. Jaylin Galloway added 17 points, nine rebounds, three steals and one block. Justin Day scored 15 points with five rebounds and four steals. Xavier O'Donoghue added nine points with eight rebounds and four blocks. Matt Jenkins finished with eight points and seven rebounds. Chattahoochee moved to 17-3 and 9-2 after beating Johns Creek in a Class AAAAAA Region 7 game. The game was tied at 12 following the first quarter and Johns Creek had control (32-27) at the break before Chattahoochee responded. The Cougars took control of the game on a 21-4 run in the third quarter to lead 48-36 entering the fourth quarter. North Atlanta won its Region 7 contest with Dunwoody 66-58 after trailing 18-14 entering the second quarter. Dunwoody owned the halftime lead (38-27) before North Atlanta took control on an 18-4 run in the third quarter and a 21-16 effort in the final frame. Dalton beat Osborne 66-50 in a Class AAAAAA Region 6 game after taking a 26-13 lead in the first quarter. It used stifling defense to hold Osborne to four points in the second quarter on the way to a 37-17 lead at the break. In Class AAAAA, Woodland-Stockbridge pulled away from Dutchtown after being ahead by just two following the first quarter (12-10) as it rolled to a 70-48 victory in a Region 4 game. Woodland pushed the lead with a 19-10 run in the second frame to lead 31-20 at the break. After the break, Woodland mounted a 19-11 run to take a 50-31 lead entering the fourth quarter. In another AAAAA game, this time in Region 8, Buford defeated Clarke Central 67-43 after leading 35-23 at the break. In a Class A Region 8 game, Tallulah Falls defeated Commerce 83-74. Commerce was paced by Jalen Dorsey (25 points) and Creed Dunbar (24 points).