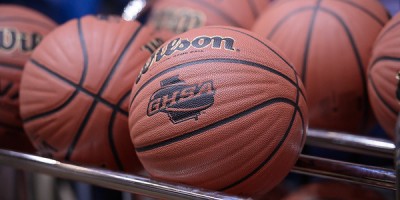 Class AAAAAA
No. 1 Westlake 76, No. 7 Pebblebrook 70: Westlake continued to prove why they are No. 1 in 6A with a road win over Pebblebrook in Region 3 action. Chuma Okeke and Ronald Bell both had monster games inside. Okeke scored 19 points and grabbed 15 rebounds while Bell added 18 points and 16 boards to pace the Lions. Danny Lewis added 12. Pebblebrook received 23 points from Auburn signee Jared Harper in the loss.
No. 3 Norcross 70, Mountain View 57: Rayshaun Hammonds scored a game-high 22 points and pulled down 12 rebounds to help the Blue Devils to another win. Freshman Kyle Sturdivant added 14 points. Mountain View used the three ball to hang around. Spencer Rogers drilled five long balls and finished with 19 points while Dowell Nixon sank four and netted 14 points.
No. 8 Newton 68, Lakeside-DeKalb 43: JD Notae scored 17 points and Jaquan Simms scored all 16 of his points in the first half. Freshman Ashton Hagans pitched in 12 points before the bench played the entire fourth quarter. On Friday Coach Rick Rasmussen will coach his 300th career game and will be in search of win No. 221.
No. 9 Grayson 58, South Gwinnett 56: The Rams survived at home against the Comets. Alphonso Willis totaled 20 points and seven rebounds. Freshman Kenyon Jackson tallied 10 points, 15 rebounds and five blocks inside.
Class AAAAA
No. 1 Miller Grove 101, Clarkston 42: Miller Grove overwhelmed Clarkston with seven players scoring in double figures. Aidan Saunders led the way with 18 points followed by freshman Maurice Harvey and Raylon Richardson's 11 points apiece. Aaron Augustin, Alterique Gilbert, Joshua Jackmon and Tae Hardy all netted 10 points.
No. 2 Allatoona 74, East Paulding 40:  Four players scored in double figures for the Bucs. Trey Doomes had 14 points and six rebounds. Ephraim Tshimanga added 11 points, three rebounds and three steals. Mike Johnson contributed 13 points and Randy Legros grabbed 11 rebounds and swatted four shots to go with his four points.
No. 3 McIntosh 65, Luella 35: Jordan Lyons added on to his new all-time scoring record with 17 points. Will Washington had nine assists and Dishon Lowery grabbed nine rebounds. Javaun Anderson led the Lions with 15 points.
Class AAAA
No. 2 Grady 76, Arabia Mountain 48: DJ Brittian led all scorers with 17 points and tacked on three assists and three steals. Future Bucknell Bison Avi Toomer finished with 16 points, 10 rebounds and four steals. Kemari Averett had 10 points, six rebounds, three steals and a block. Javier Russell added 13 points, five assists and three steals of his own.
No. 3 Lithonia 58, Columbia 42: Lithonia pounded away at Columbia for a 16-point victory. Tyheem Freeman had 17 points and five rebounds. Tylon Patterson added 12 points and eight boards.
No. 4 Liberty County 45, Richmond Hill 41: The Panthers survived an upset-minded Richmond Hill team thanks to Richard LeCounte's game-high 18 points.
Class AAA
No. 4 Calhoun 72, Murray County 24: The Yellow Jackets remained the only undefeated team in AAA with a blowout of the Indians. Kaelan Riley had 19 points and nine rebounds. Chapin Rierson pitched in 11 points and five rebounds.                                                  
Blessed Trinity 47, Cedar Grove 45: For the second Tuesday in a row, the Titans used a last second three to snatch a victory. This time it was birthday boy Jackson Svete hitting a dagger to seal the Saints' fate.  CJ Abrams was the lone Titan to score double figures with 12. Jelani Woods scored 16 points to lead Cedar Grove. Makale Carter added 14 in the last-second loss.
North Clayton 82, Decatur 72: Jamarcus Sanders poured in 28 points and Ahsan Asadullah added 27 in the Eagles win.
Class AA
No. 5 Holy Innocents' 81, KIPP Atlanta 55: Cole Smith finished with a team-high 18 points and was closely followed by Jules Erving and his 17. Harrison Cobb and Richard Surdykowski continued their strong play of late with 12 and 11 points respectively.
No. 6 Lovett 62, Hapeville Charter 45: Lovett led 30-16 at the end of the first half and pushed the lead to 25 before winning 62-45. Henry Richardson hit four of his five 3′s in the fourth quarter on his way to 17 points and 6 rebounds James Smith added 14 points and 8 rebounds and Ryan Greer had 10 points, 6 rebounds and 7 assists.
Class A
No. 1 Greenforest 86, W.D. Mohammed 42: Abayomi Iyiola posted a double-double with 18 points and 11 rebounds to keep the Eagles undefeated in the state of Georgia. Jandan Duggan scored 13 points and handed out four assists. Victor Enoh had 12 points and eight rebounds. Mohammed Abdulsalem finished with 12 points and seven rebounds while Michael Evans added nine points.
No. 2 St. Francis 90, Mt. Pisgah 54: Kobi Simmons, who just narrowed his college shortlist to three teams (Kentucky, Ohio State, Arizona), finished with 32 points, five rebounds and five assists. Chance Anderson added 15 points and Anthony Showell chipped in 11. Mt. Pisgah was led by Brandon Younger's 20 and Quinn Richey's 11 points.
No. 3 North Cobb Christian 83, Mt. Paran 45: Coach Greg Matta captured his 200th victory with a dominant performance against Mt. Paran. The Eagles were paced by Demiere Brown's 28 points and 12 rebounds.
GIRLS
Class AAAAAA
No. 5 Tucker 63, Alcovy 40: Sierra Wright had 15 points while Kierra Johnson-Graham posted 13 points and six rebounds.
Northview 51, Johns Creek 34: Freshman Maya Richards poured in 20 points to lead the Lady Titans. Ashlee Austin chipped in 16 points.
Lovejoy 61, Rockdale County 42: Amber Thornton finished with 17 points and three steals in the win.
Class AAAAA
No. 5 Flowery Branch 51, Winder-Barrow 47: Heather Moore scored 12 points and Taniyah Worth posted 18 points and nine rebounds to lift the Lady Falcons over a talented Lady Bulldogg team that drops to 13-2.
Class AAAA
No. 2 Marist 60, Cross Keys 13: Both Dominique Oden and Annabella Farabaugh outscored the entire Cross Keys team. Oden flirted with a quadruple-double and finished with 23 points, seven assists, 10 rebounds and 10 steals. Farabaugh added 14 points in the rout.
St. Pius X 67, Chamblee 48: Macey Carson scored 22 points to lead three Golden Lions in double figures in the win. Kathryn McKenzie added 18, while Hannah Jones chipped in 12.  St. Pius X (10-6, 8-3 Region 6-AAAA) never trailed, racing to a 36-22 halftime lead. Ariana Henderson led Chamblee (5-8, 4-7) with 15 points.
Mt. Zion 55, No. 6 Griffin 52: The Lady Bulldogs advanced to 15-3 overall after handing the tumbling Griffin Lady Bears another loss. Tyeisha Juhan poured in 35 points to lead the way.
Pickens 57, LaFayette 37: Autumn Young scored a team-high 16 to lead the Dragonettes. Mackenzie Hampton and Torie Williams added 14 apiece in the win.
Class AAA
No. 8 Ringgold 42, Sonoraville 31: Sydney Shutters led the Lady Tigers with 12 points. Taryn Hickey posted a game-high 13 points for Sonoraville.
No. 10 East Hall 63, Franklin County 45: Carly Winters sank seven three-pointers and scored 24 points to power the Lady Vikings. Ashlyn Ellison and Jenny Edwards both scored 11 points.
Calhoun 61, Murray County 32: Jana Johns posted 18 points, eight rebounds and five steals. Ashlyn Barnes recorded 14 points, nine rebounds, four assists and five steals while Sydnie Parker swatted away six shots.
Central-Macon 59, Westside-Macon 45: Kamry Hassan scored 19 points. Tyleia Williams added 11 in the win.
Class A
No. 5 Tattnall Square Academy 31, First Presbyterian 29: Tattnall Square survived the Lady Vikings led by Kate Patterson's 16 points. Emma Lako added seven in the loss.