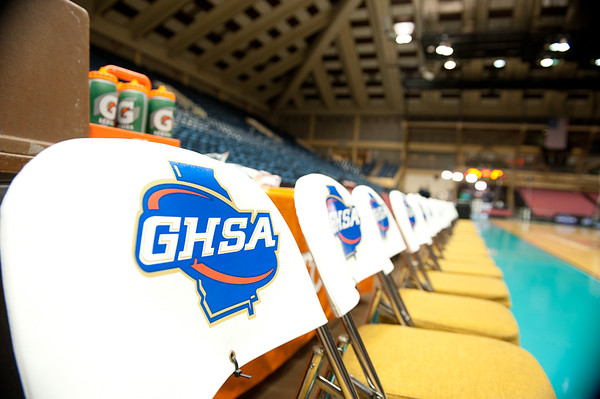 Photo by Ty Freeman
After nearly a month long layoff, Class AAAAAA's No. 1 Westlake returned to the hardwood and picked up two Region 3 wins. The Lions held off UNC signee Brandon Robinson and Douglas County 65-59 before edging Langston Hughes 76-61. Chuma Okeke came up big for Westlake, finishing with 20 points, 12 rebounds and three assists vs. Douglas County while Robinson poured in 21. Danny Lewis added 22 points and Jamie Lewis 14 points and nine assists for the Lions. In Friday's win over Langston Hughes, it marked the first time this year Okeke played against his former school. No. 4 Wheeler dropped Milton 71-60 behind a balanced attack. Georgia Tech signee Romello White posted 22 points and eight rebounds. Cam Jordan and Darius Perry scored 19 and 18 points respectively. No. 7 Pebblebrook is red-hot and jumps up three spots. The Falcons rallied from down 87-74 with 4:43 left against Douglas County to force overtime and eventually win in two extra periods, 111-107 in a game of the year nominee. Collin Sexton dropped 44 points. Pebblebrook hosts No. 1 Westlake this Tuesday. No.  9 Grayson makes its first appearance in the top ten this season after defeating Dacula 73-69, in turn taking their place in the poll. Austin Dukes scored 27 points to lead the Rams and Tre Sconiers recorded 14 points, 15 rebounds, two steals and four blocks. On Friday, Grayson had an opportunity to improve its resume even more with a crack at No. 2 Shiloh, but the upset-minded Rams fell short 80-73.
No. 2 Allatoona is now the lone undefeated team in Class AAAAA after Camden County lost to Effingham County 77-63 and slipped out of the top ten. Replacing the Wildcats is a familiar face, No. 10 Southwest DeKalb. The Panthers have won six straight and are quickly closing in on a rematch with No. 1 Miller Grove. No. 7 Heritage-Conyers falls a spot following a 73-66 overtime loss to Rockdale County. No. 9 Warner Robins stopped rival Northside-Warner Robins in front of a sold out crowd, 65-58. Donovan Brown finished with 20 points and 12 rebounds on the road to carry the load with star guard Marquez Callaway missing the game due to playing in the U.S. Army All-American Bowl.
Class AAAA saw No. 4 Liberty County thump No. 10 Thomson 100-53. The statement win helps the Panthers jump back over No. 5 St. Pius. Thomson falls one spot only. No. 6 Eagle's Landing moves up two spots and leaps over region foe No. 7 Walnut Grove. The Eagles knocked off Henry County 96-83 on Tuesday, drilled 13-3 Eastside 76-49 on Friday and outlasted Stockbridge 84-78 on Saturday. No. 1 Jonesboro survived a scare from Henry County on Saturday, 70-65 in overtime. MJ Walker exploded for 33 points to pace the Cardinals. Damion Rosser netted 28 points and Javon Greene 23 in the loss for the Warhawks.
Down goes Frazier! The AAA heavyweight No. 3 Laney finally lost a game to who else but No. 1 Morgan County, the same team that ended the Wildcats' season in the semifinals last year. The Bulldogs won 65-63 behind Devorious Brown's 27-point outburst.  Jailyn Ingram, who is heading to Florida Atlantic along with Brown, added 14 points and freshman Alec Woodard chipped in 13. Zep Jasper (College of Charleston) finished with 21 points, four rebounds, four assists and three steals while Christian Keeling (Charleston Southern) posted 21 points and 10 rebounds for Laney. No. 10 Banks County resurfaces in the top ten after wins over Lumpkin County, 69-65 and Buford, 60-50.
I took a 217 mile trip down to South Georgia to see Class AA's finest: No. 3 defending state champs Seminole County hosting undefeated No. 1 Thomasville. In the end, it was the championship duo of Jordan Harris (UGA) and Anfernee King that proved to be too much for the bigger and more balanced Bulldogs, combining for 49 points in the Indians' 71-65 win in front of a raucous crowd. With the win, Seminole County regains the No. 1 spot in the state while Thomasville slides to No. 2. A string of close calls finally caught up to the battle-tested Bulldogs. Before their loss at Seminole County, last week Thomasville had beaten Bainbridge 63-61 and won at No. 7 Early County, 79-76. Region 1 looks like a force to be reckoned with come tournament time.
Two Region 6 teams drop out in Wesleyan and GAC, but two replace them with No. 6 Lovett and No. 8 Pace Academy. Currently Lovett owns sole possession of first place in the region with a 5-0 mark. The Lions hold wins over No. 5 Holy Innocents' and just beat Wesleyan and GAC back-to-back on Friday and Saturday, knocking them both from the poll. On Friday Lovett gets to prove its record as they visit Pace Academy, a sleeping giant that has now won three in a row and hold a 4-1 mark in region play. Tomorrow in Southeast Georgia, No. 10 Long County hosts No. 4 Vidalia in a crucial Region 2 measuring stick game. Also keep an eye on Region 3's Swainsboro (7-5, 3-0). The Tigers have played some tough competition out of region and are much better than their record shows. They are riding a five-game winning streak and may re-enter the poll sooner rather than later.
More of the same occurred in Class A-Private: Madness and business as usual. On the business side of things, No. 1 Greenforest dispatched of No. 5 SWAC, 81-58. The madness occurred with No. 2 St. Francis holding on against King's Ridge (9-5), 72-71. Kobi Simmons became the Knights' all-time leading scorer last week and surpassed the 2,000-point barrier. Landmark Christian tumbled out of the top ten with a 9-5 record and losses to Paideia in overtime 71-61 and No. 7 Whitefield Academy, 91-62. No. 9 Stratford Academy takes the War Eagles' place in the rankings after dropping No. 10 Tattnall Square Academy, 67-58. Also, Quintez Cephus made SportsCenter with his thunderous baseline throw down against First Presbyterian Day.
Class A-Public sees No. 2 Hancock Central leap all the way from No. 9 thanks to five straight wins including victories over No. 7 Lincoln County and No. 4 Wilkinson County on Saturday, 70-62. No.5 Atkinson County continues to rise in the rankings while No. 8 Hawkinsville slips four spots following a 67-59 loss to Greenville. No. 9 Mitchell County and No. 10 Turner County replace Terrell County and Wilcox County. The Green Wave is riding a two-game skid while Wilcox County is on a three-game losing streak.
Class AAAAAA
1. Westlake (9-2)
2. Shiloh (12-2)
3. Norcross (14-2)
4. Wheeler (11-5)
5. Tift County (15-2)
6. McEachern (13-2)
7. Pebblebrook (12-6)
8. Newton (13-2)
9. Grayson (14-2)
10. Collins Hill (14-2)
Class AAAAA
1. Miller Grove (15-2)
2. Allatoona (15-0)
3. McIntosh (13-2)
4. Gainesville (9-3)
5. Cedar Shoals (16-2)
6. South Paulding (14-2)
7. Heritage-Conyers (15-2)
8. Riverwood (16-1)
9. Warner Robins (10-2)
10. Southwest DeKalb (15-3)
Class AAAA
1. Jonesboro (13-3)
2. Grady (15-1)
3. Lithonia (12-4)
4. Liberty County (12-1)
5. St. Pius (13-2)
6. Eagle's Landing (15-1)
7. Walnut Grove (16-1)
8. Sandy Creek (12-4)
9. Upson-Lee (13-3)
10. Thomson (12-3)
Class AAA
1. Morgan County (13-3)
2. Jenkins (12-2)
3. Laney (14-1)
4. Calhoun (13-0)
5. South Atlanta (12-4)
6. Central-Macon (13-2)
7. Westminster (14-2)
8. Callaway (7-3)
9. Westside-Augusta (7-2)
10. Banks County (15-2)
Class AA
1. Seminole County (12-3)
2. Thomasville (16-1)
3. Crawford County (13-1)
4. Vidalia (14-2)
5. Holy Innocents' (12-4)
6. Lovett (11-3)
7. Early County (12-3)
8. Pace Academy (5-8)
9. Chattooga (16-1)
10. Long County (13-3)
Class A-Private
1. Greenforest (15-1)
2. St. Francis (10-5)
3. North Cobb Christian (12-3)
4. St. Anne-Pacelli (11-4)
5. SWAC (8-8)
6. Lakeview Academy (13-3)
7. Whitefield Academy (10-7)
8. Our Lady of Mercy (10-3)
9. Stratford Academy (10-3)
10. Tattnall Square Academy (11-3)
Class A-Public
1. Treutlen (12-1)
2. Hancock Central (9-4)
3. Randolph-Clay (12-4)
4. Wilkinson County (9-5)
5. Atkinson County (11-2)
6. Taylor County (9-5)
7. Lincoln County (9-3)
8. Hawkinsville (9-4)
9. Mitchell County (9-4)
10. Turner County (9-5)