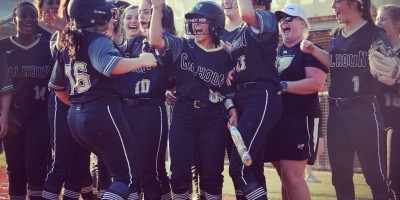 Calhoun Softball Twitter Page
It was an action-packed evening with a rare Tuesday football game as Beach and Islands played a makeup game after weather washed out the game originally scheduled for September 14. The game, as it turned out, was worth the wait and the programs went to double-overtime while combining for 97-points.
Beach came out on top, outlasting Islands 49-48 at Garden City Stadium in thrilling fashion, although both programs have struggled on the season – Islands is now 1-5 and this marks Beach's first victory on the season, bringing the Bulldogs to 1-4.
On the softball field, Buford defeated Walnut Grove 6-3 and Loganville 4-3 to advance to the Region 8-AAAAA championship game at Loganville on Thursday. In Class AAA, Calhoun clinched a playoff berth with a 4-2 victory over Coahulla Creek. Lyndie Rae Davis went 2-for-2. Esperanza Reyes went 2-for-3 and Molly Walker hit a three-run home run. Maggie McBrayer had 12 strikes out in the win. The Lady Yellow Jackets will face Sonoraville in the 6-AAA semifinals on Wednesday. Fellowship Christian defeated St. Francis 15-5. Fellowship scored 10 runs in the first inning to overpower St. Francis. Emma Yeager led with three hits and four RBIS's. Angie Cho had two hits and one RBI and Brooke Mitches had one hit and three RBI's.
In volleyball, Fellowship Christian took two wins on the evening. The Lady Paladins defeated Dunwoody (25-18, 25-22) and Washington (25-1, 25-4).
Football
Beach 49, Islands 48 (2OT)
Softball
Apalachee 3, Dacula 0
Athens Academy 15, Providence Christian 0
Bainbridge 9, Worth County 0
Berrien 9, Thomasville 6
Bowdon 3, Christian Heritage 1
Brookwood 9, Norcross 1
Buford 6, Walnut Grove 3
Calhoun 4, Coahulla Creek 2
Carrollton 8, Woodland-Cartersville 2
Chamblee 8, Southwest DeKalb 6
Charlton County 10, Atkinson County 0
Chattahoochee 10, Alpharetta 2
Collins Hill 4, North Gwinnett 3
Darlington 10, Mt. Pisgah Christian 3
Eagles Landing Christian 11, Holy Innocents' 2
Emanuel County Institute 10, Calvary Day 3
Etowah 13, Walton 0
Etowah 5, Walton 1
Fellowship Christian 15, St. Francis 5
First Presbyterian 6, Stratford Academy 5
Forest Park 9, Lovejoy 7
George Walton Academy 8, Hebron Christian 0
Georgia Military 12, Lincoln County 1
Gordon Lee 2, Trion 1
Groves 15, Johnson-Savannah 0
Hampton 2, Eastside 1
Hawkinsville 3, Wilcox County 0
Hebron Christian 8, Athens Christian 0
Jackson County 3, Morgan County 1
Johnson County 12, Jenkins County 4
Kell 7, Paulding County 3
Lanier 13, Gainesville 7
Lanier County 10, Clinch County 0
Marion County 8, Crawford County 0
Mill Creek 6, Mountain View 3
Newnan 12, Campbell 1
Oconee County 10, North Oconee 0
Parkview 13, Lakeside-DeKalb 0
Pataula Charter 15, Baconton Charter 0
Peachtree Ridge 13, Duluth 1
Portal 11, Treutlen 3
Ridgeland 9, Gilmer 6
Schley County 12, Taylor County 0
Seminole County 26, Webster County 5
Sonoraville 3, Ringgold 0
South Atlanta 19, McNair 4
Stephens County 7, Oconee County 3
Strong Rock Christian 4, Mt. Vernon Presbyterian 3
Tattnall Square 5, Mt. de Sales 1
Villa Rica 11, Kell 0
Washington 19, Coretta Scott King 7
West Forsyth 8, Milton 4
Whitefield Academy 12, North Atlanta 10
Winder-Barrow 6, Habersham Central 1
Woodland-Cartersville 9, Carrollton 7
Volleyball
Allatoona 2, Creekview 0
Allatoona 2, South Cobb 0
Athens Academy 3, Westminster Christian Academy 0
Bremen 2, Callaway 0
Brookwood 2, Lakeside-DeKalb 0
Brookwood 2, Norcross 1
Buford 2, Clarke Central 0
Buford 2, Loganville 0
Calhoun 2, North Murray 0
Callaway 2, Central-Talbotton 0
Chamblee 2, Pope 1
Chattooga 2, Coahulla Creek 0
Columbus 2, Shaw 0
Coosa 2, Model 0
Fayette County 2, Trinity Christian 1
Gordon Lee 3, Dade County 0
Greater Atlanta Christian 2, East Hall 0
Greater Atlanta Christian 2, North Hall 0
Habersham Central 2, Savannah Arts 0
Harrison 2, River Ridge 0
Heritage-Conyers 2, Eastside 0
Jackson County 2, Athens Christian 0
LaFayette 2, Southeast Whitfield 0
Lake Oconee Academy 2, Loganville Christian 1
Lakeside-Evans 3, Grovetown 0
Lakeview-Fort Oglethorpe 2, Ridgeland 0
Lassiter 3, Kennesaw Mountain 1
Mountain View 2, Providence Christian 0
Mt. de Sales 2, Lee County 1
Mt. Paran Christian 3, Whitefield Academy 0
Norcross 2, Lakeside-DeKalb 0
North Gwinnett 3, Johns Creek 1
North Hall 2, East Hall 0
Northgate 3, Landmark Christian 1
Northwest Whitfield 2, LaFayette 1
Pope 2, Mt. Bethel Christian Academy 0
Prince Avenue 2, Lake Oconee Academy 0
Providence Christian 2, Pinecrest Academy 0
Ridgeland 2, Adairsville 0
Ringgold 2, Chattooga 0
River Ridge 2, Osborne 0
Riverwood 3, Roswell 2
Shaw 2, Carver-Columbus 0
South Forsyth 3, Lambert 0
Spalding 2, Perry 1
Spalding 2, Upson-Lee 0
St. Pius X 2, North Oconee 0
St. Vincents 2, Savannah Arts 0
Temple 2, Greenville 0
Trinity Christian 2, Fayette County 1
Trinity Christian 2, Our Lady of Mercy 0
Union Grove 2, Veterans 0
Upson-Lee 2, Mary Persons 0
Walker 3, North Cobb Christian 1
Westminster 2, Lovett 0
Westminster 2, Towers 0
Westside-Macon 2, Butler 0