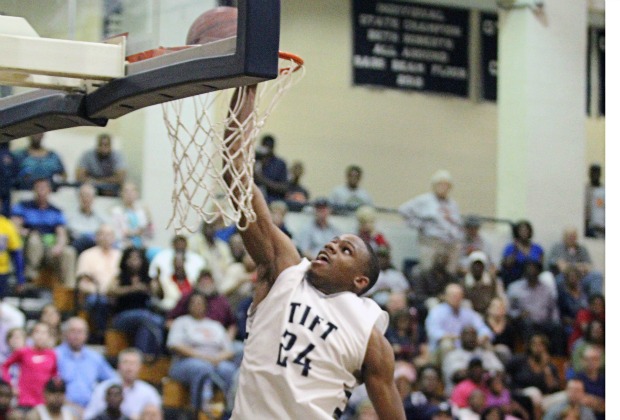 Shine Rankin
BOYS
AAAAAA
Berkmar 74, Walton 65 (OT): Berkmar led 32-27 at the half and took a 42-41 lead into the fourth quarter before an intentional foul sent senior Kiair Crouch to the foul line with nine seconds left and the score tied 56-56. Crouch netted both foul shots to give host Berkmar a 58-56 lead and the ball remained in the Patriots' possession. Walton intercepted the inbounds pass and took it the length of the floor where Elijah Weems hit a layup with one second left to force overtime (58-58). Berkmar would recover in overtime and the Patriots dominated the extra period 16-7. Crouch led the way with a team-high 22 points and five assists. Six-foot-ten Berkmar senior Tim Rowe finished with 19 points, 15 rebounds and five blocks. Jonathan Sanks scored 19 points and had five assists and six boards for Berkmar.
Hillgrove 72, Douglas County 71: Jordan Julian made a 3-pointer from the top of the key off an Antonio Wade inbounds pass with .8 seconds remaining for visiting Hillgrove. Hillgrove led 45-25 at the half, but a third quarter in which Douglas County outscored the Hawks 28-12 made it a 4-point game heading into the fourth quarter. Julian finished with 18 points, and Kyle Castlin led the Hawks with 26 points.
Luella 52, Newnan 42: Luella dominated the second half by outscoring the visiting Cougars 27-18. Diamond Jones and Doniel Dean each scored 10 first-half points for Newnan, which held a 25-24 half-time lead. Dean finished with a team-high 20 points. TeMarcus Blanton led Luella with a game-high 25 points.
Norcross 69, Dacula 67: Norcross forwards Ricky Madison (22 points, 11 rebounds) and Lorenzo Carter (11 points, 12 rebounds) both had double-doubles for the host Blue Devils. Cam Moye led Dacula with 20 points. Norcross held a 10-point lead in the fourth quarter, and by five with seconds left. Dacula hit a 3-pointer at the buzzer to bring the final margin to two.
Pebblebrook 70, Brunswick 54: Host Pebblebrook opened the game on a 17-4 run and finished the first quarter with a 20-12 lead. Ty Hudson dropped 13 in the opening quarter and included three 3-pointers in the opening minutes of the game. Pebblebrook extended the lead to 43-24 at the half and outscored the Pirates 37-30 in the second half.
Tift County 60, Lovejoy 57: Tift County led 26-16 at the half and 44-28 entering the fourth quarter, then watched as visiting Lovejoy drew to within three behind a barrage of 3-pointers. Tift County withstood the charge behind 21 points by Tadric Jackson, 15 by Ladarius Stewart and 11 by D.J. Bryant. Lovejoy's Jahir Cabeza made three shots from beyond the arc in the final period to help the Wildcats narrow the Tift County lead.
AAAAA
Allatoona 70, M.L. King 60: Allatoona led 49-27 after three quarters and extended its advantage to as many as 24 points before comfortably holding off visiting M.L. King. Daniel Fowler led the Buccaneers with 29 points and seven assists and he scored 27 of his points in the second half. Rodney Brown added 15 points for Allatoona and Ephraim Tshimanga chipped in 10.
Jenkins 68, Northside-Warner Robins 66: Jenkins led 53-43 to start the fourth quarter, but a Northside rally saw the War Eagles briefly retake a 1-point lead, their first since starting the game on an 8-0 run. Malik Benlevi and Jamelle Lanier both scored 14 points for host Jenkins, and Brenden Carter had 11.
Miller Grove 69, Villa Rica 49: Alterique Gilbert had 22 points and seven assists to lead Miller Grove, while Keith Pinckney scored 12 points and James Walker had seven. Raylon Richardson led the host Wolverines in rebounds with eight and blocked two shots. A defense-heavy first half had both teams tied 23-23 at the break before Miller Grove pulled away in the third quarter. The win puts Miller Grove into the state quarterfinals for the eighth straight season.
Stephenson 80, Osborne 75 (OT): Despite 32 points from D'Haire Haney for host Osborne, Stephenson won on the road behind 23 points, 16 rebounds and three blocks from Montez Sweat. His teammate in the post, Delmont Walton, contributed 15 points, 13 rebounds and five blocks, Daniel Kinchen scored 11 points, and Juwan Henderson had seven points and seven assists for Stephenson. Haney scored on a layup as the buzzer sounded to end regulation to tie the game at 70-70.
Tucker 71, Pope 64 (2OT): Tucker senior point guard Davanta Reynolds scored eight points in the two overtime periods after hitting a 3-pointer with seconds left in regulation to send the game to overtime. Reynolds finished with 17 points and eight assists while senior forward Tyrell Thomas led the visiting Tigers with 20 points and 14 rebounds. Junior guard Chase Hutchins led Pope with a game-high 22 points.
AAAA
Glenn Hills 71, Eagle's Landing 51: Host Glenn Hills got 23 points from Aubrey McRae on the strength of five 3-pointers. Santo Nina, Aaron Williamson and Ziaire Cook all scored 10 points for Glenn Hills, and Eagle's Landing had two players score in double-figures – Jordan Sessions (12 points) and Darius Howard (11 points).
Jonesboro 62, Worth County 45: Freshman sensation M.J. Walker led Jonesboro to a fast start with 11 points in the opening quarter and finished the opening half with 16 points to give the Cardinals a 35-26 edge. Walker finished with a game-high 24 points and three dunks in the second half. Jonesboro's Austin Donaldson chipped in with 12 points and five assists and DeAntre Mack scored 10. Tracey Hector Jr. finished with nine points and 10 rebounds.
AAA
Buford 45, Blessed Trinity 40: Buford won its 19th straight game by holding off visiting Blessed Trinity. Rakim Lubin led the way with 15 points and 12 rebounds for the Wolves, who went 18 for 21 from the free-throw line. Matt McMorris added 10 points and Justin Edwards scored 10.
Callaway 87, Thomson 83: Dre Martin poured in 39 points to help Callaway win a thriller over visiting Thomson. The victorious Cavaliers trailed most of the way and their deficit was two heading into the fourth quarter. Callaway, however, finally grabbed the lead then put them game away with free-throw shooting in the final minute. Braylon Sanders scored 18 points for Callaway.
Cartersville 59, St. Pius 40: Cartersville led 27-21 at half then dominated the third quarter by an 18-9 margin to pull away from visiting St. Pius. A.J. Mosby scored a game-high 26 points to lead Cartersville. The Purple Hurricanes also got 15 points from Ryan Davis and 13 from Corey Tobin. College of Charleston signee Nick Harris led St. Pius with 16 points as the Golden Lions' only player in double-figures. Harris was guarded all night by Cartersville's Hunter Benham, who finished with 13 rebounds.
Cedar Grove 62, Dawson County 33: Cedar Grove powered its way to a 28-13 halftime advantage as it took care of visiting Dawson County. Jacari Cross led the Saints with 22 points and Christopher Fredrick added 18.
Washington County 78, Central-Macon 45: The Golden Hawks trailed 10-9 after the opening quarter, but outscored visiting Central-Macon 21-5 in the second quarter and eventually forced a 6-minute fourth quarter (due to the mercy rule) with a 61-26 lead at the end of three. Kendall Phillips picked up his scoring in the momentum-changing second quarter and netted eight of his game-high 24 points. Sophomore TiQuan Lewis scored nine of his 23 points in the quarter and finished with a team-high 10 rebounds and junior A.J. Gray reached double-figures with 15 points. At one point the Chargers missed 16 consecutive shots.
AA
Greater Atlanta Christian 80, Model 62: Greater Atlanta Christian dominated the second quarter by a 23-7 margin to lead 42-24 at halftime and pull away from visiting Model. Isaiah Wilkins led the Spartans with 26 points and his supporting cast included Cam Boyd with 16 points, Troy Morrison with 13 and Eric Jamison with 10. Model was led by Doug Fisher's 21 points and Dwight Hall chipped in 10.
Jefferson 80, Manchester 62: Jefferson overwhelmed visiting Manchester 22-2 in the third quarter to break a 35-35 halftime tie. Tay Taylor led the Dragons with 25 points, while Satchel Turpin added 14 and Hunter Thompson contributed 12. Manchester was led by Demarcus Addie and Hozell Campbell, who scored 17 points apiece.
Vidalia 74, Westside-Augusta 36: Vidalia outscored visiting Westside-Augusta 22-0 in the fourth quarter en route to a commanding victory. Westside-Augusta was within striking distance at halftime, trailing 39-25, before things got out of hand. Tra Hardy scored 16 points to lead Vidalia, which also got 14 from Dashon Holloway, 13 from Terry Jones and 11 from Alton McCloud.
A
Athens Christian 74, Providence Christian 37: Junior point guard Turtle Jackson, a UConn commitment, led all scorers with 24 points while also totaling 10 assists and 10 steals for a triple-double for the host Eagles. Junior power forward Chris Tate added eight points and grabbed 14 rebounds. The Eagles soared to a 19-3 lead after one period and led 36-11 at the half. Junior Steven Kleinschmidt led Providence with 14 and junior Duncan Gotfredson, who scored the Storm's first eight points, had nine.
Greenforest Christian 77, Athens Academy 26: Greenforest Christian's Justin Ravenel led all scorers with 17 points. Justin Forrest scored 12 for the Eagles, and Abayomi Iyiola had 10. John Ogwuche contributed eight points and 10 rebounds and Luis Hurtado had six assists. Greenforest led 41-14 at halftime.
Holy Innocents' 76, Mt. Pisgah 61: Darryl Stewart led host Holy Innocents' with 19 points and six assists, and Brent Duncan had a double-double with 18 points and 11 rebounds. Josh Ledbetter and Sam Asbury both contributed 14 points, and Mt. Pisgah was led by Devon Peterson's 20 points. Holy Innocents' held a 51-50 lead heading into the fourth quarter, but outscored Mt. Pisgah 25-11 the rest of the way.
North Cobb Christian 57, Fellowship Christian 42: Stephon Jelks led North Cobb Christian with 14 points and 13 rebounds to go along with two blocks. Trey Kalina contributed 12 points, six rebounds and three blocked shots, and Hunter Ware scored 12 points and had four steals. Host North Cobb Christian led 30-23 at the half.
St. Francis 90, Hebron Christian 47: Host St. Francis took a 44-30 lead at the half and outscored the Lions 34-8 in the third quarter to take a commanding 78-38 lead heading into the fourth. Malik Beasley led St. Francis with 21 points and added nine rebounds. The Knights dominated the glass and held Hebron Christian without an offensive rebound the entire game. Kaiser Gates finished with 19 points and 12 rebounds and sophomore Kobi Simmons added 16 points, seven boards and five assists. McKinley Brown notched a double-double with 10 points and 10 assists and the Knights scored 48 of their 90 points in transition. Hebron Christian was led by sophomore Thomas Swift's 15 points.
Turner County 74, Claxton 54: Turner County extended a 6-point lead after one quarter to 12 at halftime and 24 heading into the fourth quarter as it coasted past visiting Claxton. Nate Martin led the way for the victorious Rebels with 22 points. Turner County also got 20 points and nine rebounds from Antonio Graddick, while Malik Brown scored 10 points.
Stephen Black, Ricky Dimon, Alex Ewalt and Craig Sager II contributed to this report.