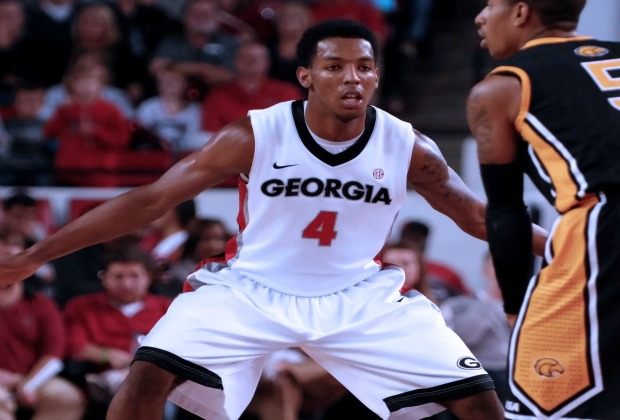 Sonny Kennedy
The 2012-13 season for the UGA men's basketball team has been nothing short of an emotional roller coaster. After winning five consecutive SEC games for the first time since 2001, the Dawgs dropped three straight, including a heart-wrenching road loss last night to Arkansas when the Dawgs missed a shot at the buzzer that could have sent the game into overtime.
Last Saturday's heart-wrenching loss at Ole Miss was a game in which the Dawgs held the Rebels to a dismal 38-percent from the field, led by six at halftime and were even aided by a double-double from sophomore guard, Kentavious Caldwell-Pope. However, the Dawgs served up 18 turnovers and were at the mercy of the Rebel's exceptional free throw shooting percentage, a night where the Rebels nailed 30 of 36 from the charity stripe.
Sitting at 12-14, 6-7 entering Saturday's home game against South Carolina, the Dawgs' hopes of making the NCAA tournament have been diminished to perhaps coach Mark Fox and his staff managing to rally the troops to win the SEC tournament in March at the Bridgestone Arena in Nashville, Tenn. If the Dawgs can run the gauntlet, they'll be awarded an automatic bid to partake in March Madness, a feat that hasn't been accomplished by the Georgia men's basketball team since the 2008 season. Georgia has made the NCAA tournament just once under Fox, earning an at-large bid in 2011.
UP AND DOWN
The No. 13 women's basketball team was upset by the Lady Bengals of LSU on Feb. 10 in Baton Rouge due to a lackluster performance that consisted of an onslaught of missed layups and easy buckets.
The Lady Bulldogs returned to the win column last Sunday, defeating Florida 62-57. The Lady Bulldogs own the all-time series with Florida (49-14).
ATHENS SHAKE
The men's dive team is not only making waves in the pool, but also on Youtube. The Harlem Shake has gone beyond viral and the dive team has taken it to a new extreme, accounting for over 23,000,000 views, courtesy of the team's epic meme. To watch the video CLICK HERE