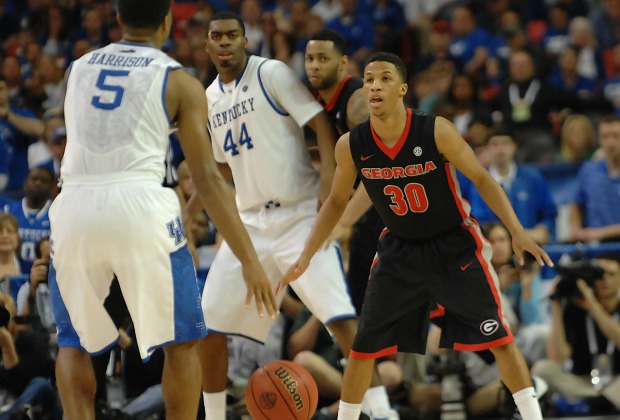 Photo by Sonny Kennedy
The UGA women's basketball team fell 67- 57 to Saint Joseph's in the first round of the NCAA Women's Tournament on Sunday. Three players scored in double-figures for the Lady Bulldogs, but it was not enough to defeat the Lady Hawks. Georgia trailed by eight points at halftime but took the lead midway through the second half. However, St. Joseph's proved to be too much down the stretch. Erika Ford led the Bulldogs with 16 points, while Merritt Hempe chipped in with 13 points. Krista Don- ald scored 10 points and completed a double- double with 10 rebounds.
The early exit is disappointing, but it came against a quality team. "Give credit to Saint Joseph's," head coach Andy Landers told the team's website. "They came out and seized control of the game and maintained that for the rest of the first half. In the second half, we were able to come back and take the lead. At that point, there were a couple of possessions where they got an offensive rebound or we fumbled a ball out of bounds. We were forced to play defense over and over and I think we dissolved. All the hard work we put in to come back went away at that point."
NIT …
The men's basketball team advanced to the second round of the National Invitation Tournament last Wednesday after defeating Vermont at home, 63-56. That is where the road ended for the Bulldogs, as Louisiana Tech eliminated UGA 79-71 at Stegeman Coliseum. J.J. Frazier led the Bulldogs with 15 points, but they dug themselves a hole, falling behind by as many as 26 points. It proved to be an insurmountable deficit.
"Obviously we had a terrible start and dug such a big hole that we just couldn't get all the way out of it," head coach Mark Fox told Georgia's website. "I thought we made a lot of mental errors in the first half. Those were very costly because Louisiana Tech has a good team and good teams make you pay for mistakes."
Marcus Thornton and Charles Mann led UGA six rebounds each. Mann also contributed 13 points, while Brandon Morris was the team's third player in double-figures with 10. Fox's squad finished the season with an overall record of 20-14 after going an impressive 12-6 in the SEC.