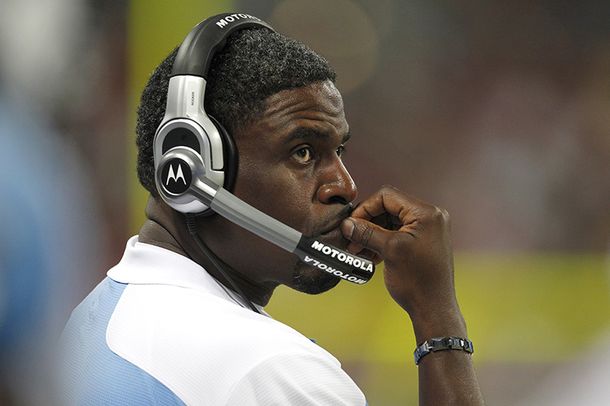 Photo by Jeff Roberson
The Georgia football coaching staff continued to be put into place for the 2014 season this week. Former Tennessee Titans' defensive line coach Tracy Rocker was named to the same position for UGA. Rocker coached with Tennessee the past three seasons. The Titans had a high of 39 sacks in 2012 during his tenure in Nashville. Rocker played at Auburn, winning the 1988 Outland and Lombardi Awards, and he was inducted into the College Football Hall of Fame in 2004. Rocker has 17 years of college football coaching experience, including stops at Auburn and Ole Miss. He also coached an Auburn defensive line that was led by Nick Fairley during its 2010 National Championship run.
The addition of Rocker and former Florida State defensive coordinator Jeremy Pruitt solidifies the Bulldogs' defensive coaching staff and gives the team one of the best tandems in the country. Rocker and Pruitt have led defenses to championships and they should put UGA's unit in position to win.
CONTENDERS …
Despite having lost two straight games to Kentucky and Vanderbilt, the UGA men's basketball team remains in the top half of the SEC with a 4-3 conference record. The Bulldogs are tied for fourth along with Missouri, LSU and Tennessee, while Florida leads the league with a 6-0 mark. Eleven conference games remain for the Dawgs as they position themselves for one of the top seeds in the SEC Tournament. Next up on Georgia's schedule is a road date with Auburn on Saturday followed by a home game against LSU next Thursday.
Forward Nemanja Djurisic is one of the players who have kept the Bulldogs in contention. Djurisic scored 22 points to go along with five rebounds and three assists in a win over South Carolina last week. He shot 100 percent (6-6) from the field, 100 percent (3-3) from three-point range and went seven of 11 from the free-throw line. Djurisic also scored eight points and grabbed eight rebounds against Kentucky.
SPECIALIST OF THE WEEK …
Lindsey Cheek was named SEC Gymnastics Specialist of the Week after placing first in two events at Florida. A career-high 9.975 on bars by Cheek helped the Gym Dogs to a 49.6 total score in that event, their highest since 1999. Cheek's score on the bars put her first in the SEC and second in the nation. The senior also tied for first on the vault with a season- high 9.925.