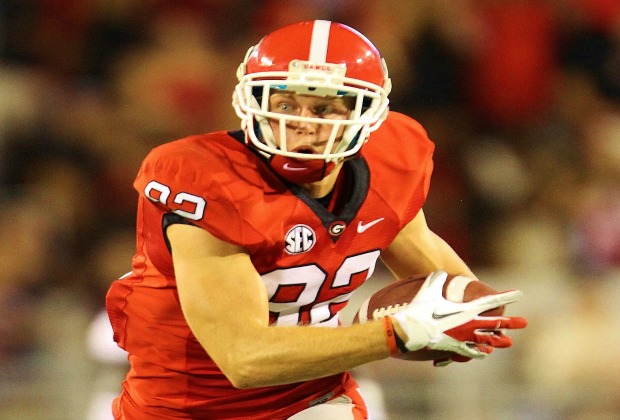 Rob Saye
Days away from the hyped Georgia-South Carolina matchup, the storyline of the game has changed.
Wednesday morning, the fifth-ranked Georgia Bulldogs released a statement that redshirt sophomore wide receiver Michael Bennett would not play another snap this season due to an ACL tear in his right knee. The injury was suffered late in Tuesday's practice.
Through five games, Bennett had been Georgia's leading receiver with 24 catches for 345 yards and four touchdowns. A slot receiver a year ago, Bennett had started multiple games for the Bulldogs at split end, while also contributing in the slot.
Losing its top receiver is a huge blow to the Bulldogs' offense. However, the team should have the depth to overcome the loss of Bennett. Senior receivers Tavarres King and Marlon Brown are each enjoying good statistical seasons and will most likely be the team's starting receivers going forward. Junior receiver Rantavious Wooten and sophomore Chris Conley are also expected to play larger roles.
Perhaps the largest beneficiary of playing time from Bennett's injury is sophomore Malcolm Mitchell. The sophomore was recently named a "primarily offensive player" by head coach Mark Richt. Bennett's injury cements that. Mitchell was electric with the ball in his hands last year as Georgia's primary playmaker on offense.
While the Georgia Bulldogs do possess the talent to survive without Bennett, losing him will affect how they gameplan an offense going forward. Last week the Bulldogs lined up in five receiver sets, a first for the Dawgs. Both quarterback Aaron Murray and offensive coordinator Mike Bobo loved the package enough that they planned to incorporate into their offensive gameplan against South Carolina. They liked that it prevented defenses from disguising their coverage and it created numerous playmaking possibilities. However, without Bennett, that idea may be put on the back burner.