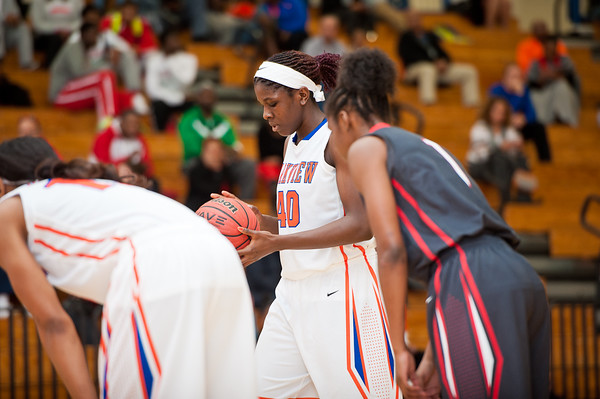 Photo by Ty Freeman
In Class AAAAAA, no new teams entered the poll, but there was a shuffle in the middle of the rankings. After falling to No. 3 Parkview 49-46 at home, No. 6 Archer flips spots with No. 5 Woodstock. The Wolverines are the only undefeated team left in 6A and are coming off a 55-51 win at Harrison.
The bottom of Class AAAAA got a face lift as Grovetown rose up to No. 6 after running its win streak up to eight games. Cross Creek, last week's No. 6, tumbled all the way out of the top ten thanks to a 24 point loss to Greenbrier who enters the polls at No. 9.
Jonesboro proved that its No. 1 ranking in AAAA was warranted by beating No. 9 Griffin on the road by two. The Cardinals followed that performance by drilling Henry County by 33 to make it 14 consecutive victories. A tough 13 point loss at No. 8 Marist saw Redan fall out of the rankings to be replaced by No. 10 Northwest Whitfield, winners of nine straight.
No. 8 Jefferson enters the Class AAA poll after reeling off 11 straight wins and an impressive two point win at No. 10 Morgan County. Decatur stood fast at the No. 4 spot with a four point win at No. 9 Westminster.
There was plenty of shakeup in Class AA as every spot from 5-10 got a new placeholder. Putnam County moves up from No. 8 to No. 5 after Thomasville slides to No. 7 after a 57-50 loss at Early County. Jeff Davis and aforementioned Early County both fall from the polls after Jeff Davis suffered an 18 point loss to No. 6 Vidalia and a five point defeat to Bryan County. Manchester, winners of 17 straight, enters the rankings at No. 9, while McIntosh County Academy debuts at No. 10.
Tattnall Square flips places with Savannah County Day in Class A. The No. 4 Trojans have won 15 straight including a six point road win at No. 9 Stratford Academy this past week. No. 6 Claxton raises one spot over No. 7 Turner County after picking up impressive wins of 13 points against Treutlen and two points at No. 8 Calvary Day.
Class AAAAAA
1. South Forsyth
2. Osborne
3. Parkview
4. Mountain View
5. Woodstock
6. Archer
7. McEachern
8. Westlake
9. Norcross
10. North Forsyth
Class AAAAA
1. Brunswick
2. Mays
3. Effingham County
4. Sequoyah
5. Stephenson
6. Grovetown
7. Southwest DeKalb
8. Forest Park
9. Greenbrier
10. Woodland-Henry
Class AAAA
1. Jonesboro
2. Buford
3. St. Pius
4. Veterans
5. Mary Persons
6. Americus-Sumter
7. Bainbridge
8. Marist
9. Griffin
10. Northwest Whitfield
Class AAA
1. Dawson County
2. South Atlanta
3. Kendrick
4. Decatur
5. Laney
6. Beach
7. Washington County
8. Jefferson
9. Westminster
10. Morgan County
Class AA
1. Holy Innocents'
2. Pelham
3. Wesleyan
4. Model
5. Putnam County
6. Vidalia
7. Thomasville
8. Darlington
9. Manchester
10. McIntosh County Academy
Class A
1. St. Francis
2. Southwest Atlanta Christian
3. Taylor County
4. Tattnall Square
5. Savannah Country Day
6. Claxton
7. Turner County
8. Calvary Day
9. Stratford Academy
10. Mitchell County