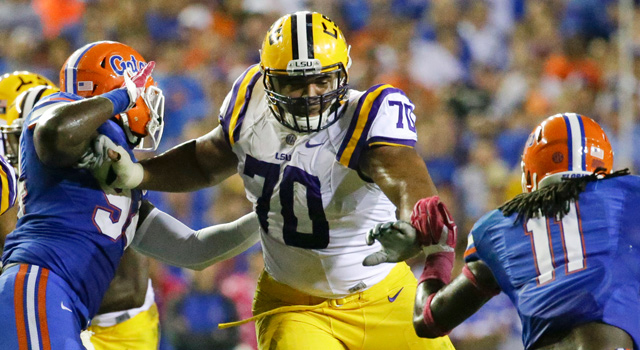 Tony Raoux/ Associated Press
Those of you who followed my stories about Alabama offensive lineman Arie Kouandjio and Missouri defensive end Markus Golden know what the purpose of these pieces are. I had a chance to catch up with these NFL prospects a couple of weeks back at the Senior Bowl, down in Mobile, Alabama.
Today, we are giving you a chance to know LSU standout offensive tackle La'el Collins. He started in 38 career games for the Tigers and also garnered tons of national attention during his final season in Death Valley.
Collins picked up first team All-SEC honors from the AP and coaches. He was also named second team All-American by the USA Today and AP.
During the last couple of seasons at LSU, Collins had a chance to play under the tutelage of long-time NFL coach Cam Cameron as his offensive coordinator. He believes this time with Cameron is benefitting him in his quest to land on an NFL roster.
"He teaches you a lot of things that sometimes can go unnoticed," Collins said. "But, once you get around NFL guys, you realize the things that he instilled in you and you're appreciative of that."
Collins played the last 26 games of his LSU career at the left tackle spot and before that he picked up 12 starts as the Tigers left guard. Now, he's trying to call upon the experience on the inside and outside positions of the offensive line to help him prepare to help an NFL team.
"Anything that can help create value to me as a player I'm willing to do it," Collins said. "I'm working on critiquing and being one of the great tackles. Also, I'm just trying to be better as an overall football player inside and outside."
Now that the NFL season has officially come to an end, the process of NFL teams looking for their next batch of rookies has ramped up. Later this month, a group of players will make their way up to Indianapolis for the annual Scouting Combine at Lucas Oil Stadium.
With the Senior Bowl already in the past and the next step towards the NFL Draft ahead, Collins realizes that this process can be humbling.
"This is definitely a great opportunity," Collins said. "I just want to want to make sure I take everything I can from this, learn from it, and be able to be the best player I can be on the next level."
The Falcons will likely not be looking to add a player at Collins position during the part of the draft that he is slated to be picked. According to NFLDraftScout.com, he is slated to be an early first round selection. One expert has him going 10th overall to the St.Louis Rams and another projection has him at 14 to the Miami Dolphins.
The Falcons will likely be looking for help in the defensive front seven. Most likely, a pass rusher will be selected with their first pick. That said, he knows how to market himself to a prospective NFL employer.
"You're getting a guy that is going to come in and give everything he has to a program in every aspect," Collins said. "(That's) from a leadership position to a guy that wants to win just as bad anybody on the team. I'm willing to do whatever it takes to get that done. I'm sold out. So whoever gives me an opportunity, I'm all in."
Collins has the credentials to back up his candidacy for an NFL roster spot. Depending on how his individual workouts go from now until April 30, he could maybe even move further up the draft boards. One thing is for sure, an NFL team is getting a very driven player.