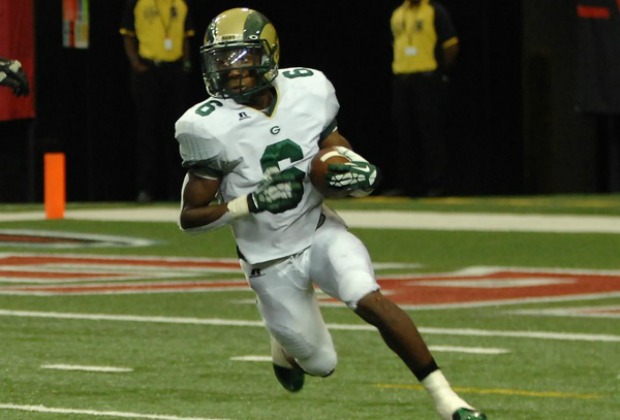 Sonny Kennedy
Class AAAAA: No. 10 Archer at Grayson
The Tigers have shocked the proverbial world by winning their first nine games of the season and clinching its first region title after three previous unremarkable seasons as a varsity program. However, coach Andy Dyer's team is a veteran unit and has walked all over the perennially-stacked Region 8 thus far.
Grayson, meanwhile, is rebuilding after losing what was one of the most talented senior classes in recent memory in the state of Georgia. Caoch Mickey Conn's program has taken its lumps this year after a remarkable stretch of six 10-win seasons in a row. The Rams' young squad stands 4-4, but has been competitive in all but one game (North Gwinnett) this year.
Will Archer gain its first-ever win over Grayson or will the Rams show they're all grown up?
Pick – Grayson 14, Archer 10
Class AAAAAA: Marietta at No. 4 North Cobb
Coach Shane Queen and son Tyler (1,530 passing yards) have picked up right where they left off last season when North Cobb made the state semifinals. The Warriors were picked to finish highly again this season and have rolled to a 7-1 start with only a blemish to Walton.
Marietta has steadily improved under coach ScottBurton in four years at the Cobb County traditional power. Despite the loss of QB Anthony Jennings (now at LSU), this may be Burton's best team. The Blue Devils' prolific offense (43 ppg) gives them a chance in any game.
Pick – Marietta 48, North Cobb 45
Class AAAAA: No. 1 Northside-WR at Warner Robins
In middle Georgia, there is no bigger rivalry than this. Both programs are stacked with tradition (six state titles and 36 region titles between them) and 22 of the teams' 55 games have been decided by 10 points or less.
While Northside sits at No. 1 and a spotless record, its cross-town rival is 7-1 and can essentially win Region 2 with a victory.
Northside has won seven of eight, but the Demons' 21-20 win in 2009 was a major upset and that can happen again this season.
Pick – Northside 38, Warner Robins 24
Class AAAA: Veterans at No. 7 Mary Persons
Veterans has won 14 games in its less-than-four season history, but five of those have come during the Warhawks' current winning streak.
Mary Persons, meanwhile, has been climbing the rankings without much fanfare and brings in a spotless 8-0 record. Each team comes in sporting spiffy 5-0 region records.
Veterans broke through this season with a win over a quality Westside-Macon squad and has played with a ton of confidence since. Coach Bruce David's program hasn't beaten the Bulldogs in three attempts, but a win tonight could give Veterans a signature program victory of epic proportions.
Pick – Veterans 24, Mary Persons 14
Class AAAA: Chestatee at No. 5 Monroe Area
The Purple Hurricanes have raced to an 8-0 record having not truly been tested all year. QB and Auburn commitment Stanton Truitt and RB Kwan Brooks lead a deadly Monroe Area rushing attack with 1,133 and 1,147 yards, respectively.
Chestatee, however, has impressively run off seven wins in a row after a season-opening loss to North Hall. This is likely coach Stan Lutrell's best team at the Gainesville school and Monroe Area gives the War Eagles thier best chance yet of earning a signature victory to get the program over what has been an eight-win hump. A win tonight would also give Chestatee its first region title ever.
Pick – Monroe Area 41, Chestatee 28
Class AAA: Peach County at No. 4 Carver-Columbus
Carver has dropped just one game this season and arrives tonight riding high as a state title contender in Class AAA. Junior DE Mekhi Brown, an Alabama commitment, leads the talented Tigers, which have not lost since a 34-0 drubbing by Colquitt County on Sept. 13.
Peach County, meanwhile, got off to a slow start as the middle Georgia traditional power lost to Baldwin and Warner Robins by double digits in Weeks 2 and 3. After being written off by many, the Trojans have won five in a row and appear to get better each week.
The prolific passing combo of QB Greg Williams to WR Tyler Gibson gives the Trojans a chance in this won and Peach County has certainly been there before when it comes to big games.
Pick – Peach County 20, Carver-Columbus 17