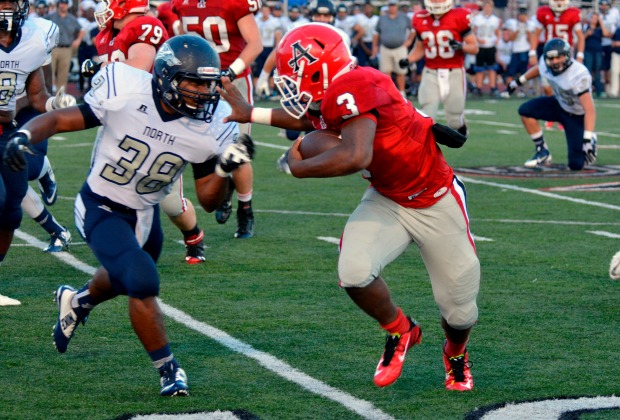 Ron Hughes
Sonoraville at Class AAA No. 10 Adairsville
Adairsville comes into this game seeking its first 4-0 start since 2011. Local-rival Sonoraville, which is just a few minutes up I-75 and down Highway 53 from Adairsville, looks to knock the Tigers off and potentially take their spot in the top 10.
The Phoenix is a relatively new program that played its first season in 2006 while Adairsville, on the other hand, has been playing since 1956. Sonoraville has not yet had a winning season. However, first-year coach Jim Kremer has the Phoenix 3-1 and scoring about 35 points per game.
Adairsville has lost to Sonoraville just once in eight games. A win tonight may be the biggest in Sonoraville's history.
Class AAA No. 8 Hart County at Elbert County
A northeast Georgia tradition, this battle has been waged since 1954 with Elbert County holding a 31-27 series lead according to GHSFHA.org. This season, Hart County comes in undefeated and ranked while the Blue Devils are 3-1 with a loss to Westminster.
Elbert County has won three of the last four under coach Sid Fritts while the Bulldogs have won six of nine. Hart has been the more impressive team this season, but the Granite Bowl has seen the host Blue Devils pull off a myriad of upsets over the years.
South Paulding at Class AAAAA No. 6 Allatoona
Running backs Russell Halimon and Josh Bettistea form one of the top rushing duos in the state this year and, despite Bettistea's absence for much of the season, the Bucs have pirated their way to an impressive 4-0 start.
South Paulding, under the leadership of coach Ed Koester, has turned into a formidable power in west metro Atlanta. The Spartans won an epic battle with the Bucs last season in a 48-45 overtime affair and have won three of four in series history.
Allatoona looks like it would be favored in this game, but South Paulding has been tough for anyone to beat since hiring Koester.
Class AAAAAA No. 7 North Gwinnett at Mill Creek
A burgeoning football power in Gwinnett, Mill Creek has done everything except beat region-rival North Gwinnett. Tonight would be a perfect time to do it for the Hawks, which came into the season ranked highly after returning QB Daniel David and one of the state's top offensive lines. After a rough early schedule, Mill Creek is 2-2 heading into tonight's Region 7 affair.
North Gwinnett has been one of the state's top programs under coach Bob Sphire and beating Mill Creek is a habit for them. However, this may be the best Mill Creek team the Bulldogs have faced yet. The winner of this game will take a significant step towards playoff qualification.
Cambridge at Class AAAAA No. 4 Kell
Kell has run Region 7-AAAAA like Kentucky has traditionally run the SEC in basketball over the years. The Longhorns have not lost a region game since the opener of the 2011 season. Cambridge, however, could present a challenge to the Longhorns as the three-year-old program comes into the game with its best team yet.
The 3-0 Bears would take a huge step forward as a program with a win tonight. QB Brian Moore and WR Hunter Smith have become one of the top passing combinations in the state and that could cause problems for Kell. However, Kell QB Cameron Rosendahl is pretty good in his own right.