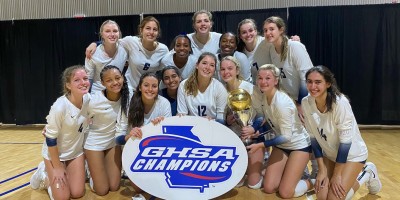 Holy Innocents' defeated defending Class A-Private state champion Hebron Christian 3-1 in the first of seven championship matches held at the Lakepoint Sports Complex in Cartersville. The Golden Bears took the first two sets 25-16 and 25-20 before Hebron Christian's 25-19 win in the forced a fourth set where Holy Innocents' clinched its fourth all-time championship and first since claiming three-straight in 2013-15.
In Class AA/A Public, Pace Academy survived a 3-2 victory over Gordon Lee to claim its fourth-straight state title. The Knights took the first two sets 25-18 before Gordon Lee's 25-18 third-set victory and 25-23 win in the fourth set forced a decisive fifth set that went to Pace Academy 15-8. Gordon Lee was making its first-ever championship appearance and finished the season 27-12.
Class 3A saw the Westminster Wildcats close out a flawless postseason run with a decisive 3-0 sweep of Morgan County (25-16, 25-11, 25-10). The victory gives the Wildcats their ninth all-time state championship, and first since 2016.
Marist swept past Northwest Whitfield in the Class 4A finals to win the program's ninth all-time state championship and first since 2017. The War Eagles took the first set 25-17 and then closed out the Bruins with a 25-19 win in the second set and 25-15 runaway victory in the third . Marist finishes its season with a 19-8 overall record and a perfect 11-0 record against Class 4A opponents.
In Class 5A, three-time defending Class 5A state champion McIntosh faced off with reigning Class 4A state champion Blessed Trinity in the only match that featured two teams looking to defend titles. McIntosh prevailed with a 3-1 victory, opening up with a two set lead (25-20, 25-20) and bouncing back from a 25-23 loss in the third set with a 25-23 victory in the fourth.
Buford (33-2) edged Pope (31-2) in four sets (25-16, 19-25, 25-13, 25-21) to take the Class 6A championship. The victory gives the Wolves their third all-time state title and first since clinching back-to-back championships in 2015-16.
Alpharetta closed out championship weekend with a historic first-ever state title by toppling 5-time defending state champion Walton in a 3-1 four-set thriller. Walton had only dropped one set to a Georgia program all season heading into the finals. Walton grabbed the first set 25-17 before Alpharetta evened it with a 25-23 victory in the second. Alpharetta built an 11-2 lead in the third set before finally holding off Walton with a 25-22 win and then edged Walton with a 26-24 victory in the fourth.