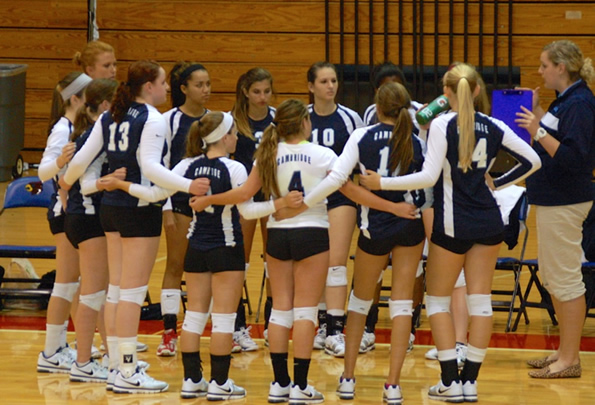 cambridgebears.com
Walton handed Harrison its first loss of the season on Saturday in the Cobb County Tournament. Walton was making its first appearance in the tournament since 2009 and made it county with a (25-23, 17-25, 15-9) victory. The Raiders are young but the four-time defending champs have experience in tight games and it showed in the third set. Harrison standout Caroline Ostman hit a milestone in the tournament, as she became the first Harrison player to eclipse 1,000 career kills and 1,000 career digs.
The team that beat Walton this past week was Buford, which is off to a 10-0 start to open the season. In their Thursday matchup at Brookwood, the Wolves fell 25-19 to the Raiders in the first set but stormed back with a 25-10 win in the second frame and a 26-24 edge in the third set. The Wolves face Peachtree Ridge and Berkmar Thursday night. Peachtree Ridge has won its last eight matches under first-year coach Alex Arthur. Six-foot-2 freshman Tatum Shipes and sophomore Gabby Curry have combined for 146 kills this season and pace the young Wolves.
Two Georgia teams are represented in this week's MaxPreps Top 25 national rankings. Marist was No. 22 last week before a 3-2 loss to Dunwoody dropped them to No. 25. Sequoyah debuts in the national poll at No. 16. The 13-0 Chiefs have not dropped a single set this season and rolled through Johns Creek, Centennial, McIntosh and Columbus this past week. The Chiefs host Lambert Thursday night and head to Huntsville, Ala. to challenge out-of-state school's in this weekend's Ironman Tournament.