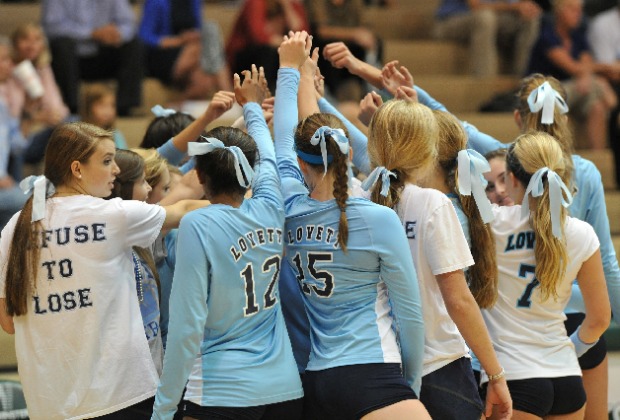 Photo by Perry McIntyre
The four-time defending champion Walton Raiders return to No. 1 in Class AAAAAA. The Raiders handed Harrison its first loss of the season on Saturday in split sets (25-23, 16-25, 15-10). North Cobb improved to No. 9 and Johns Creek moved to No. 10.
In Class AAAAA, Sequoyah has recent sweeps over Johns Creek, Centennial, McIntosh and Columbus and have not dropped a single set during its undefeated start. Ola edged Northgate and Starr's Mill last week and improved to No. 3. Grovetown moved to 14-0 this weekend and took over No. 4 and Harris County replaced Glynn Academy at No. 8 with an 18-3 record.
Buford makes its first appearance at the top of Class AAAA after an impressive (19-25, 25-10, 26-24) victory over Walton. Marist fell to No. 2 after a loss last week to Class AAAAA's No. 2 team, Dunwoody.
Southeast Bulloch and Lakeview-Fort Oglethorpe debut in Class AAA and Rockmart, Calhoun and Central-Carroll were sent out of the top 10. Sonoraville swept Calhoun and Rockmart and make their first appearance at No. 7.
Darlington dropped to No. 10 in Class AA and Hebron Christian took over No. 1 in Class A. Athens Academy jumped Prince Avenue Christian for No. 2 and ELCA fell two spots to No. 3. Mt. Pisgah replaced Mt. Paran at No. 9 and Pinecrest Academy debuted at No. 7 after edging No. 8 Fellowship Christian (25-22, 25-23).
Class AAAAAA
1. Walton
2. Harrison
3. Etowah
4. East Coweta
5. North Gwinnett
6. Roswell
7. South Forsyth
8. Lassiter
9. North Cobb
10. Johns Creek
Class AAAAA
1. Sequoyah
2. Dunwoody
3. Ola
4. Grovetown
5. Northgate
6. Starr's Mill
7. River Ridge
8. Harris County
9. Camden County
10. Chapel Hill
Class AAAA
1. Buford
2. Marist
3. Woodward Academy
4. St. Pius X
5. Sandy Creek
6. North Hall
7. Ridgeland
8. Carrollton
9. North Oconee
10. Veterans
Class AAA
1. Blessed Trinity
2. Westminster
3. Decatur
4. Jefferson
5. Islands
6. Oconee County
7. Sonoraville
8. Kendrick
9. Southeast Bulloch
10. Lakeview-Fort Oglethorpe
Class AA
1. Holy Innocents'
2. Coosa
3. Wesleyan
4. Lovett
5. Greater Atlanta Christian
6. St. Vincent's Academy
7. Gordon Lee
8. Model
9. Pace Academy
10. Darlington
Class A
1. Hebron Christian
2. Athens Academy
3. ECLA
4. Prince Avenue Christian
5. Savannah Christian
6. Calvary Day
7. Pinecrest Academy
8. Fellowship Christian
9. Mt. Pisgah
10. Walker