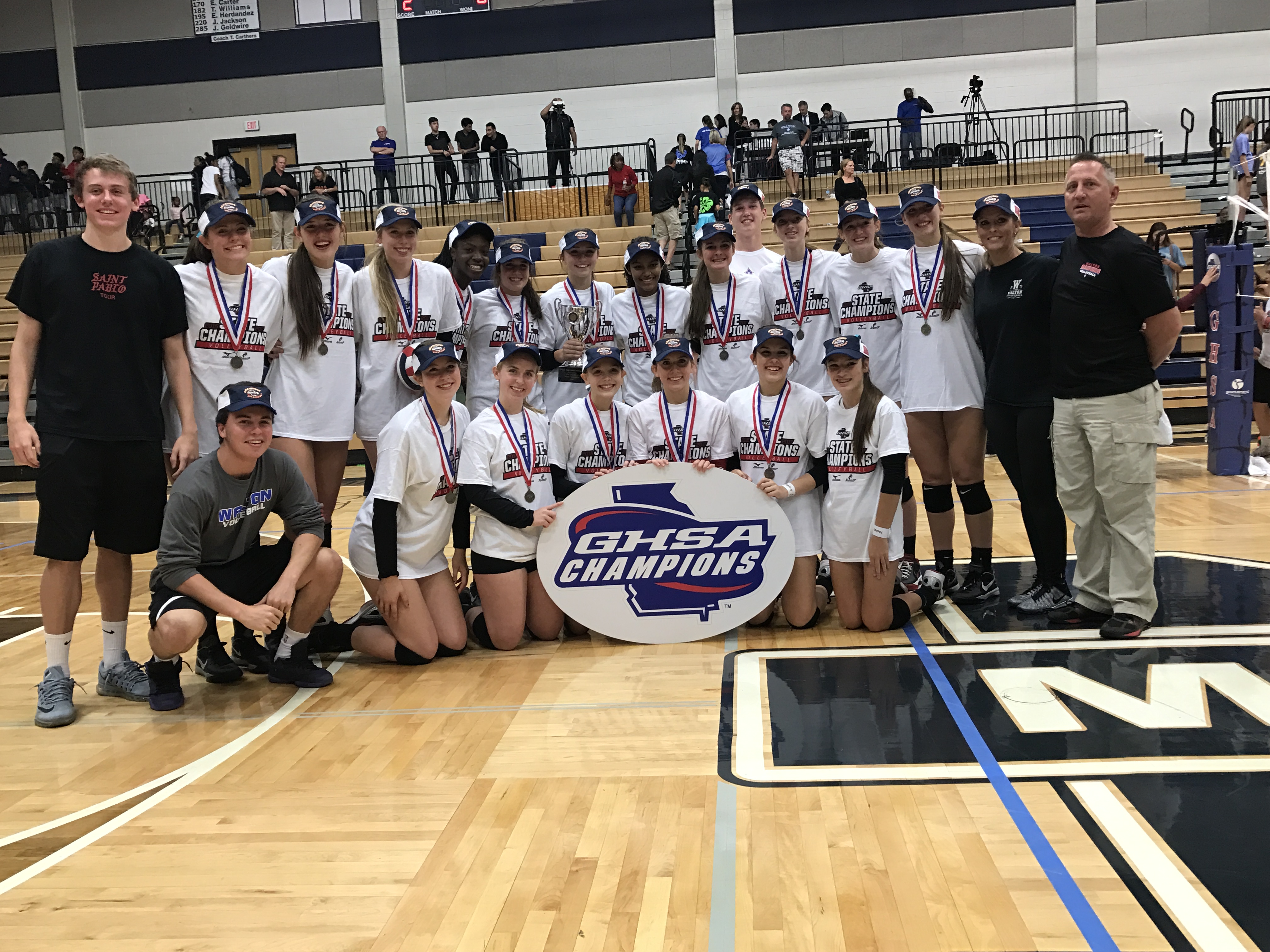 Walton swept its way past Lassiter [30-28, 25-18, 25-12] in the Class 7A final to win a state-best 11th all-time volleyball state championship Saturday at Marietta High School. The Raiders were tested in the first set as Lassiter rallied from 23-18 down to set up match point at 25-24. This was the first of six match points from both teams before the Raiders clinched the set 30-28.
"It's a very young team. A lot of people forget that," said Walton head coach Suzanne Fitzgerald. "I knew that set was going to happen. I just didn't think it was going to be the first one."
Lassiter's strength coming in was outside at the pins and it wasn't until Walton sophomore Lauryn Burrows stepped up in the second and third sets with precision and power that the nationally-ranked Raiders' talent was on full display.
"Lauren has been a great addition," explained Fitzgerald. "I think she struggled the first set a bit but she did great from then on. This is a brand new environment for her and so when she settled down she put the ball on a dime right where we talked about."
Walton trailed 6-4 to open the set before Burrows tied it at 8-8 with one of her 12 kills. The teams were tied later in the set at 14-14 before Walton closed it out with an 11-4 run.
Set three was all Raiders as they opened up a 10-3 lead and led 22-10 before clinching the championship 25-12.
Meghan Froemming matched Burrows with a team-high 12 kills and Gabby Gonzalez finished with 10 kills to go with eight digs and two blocks. Molly Pember who joins Burrows, Froemming and Gonzalez as parts of their outstanding sophomore class led with 16 digs. Dalaney Hans finished with 42 assists.
CLASS AAAAAA
Harrison 3, Alpharetta 1
Harrison defeated top-ranked Alpharetta in an ultra-competitive four-set Class 6A final to win its first state title since 2006. The Hoyas dropped the first set 25-12 and had their backs against the wall before pulling out three straight sets.
"We were in the pressure cooker today and they rose up," said head coach Amber McClure.
In the second set that turned the match around, Harrison and Alpharetta were tied 13 different times before the Hoyas won the set 26-24. In the third set, it looked like the Raiders would respond to take a 2-1 lead as they led 23-18. Harrison,  however, took the next seven points and stole the set 25-23.
"It seems like throughout the momentum of the match that different players stepped up at different times we needed them to," said McClure.
In the fourth set, Alpharetta once again sat two points away from taking the set with a 23-22 lead this time. Senior Katie Doering had a kill to even it up at 23-23 and after a block by Doering and Meg Kastendsmidt to bring match point, Doering clinched the game with an emphatic spike. Doering finished with a team-high 19 kills.
"Not this team. This team has a will and they are unshakeable," added McClure. "They are feisty. They are tough."
Harrison's defensive effort was led by Camryn Bihary and Riley Fischer, who finished with 31 digs apiece.
Class AAAAA
Buford 3, McIntosh 1
Top seeded Buford High School took on McIntosh this afternoon at Marietta High School.
For the third straight season Buford played for a state championship and wasted no time getting off to a hot start. The Wolves led by a trio of talented players in senior Gabby Curry, junior Tatum Shipes, and junior Halston Hillier led the team on a furious pace and never looked back in the first set quickly closing it out 25-11. Buford was simply too athletic, and talented up front for the Chiefs to have much success.
Junior Middle Blocker Avery Carson started out the second set with back to back kills for the Wolves, showcasing the powerful front attack for the defending Class 4A champs. Freshman sensation Jessie Doyal for McIntosh who leads the team in kills this year was held in check for the set. However, the Chiefs started to rally midway through the second set as Buford had built a steady 15 point lead, despite their efforts the Chiefs were outmatched, losing 25-11.
Intermission served the Chiefs well, as McIntosh opened up the third set with tons of enthusiasm and energy despite the 0-2 deficit. All tied at 4, the Chiefs suddenly took the lead and seemed to look entirely different than the first two sets. Serving down by two, 14-12, Senior Nell Copeland caught the Wolves off guard and capitalized on the point giving the Chiefs more and more confidence.
Buford shared the ball well and remained balanced offensively to hold on to the lead 18-16 despite McIntosh fighting desperately to extend the match. Credit the Chiefs for several digs to keep pace with the frontline of Buford. The score much closer in this set, all tied at 23-23, an ace is delivered by Junior Caroline Cameron to put the Chiefs up 24-23, remaining confident and playing with poise the Chiefs take the third set 25-23.
With all the momentum on its side, McIntosh battled point for point with Buford in the fourth. However, It was Tatum Shipes time to shine as she came up with several timely kills for the Wolves. Buford used those big plays to re energize themselves and ultimately finish the fourth set 25-12.
It was the type of finish you'd expect from a team that started out so well.
Buford Head Coach Hadli Daniels said, "We definitely came out very strong and focused, and it is hard to come back after a time out, but credit McIntosh in that third set, they stepped it up, played really scrappy defense and won those long rallies.
She went on to say, "It wasn't anything we did terribly, you just cant play that way against a good team like McIntosh. "But in the fourth set, the girls just came out focused and I could tell in their faces, that they were ready and we could do this, the rest was up to them."
Class AAAA
Blessed Trinity 3, Woodward Academy 0
The Class AAAA Final at Marietta High School featuring top seeded Blessed Trinity and Woodward Academy was a fiery one in front of each respective schools passionate fans. The first set lived up to the hype as both teams battled back and forth until Woodward Academy fought to 21-22, as a result Blessed Trinity Head Coach Paul Stevens called a time out to stop the momentum. It turned out to be a smart call as Senior Morgan Stalcup fired off a kill to end the first set 25-22.
In the second set, Blessed Trinity picked up right where they left off, jumping out to an early 6-1 lead. Some costly mistakes hurt the War Eagles early on, but they were able to chip away at the lead to bring it to 10-7. Momentum swung quickly as the War Eagles tied up the match at 16 all as Lauren Harrison put on a show with several key kills in the second set and helped trim the lead to 23-22 but a missed serve by Woodward gave the ball back to Blessed Trinity for set point. A controversial call put the ball back into the hands of Woodward who tied the game at 24 all. In a stellar finish of big play after big play the Titans won the set 29-27.
After Intermission, the Titans were just one set away from a third straight state championship. Woodward Academy would not go down without a fight. With the War Eagles on the Titans heels, a kill by Junior Courtney Finkle ignited the crowd, putting Blessed Trinity up 16-14. In a thrilling comeback, Woodward cut the lead to just one, 22-21 thanks in large part to the stellar performance of War Eagle Junior Lauren Harrison who put the Titans in tough defensive positions throughout the match. As the crowd erupted as the score was all tied at 22, both Junior OH Alyssa Kuroski and Junior setter Breanna Mako helped pace the Titans to close the set 25-22, and winning 3-0.
"It feels pretty surreal right now, i'm not sure it's quite sunk in yet," said Blessed Trinity Head Coach Paul Stevens. "I had a good feeling before the match, we had several players who were injured Wednesday, so we spent all week with limited practice and rehabbing players and they were fortunately able to play today."
Each set went back and forth and Coach Stevens went on to say, "It could have easily gone the other way, technically we did sweep, but it went down to the wire each set."
"One of the things we pride ourselves on is a balanced offense, and that really paid off for us today"
The Titans finish the season (55-9) and the War Eagles at (32-14).
CLASS AAA
Westminster 3, Pace Academy 1
After splitting the regular season 1-1, Area rivals Westminster and Pace Academy met in the Class AAA final for a winner take all match. Westminster seniors Claire Corbin and Margert Moran worked together to keep up with 6-foot-3 Duke-commit Summer Brown and the Pace Academy Knights. Summer Brown stands a staggering 6'3 and the Duke Commit showed out in the matchup.
Coach Jona Braden of Westminster talked about preparing around Summer, "We have to account for her [Summer] since she is a big presence at the net. We also can't focus too much on her because we will forget to cover the sides, so we have to find a balance and just try to limit her touches."
The Wildcats did enough to take the crown in four games [25-19, 23-25, 26-24, 25-18] in front of a massive crowd amassed by the two metro schools
"The fans, parents, and students who come out and support us every game say everything about what and who our school is," said Braden. "A big part of our success comes from our great support system"
CLASS AA
St. Vincent's 3, Coosa 0
St. Vincent's swept Coosa in Game 2 of the state championship triple-header held at Holy Innocents. The sweep gave the Saints their second state title in school history (2003).  Coosa was the underdog and Cinderella story having never made it to a finals match. Coosa, which was playing in its first-ever finals kept it close in the first two sets, falling 25-19 and 25-18. With the title 25-points away, however, St. Vincent's was able to run away with the third set 25-14.
"We wanted it, and that was the way we looked at it all season," said St. Vincent's head coach Kaite Broderick. "We took it one match at a time, and one point at a time. There was ups and downs but we stayed hungry and stayed focused." She also added, "I am ecstatic that we get to bring the title back home with us because we knew from day one that we could do it."
Senior Hannah Routon contributed eight digs and 11 kills. Seniors Sarah Stewart and Mackenzie O'Hayer both added five digs.
CLASS A
Calvary Day 3, Savannah Christian 0
After getting swept both meetings in the regular season, Calvary Day answered with a thrilling five-set victory over top-seeded Savannah Christian to win its second consecutive Class A title.
"In most cases you don't know the team you are playing but in this matchup, it is very different," said Calvary Day head coach Hannah Hunter. "We know this team almost too well and the girls want this title more than ever before."
Calvary Day took the first two sets [25-13] and [25-23] and looked to be on the verge of a championship sweep. Savannah Christian head coach Julie Jones rallied the Raiders and ended they took the third set 25-20 before forcing the fifth with a 25-17 set in the fourth. Calvary Day responded and took set five 15-12.
"It is an unbelievable feeling and I could not be more proud of the girls," said Hunter. "I just told the seniors going into the last set that this was it. Go out there and play your hearts out."
Senior Claudia Chisolm played her heart out by adding 12 kills. Kaitlyn Beasley also had a great game by scoring eight kills in her 18 attempts.