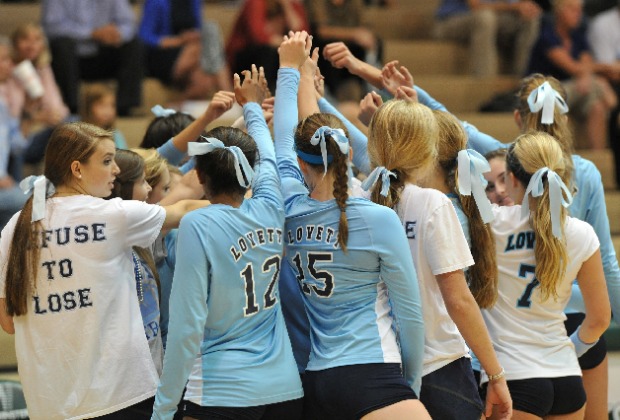 Photo by Perry McIntyre
Reclassification brought a lot of changes to the volleyball landscape this season and the result has been one of the most competitive years the state has ever seen. Six classifications and Georgia's 24 semifinalists left standing present historic storylines that are about to unfold. Fourteen of the semifinalists are searching for their first-ever state titles and they'll be mixed with 10 former state champions that own a combined 40 state titles between them. Will it be a changing of the guard or will the powers prevail?
Class AAAAAA …
Walton took the last four state titles in Georgia's largest classification, but North Cobb took the opening two sets in its second-round matchup with the Raiders and rebounded after dropping the third set to clinch a 29-27 victory in the fourth. The Elite 8 was re-seeded and the quarterfinals set the stage for another massive upset with eight-seeded North Gwinnett's 3-2 win over top-seeded Harrison. Taylor Spence and Carson Nevels each had 18 kills and helped the Bulldogs take a 16-14 victory in the pressure-packed fifth set. North Gwinnett looks for redemption in its trip to John Creek after the Gladiators sent them home last year in the second round of the playoffs. Seniors Madison Faerber and Madison Harty captain this year's Johns Creek team.
East Coweta will visit North Cobb in the other semifinal showdown. East Coweta is led by Duke-commit Jessica Bartholomew, a 6-foot-1 outside hitter. North Cobb has an athletic lineup that uses that versatility to control the pace of the game. In the victory over Walton, Savanna Gonzales led North Cobb with 17 kills while Abby Miller chimed in with 11, Jenna Woodruff and Simone Maxwell each had eight, and Elizabeth Daniel posted seven in the group effort.
CLASS AAAAA …
Class AAAAA features a heated re-match between region-rivals River Ridge and Sequoyah and a battle between last year's Class AAAA-state champion Columbus and a talent-laden Dunwoody squad. Sequoyah was upset by River Ridge in the Area 7 championship. River Ridge entered the playoffs as the top seed. Sequoyah's overall resume, however, earned it the No. 1 seed in the championship bracket and River Ridge must visit the Chiefs. Sequoyah defeated River Ridge twice in the regular sea- son before its Oct. 11 defeat to the Knights. Dunwoody sits at 43-4 overall and took out Camden County in four sets in the second round. Columbus comes in battle-tested with championship experience and plenty of confidence after capturing the state crown last year for the first time since 2007. Shardonee Hayes gives the Blue Devils a distinct size advantage at 6-foot-3. Junior Madison Fleming is back after coming up huge last year in Columbus' state championship win over Marist with a 43-assist, seven-block performance.
CLASS AAAA …
Buford is in search of its first state title but Sandy Creek, Woodward Academy and Marist are familiar with the podium, having combined for 19 state titles. Sandy Creek hosts Buford, which sits at 39-2 and has only lost to Class AAAAAA semifinalist East Coweta this season. Despite the fewest losses in the playoffs, Buford was a four seed in the championship round. Columbus knocked Sandy Creek out of the playoffs in a five-set marathon last year and the Patriots have done a great job replacing five seniors from last year's team. Sophomore Kendall Wilson posted more than 400 kills this year and has proven the ability to use her 6-foot-1 height to play on the outside or middle.
Woodward Academy at Marist sets up a battle between two of the state's most historic programs. Woodward owns 10 volleyball state titles while Marist owns six. Woodward lost in five sets when the teams met in August, but defeated Marist in straight sets two weeks later at Lovett.
CLASS AAA …
The top four seeds survived the first championship round and enter the semifinals without dropping a single set in the postseason. Sonoraville swept its way through West Hall, Central-Carroll and Savannah Arts to earn a trip to Westminster. Westminster swept through Jackson County, Southeast Bulloch and Rockmart. Blessed Trinity won the Class AAA title in 2012 and sits two wins away from the program's third state crown. Oconee County will visit the Titans, who are coming off four straight sweeps, including a 3-0 victory last round that ended East Hall's historic sea- son. Senior Annie Howell came up big with 11 kills in the win over East Hall, her sixth double-digit kill match of the year.
CLASS AA …
Holy Innocents' head coach Taylor Norland won three state championships during her playing days at Woodward Academy and made history last year whenshe led the Golden Bears to the Class A state title. She became the first person to win a volleyball state title as a player and coach in Georgia. Senior Sarah Joe and juniors Haley Collins and Sarah Porter are the stars returning from Holy Innocents' championship team. They'll get a St. Vincent's team that they were able to handle 25-17, 25-12 at home on Aug. 23. Wesleyan won its sixth state title last season and will face Lovett for the second time this season. The Wolves handed Lovett a 3-1 defeat on Aug. 14.
CLASS A…
Class A has been one of the most competitive classifications in the state this year and the top four seeds set up a final four between red-hot teams hungry for the championship. Only ELCA has captured a state title (2011) and Hebron Christian, Fellowship Christian and Savannah Christian each search for their first. Savannah Christian will travel 223 miles to visit ELCA. The Raiders gave ELCA a difficult match in August, falling 25-21, 25-23 at Holy Innocents'. Fellowship Christian comes off a 3-1 victory over Calvary Day and carries a 17-match winning streak into its trip to Hebron Christian. Hebron Christian has won its last 10 matches, but only three have been sweeps and a grueling schedule has given them the experience to win these marathon matches. Senior Alli Johnson has been on a tear this month and has totaled 51 kills in the Lions' last three matches.
SEMIFINALS SCHEDULE
Wednesday, Oct. 29
Class 6A
East Coweta at North Cobb (6:30 pm)
North Gwinnett at Johns Creek (6:30 pm)
Class 5A
River Ridge at Sequoyah (6:30 pm)
Columbus at Dunwoody (6 pm)
Class 4A
Buford at Sandy Creek (6 pm)
Woodward Academy at Marist (6 pm)
Class 3A
Sonoraville at Westminster (6 pm)
Oconee County at Blessed Trinity (6 pm)
Class 2A
St. Vincent's Academy at Holy Innocents'  (5 pm)
Wesleyan at Lovett (6 pm)
Class 1A
Savannah Christian at ELCA (3 pm)
Fellowship Christian at Hebron Christian (6 pm)