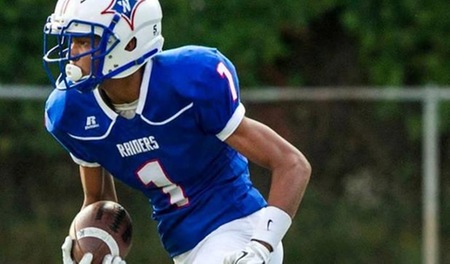 Dominick Blaylock, a 6-foot, 175-pound sophomore wide receiver out of Walton High School, showed off his talents this weekend by earning the title of Offensive MVP at the U.S. Army Underclassmen Combine in San Antonio, Texas.
Blaylock has been on the collegiate radar since his eighth-grade season when Steve Spurrier offered the middle school with a scholarship to play at South Carolina. Since, his increasing size, strength and speed, along with his experience as a two-year varsity starter has put him as one of the top Class of 2019 prospects in the nation.
He was named first-team All-Region 4AAAAAAA by region coaches, and named second-team All-Cobb County. Blaylock was also named honorable mention All-State by Georgia Sportswriters Association. He was one of four players from Georgia that was named sophomore All-American. Blaylock narrowed down his college choices to a top five on the eve of December's Georgia Elite Classic Sophomore Showcase. His list of front runners includes Georgia, Clemson, Auburn, Ohio State and UCLA.
Blaylock has 108 receptions, 1,699 yards and 16 touchdowns entering his junior season at Walton.
Walton's Dominick Blaylock was just named Offensive MVP of the 2017 Army All American National Combine. pic.twitter.com/luVRJS0p6K

— SCORE Atlanta (@scoreatlanta) January 7, 2017