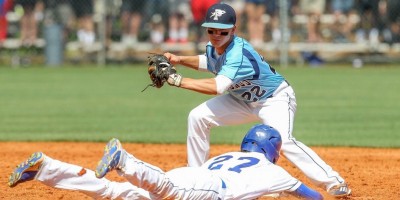 Baseball is being played in Georgia again for the first time since last March when the season was cancelled during the initial COVID-related shutdown. In Class 7A, Brookwood opens the season No. 1 after posting a 3-0 start that includes victories over Mountain View (7-4), Decatur (10-3) and Archer (6-2). Woodstock, North Paulding, Mountain View and Grayson round out the top 5.
Buford debuts at No. 1 in Class 6A and is off to a 3-0 start. The Wolves have victories over Parkview (3-0), Lambert (7-2) and Mill Creek (2-0). Houston County is No. 2 and has opened the year 3-0 with massive victories over Walton (17-3), North Cobb Christian (5-2) and East Paulding (5-2).
Starr's Mill opens up No. 1 in Class 5A following a 3-0 start. The Panthers defeated Pike County 4-2, Colquitt County 11-5 and Cook 9-5. Northside-Columbus, Greenbrier, Blessed Trinity and Cartersville round out the top 5.
The Class 4A poll is led by North Oconee—which has opened up the year with wins over Grovetown (8-0), Norcross (6-2) and Metter (10-0). North Hall debuts at No. 1 in Class 3A, Callaway earned the No. 1 spot in Class 2A following a 4-0 start and the Class A Private and Class A Public polls are led by Tattnall Square and Irwin County, respectively.
Class 7A
1. Brookwood
2. Woodstock
3. North Paulding
4. Mountain View
5. Grayson
6. Etowah
7. Parkview
8. Hillgrove
9. Walton
10. North Forsyth
Class 6A
1. Buford
2. Houston County
3. Carrollton
4. Allatoona
5. Winder-Barrow
6. Pope
7. River Ridge
8. Valdosta
9. Glynn Academy
10. Lassiter
Class 5A
1. Starr's Mill
2. Northside-Columbus
3. Greenbrier
4. Blessed Trinity
5. Cartersville
6. Wayne County
7. Loganville
8. Harris County
9. Calhoun
10. Southwest DeKalb
Class 4A
1. North Oconee
2. Flowery Branch
3. Jefferson
4. West Laurens
5. Benedictine
6. Marist
7. Heritage-Catoosa
8. Northwest Whitfield
9. Thomas County Central
10. Columbus
Class 3A
1. North Hall
2. Hart County
3. Cherokee Bluff
4. Westminster
5. Oconee County
6. Mary Persons
7. Ringgold
8. Morgan County
9. Rockmart
10. Upson-Lee
Class 2A
1. Callaway
2. Vidalia
3. Lovett
4. Elbert County
5. Haralson County
6. Jeff Davis
7. Bremen
8. Pace Academy
9. Bleckley County
10. Model
Class A Private
1. Tattnall Square
2. Wesleyan
3. Fellowship Christian
4. First Presbyterian Day
5. Strong Rock Christian
6. Trinity Christian
7. Prince Avenue Christian
8. Savannah Christian
9. Hebron Christian
10. Mt. Paran
Class A Public
1. Irwin County
2. Gordon Lee
3. Schley County
4. Johnson County
5. Telfair County
6.Commerce
7. Wilcox County
8. ACE Charter
9. Charlton County
10. Claxton