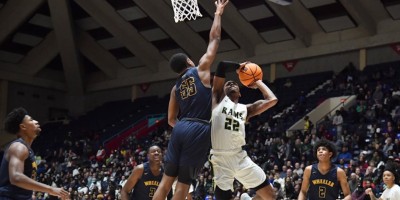 BOYS: In Class 7A, No. 1 Grayson opened up its season with a 67-56 win over St. Francis. McEachern swapped places with Milton at No. 2 following its 56-55 victory over the Eagles—which dropped one place to No. 3. Norcross sits at No. 4 and scored a 65-35 win over Osborne to open the year. Pebblebrook replaced Newton at No. 5 following Newton's 70-69 loss to Woodward Academy. Berkmar, Cherokee and Shiloh each moved up one slot after Newton's slide down to No. 9. North Gwinnett, which lost 54-51 to No. 8 Shiloh remains No. 10. There are a few key matchups coming up this week. No. 6 Berkmar and No. 7 Cherokee will play on Tuesday as well as No. 9 Newton and No. 10 North Gwinnett on Monday and Grayson vs. North Gwinnett on Tuesday.
In Class 6A, Heritage-Conyers fell out of the top 10 after its 81-60 loss to Salem and Hughes replaced the Patriots following their 54-53 win over Dutchtown and 1-0 start. Class 5A experienced a similar first week with No. 10 Mundy's Mill being the lone team to leave the rankings. The Tigers were defeated by Woodland-Stockbridge 63-46 and the 2-0 Wolfpack enter the poll at No. 10.
In Class 4A, Fayette County's 77-56 loss to Class 7A No. 5 Pebblebrook resulted in Fayette County falling from No. 2 to No. 4. Jenkins and Marist also dropped games this week, but they remain in the top 10. Jenkins fell 77-68 to Class 3A No. 2 Windsor Forest and Marist fell 61-47 to Trinity Christian. Marist has another tough matchup this week with Class 2A No. 1 Pace Academy on Tuesday.
In Class 3A, Hart County's 72-69 loss to Lanier resulted in a slight drop from No. 6 to No. 8 and Dawson County's 72-70 loss to Creekview did not change the Tigers' No. 9 status. No other teams in the Class 3A top 10 has dropped a game other than these two narrow defeats.
Class 2A No. 1 Pace Academy lost 63-59 to Class 3A No. 1 Sandy Creek and remains No. 1.  Class A-Private saw Wesleyan and Providence Christian each drop two slots following to losses to West Forsyth and Buford. Class A-Public did not experience any changes after no ranked team lost this past week.
Class 7A
1. Grayson
2. McEachern
3. Milton
4. Norcross
5. Pebblebrook
6. Berkmar
7. Cherokee
8. Shiloh
9. Newton
10. North Gwinnett
Class 6A
1. Wheeler
2. Lanier
3. Buford
4. Chattahoochee
5. South Cobb
6. Kell
7. Allatoona
8. Richmond Hill
9. Douglas County
10. Hughes
Class 5A
1. Tri-Cities
2. Eagle's Landing
3. St. Pius
4. Woodward Academy
5. Warner Robins
6. Veterans
7. Chapel Hill
8. Blessed Trinity
9. Cass
10. Woodland-Stockbridge
Class 4A
1. Miller Grove
2. Westover
3. Spencer
4. Fayette County
5. Stephenson
6. Jenkins
7. Baldwin
8. Westside-Macon
9. Monroe
10. Marist
Class 3A
1. Sandy Creek
2. Windsor Forest
3. Johnson-Savannah
4. Upson-Lee
5. LaFayette
6. Cross Creek
7. Greater Atlanta Christian
8. Hart County
9. Dawson County
10. Monroe Area
Class 2A
1. Pace Academy
2. Swainsboro
3. Lovett
4. Columbia
5. Butler
6. Laney
7. Vidalia
8. Thomasville
9. Washington County
10. Jeff Davis
Class A-Private
1. St. Francis
2. Greenforest Christian
3. Mt. Pisgah
4. Galloway
5. Holy Innocents'
6. Trinity Christian
7. Wesleyan
8. Providence Christian
9. North Cobb Christian
10. St. Anne-Pacelli
Class A-Public
1. Hancock Central
2. Drew Charter
3. Manchester
4. Terrell County
5. Treutlen
6. Lincoln County
7. Wilkinson County
8. Calhoun County
9. Lanier County
10. Taylor County
GIRLS: Collins Hill took the top spot in the 7A poll after a 52-51 victory over McEachern Monday. The loss sent the Indians from No. 1 to No. 3. Woodstock takes the No. 2 spot again this week and is 2-0 on the season. Archer and West Forsyth round out the top 5.
Buford leads Class 6A with Westlake, Kell, Langston Hughes and Carrollton rounding the top 5. In Class 5A, Forest Park leads the pack with Woodward Academy, Southwest DeKalb, Cass and Jackson-Atlanta topping the poll.
Jefferson tops Class 4A and leads Troup County, Carver-Columbus, Arabia Mountain and McDonough. Johnson-Savannah leads Class 3A ahead of GAC, Beach, Rockmart and Cross Creek in the top 5. Washington County leads Class 2A with Rabun County chasing. Early County, Josey and Vidalia round out the top of the class.
Hebron Christian is at the top of Class A Private with St. Francis, Mount Paran Christian, Wesleyan and Galloway in pursuit. Clinch County tops Class A Public ahead of Greenville, Calhoun County, Turner County and Central-Talbotton filling the top 5.
Class 7A
1. Collins Hill
2. Woodstock
3. McEachern
4. Archer
5. West Forsyth
6. Grayson
7. Cherokee
8. Campbell
9. North Paulding
10. Norcross
Class 6A
1. Buford
2. Westlake
3. Kell
4. Langston Hughes
5. Carrollton
6. Sprayberry
7. Grovetown
8. Lovejoy
9. Rockdale County
10. Sequoyah
Class 5A
1. Forest Park
2. Woodward Academy
3. Southwest DeKalb
4. Cass
5. Jackson-Atlanta
6. Tri-Cities
7. Griffin
8. Loganville
9. New Manchester
10. Hiram
Class 4A
1. Jefferson
2. Troup County
3. Carver-Columbus
4. Arabia Mountain
5. McDonough
6. Druid Hills
7. Luella
8. Spalding
9. Madison County
10. Marist
Class 3A
1. Johnson-Savannah
2. Greater Atlanta Christian
3. Beach
4. Rockmart
5. Cross Creek
6. Cedar Grove
7. Sonoraville
8. Stephens County
9. Coahulla Creek
10.  Westminster
Class 2A
1. Washington County
2. Rabun County
3. Early County
4. Josey
5. Vidalia
6. Northeast-Macon
7. Laney
8. Fannin County
9. Elbert County
10. Chattooga
Class A Private
1. Hebron Christian
2. St. Francis
3. Mount Paran Christian
4. Wesleyan
5. Galloway
6. Holy Innocents'
7. Greenforest
8. Eagle's Landing Christian
9. Calvary Day
10. Trinity Christian
Class A Public
1. Clinch County
2. Greenville
3. Calhoun County
4. Turner County
5. Central-Talbotton
6. Wilcox County
7. Georgia Military College
8. Emanuel County Institute
9. Mitchell County
10. Lake Oconee County