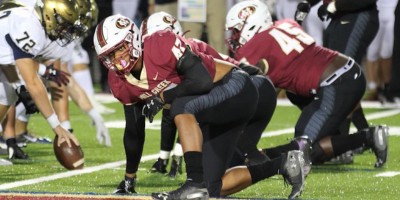 The 2020 GHSA Football State Playoffs will kickoff this Friday night and PeachtreeTV will be live from Roswell High School to broadcast the Hornets' opening round contest with visiting Mill Creek. These two Class 7A powerhouses met for the first time in their respective history's in last year's state playoffs and will cross paths once again on Friday in what is sure to be a thrilling matchup.
MILL CREEK HAWKS
Mill Creek will look to advance past the first round of the state playoffs for the sixth consecutive season on Friday when they visit Roswell for their first round matchup. The Hawks currently sit at 5-5 overall, however, when their performance this year is examined more closely, it is clear that Mill Creek is a battle-tested team that has proven its ability to compete with the top brass in Class 7A. This year's team has played in some incredibly close matchups—and has also overcome a series of injuries that have ultimately led to the team increasing its overall depth and developing resiliency that could benefit them when the pressure of postseason football dials up.
Mill Creek has already played nine teams that made the playoffs this season and they were able to take No. 1 ranked Grayson to double-overtime (20-13) in addition to forcing double-overtime in a narrow defeat 23-20 to No. 3 ranked Norcross.
Head coach Josh Lovelady took over the program last year and led Mill Creek to the state quarterfinals. In the second round, Mill Creek cruised past Roswell 41-17 in what marked the first-ever matchup between the schools. That Mill Creek team was paced by an offense that relied heavily on its running attack, whereas this year's unit has shifted to a more balanced offense this year. Running back Joshua Battle is the lead back this year and establishing a healthy balance is going to be Mill Creek's primary objective when the teams take the field this Friday.
Sophomore quarterback Hayden Clark has given Mill Creek a major spark since taking over the starting job and is coming off a huge night in the Hawks' 40-3 win over Peachtree Ridge. Clark ended up passing for three scores and also rushed for a 27-yard touchdown in the victory. Mill Creek's defense has remained a major strength this year as the offense worked to find its identity and the special teams have also been a staple of the team's success. Senior Brock Pellegrino is one of the state's top punters and kickers and he has gone a perfect 20-of-20 on PAT's this year with a 12-of-17 success rate on field goals—that includes his season-long 47-yarder in the victory over Peachtree Ridge.
"I was very proud of the way we played tonight, fast and physical in all three phases of the game," said Lovelady after the season finale. "Our defense set the tone early and gave us short fields. Because we've had so many injuries in these 10 weeks, we have a lot of experience."
Mill Creek's visit to Roswell will be televised on CBS46 affiliate PeachtreeTV and will mark the first stop on the "Drive to the GHSA State Title". This Friday's matchup and the next three featured showdowns that will be a part of the "Drive to the GHSA State Title" will also be streamed on the NFHS Network and will culminating on Friday, Dec. 18 with a semifinal matchup.
ROSWELL HORNETS
Roswell enters its first round playoff game against Mill Creek after trudging through one of the most difficult regions in the state's highest classification and capturing the 5-7A No. 2 seed for its troubles.
"I thought our region was going to be tough," said first-year Roswell head coach Chris Prewett. "I knew it was going to be tough especially when we added Milton and Alpharetta, it added a couple of more challenges for us. "Milton, with our school and Milton, it's always a huge game."
The Hornets are battle-tested and looking to improve on last year's second-round exit to Mill Creek under head coach Matt Kemper. This will be the second time the teams have played each other. Through its region, Roswell opened with victories over Etowah (21-14) and Cherokee (35-28) before losing to Milton (20-14) and Alpharetta (34-21). It rebounded with a 42-12 victory over Woodstock in its final regular season game.
The Hornets are relatively balanced – 212 yards passing/188 yards rushing – and are led by junior quarterback Robbie Roper who is 123-of-194 passing for 1,859 yards and 19 touchdowns. In the backfield, Roswell's dynamic duo of Ryan Hill II and Ryan Stephens have combined for 14 touchdowns – seven each. Hill has 118 carries for 772 yards and Stephens has 76 carries for 493 yards. The receiving corps is led by a trio of players who have accounted for 17 touchdowns. Senior Marquis Willis leads with 43 receptions for 677 yards and five touchdowns. Junior Shaun Spence has 25 receptions for 387 yards and five touchdowns and senior Michael Fitzgerald has 23 receptions for 470 yards and seven touchdowns.
"They are a tough team," Prewett said of Mill Creek, which beat Roswell 41-17 in last year's second round. "I think the first thing that jumps out is that they are a very physical team and they are very well-coached. We saw them in the second round last year and things didn't go our way. We got behind the eight ball real quick last year."
Since winning the 2006 state title under head coach Tim McFarlin, Roswell has advanced to the championship game twice (2015-16) and the quarterfinals once (2007). Mill Creek, which has been sneaky in the playoffs, advanced to the quarterfinals last season. In 2015-16, Mill Creek advanced to the semifinals in both seasons.
"It takes a while to find some weaknesses," Prewett said. "They are physical, they have a really good running game. Their defense is fun to watch. They fly around, they are aggressive, and they will give us a challenge on Friday."