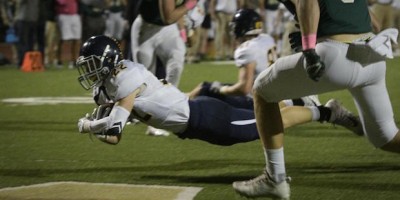 Marist outlasted Blessed Trinity 25-24 last Friday. Credit: AJC
Tift County rockets back into the rankings with a big win over Colquitt County, which stays ranked at No. 9 with two losses. One-loss Tift shows up at No. 6 in front of two-loss Brookwood. Mountain View's upset over Mill Creek gave the Hawks three losses and dropped them out of the Top 10 as well. The top five stay the same. South Forsyth gains a loss after a forfeit to Class A Pinecrest Academy, but the War Eagles are unblemished on the scoreboard this season and move up one spot to eighth.
Longtime No. 2 Lee County was nipped 31-28 by an otherwise struggling Valdosta program, but Lee has the resume to stay at No. 5 for now. Coffee, like Lee the week before, earned a narrow win over Northside; the loss to 3-5 Valdosta, however, means Coffee jumps Lee to No. 4. Richmond Hill defeated Glynn Academy to get to 7-0, and debut in the rankings at No. 9
It seems that Cedar Grove, Peach County and Greater Atlanta Christian are a head above the rest of Class AAA. Fourth-ranked Calhoun will be a top-contender once region play gives way to playoff seedings. The only change reflected in the rankings this week was a slide by Westminster after a loss to No. 8 Lovett.
Benedictine handled Bacon County 47-13 to protect its No. 1 ranking. Nick Iannone led the Cadets with 12-of-13 passing for 248 yards and two touchdowns. Hapeville Charter is chasing and shut out Douglass 35-0. Third-ranked Screven County shut out Josey, 42-0. As a matter of fact, each team that was active last week defeated its opponent by a large margin and the rankings could not shift.
Once again, most of Class A-Private took care of business, but Tattnall Square fell to a good First Presbyterian team for their first loss of the year. Tattnall Square falls to eighth as the rankings otherwise stay the same.
In Class A-Public, Trion's win over Mt. Zion-Carroll bumped Trion up to No. 8.
Class AAAAAAA
1. Lowndes
2. Archer
3. Walton
4. Grayson
5. North Gwinnett
6. Tift County
7. Brookwood
8. South Forsyth
9. Colquitt County
10. McEachern
Class AAAAAA
1. Tucker
2. Mays
3. Harrison
4. Coffee
5. Lee County
6. Northside-Warner Robins
7. Alpharetta
8. Stephenson
9. Richmond Hill
10. Dalton
Class AAAAA
1. Rome
2. Buford
3. Stockbridge
4. Warner Robins
5. Jones County
6. Griffin
7. Starr's Mill
8. Bainbridge
9. Wayne County
10. Flowery Branch
Class AAAA
1. Cartersville
2. Marist
3. Thomson
4. Ridgeland
5. Burke County
6. Blessed Trinity
7. Woodward Academy
8. Mary Persons
9. Cedartown
10. Americus-Sumter
Class AAA
1. Cedar Grove
2. Peach County
3. Greater Atlanta Christian
4. Calhoun
5. Jenkins
6. Crisp County
7. Bremen
8. Lovett
9. Morgan County
10. Westminster
Class AA
1. Benedictine
2. Hapeville Charter
3. Screven County
4. Rabun County
5. Thomasville
6. Brooks County
7. Jefferson County
8. Dodge County
9. Heard County
10. Callaway
Class A-Private
1. Eagle's Landing Christian
2. Prince Avenue Christian
3. Mt. Paran Christian
4. Athens Academy
5. Stratford Academy
6. Wesleyan
7. Mt. Pisgah Christian
8. Tattnall Square
9. Calvary Day
10. Aquinas
Class A-Public
1. Manchester
2. Irwin County
3. Macon County
4. Clinch County
5. Commerce
6. Charlton County
7. Emanuel County Institute
8. Trion
9. Mt. Zion-Carroll
10. Marion County