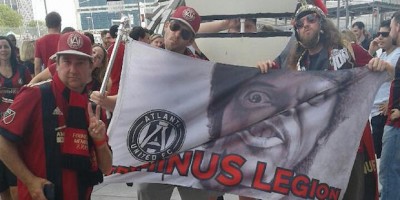 Atlanta fans ahead of last Sunday's matchup against Toronto. Credit: Jordan Dubrof
The first year in MLS for Atlanta United has been one for the ages. The team has provided fans with plenty of exciting soccer over the regular season, leading to a spot in the Audi 2017 MLS Cup. After a 2-2 tie during Sunday's matchup against Toronto FC, the Five Stripes solidified themselves at fourth in the Eastern Conference. This Thursday, Atlanta will host the fifth place Columbus Crew in their MLS Cup Playoffs debut at Mercedes Benz Stadium.
Haris Kruskic predicts how the starting lineup for Atlanta United may look this Thursday.
Each team's outlook coming into the playoffs is defined by MLS writer Sam Stejkal.
According to Dylan Butler of MLS, the Columbus Crew are determined and won't be intimidated by the powerful Atlanta United team.
AJC's Doug Roberson claims that Atlanta doesn't seem too afraid of the Crew either, but still acknowledges that any team with that much talent is always a challenge.
Jeff Carlisle from ESPN FC talks about United's fit in Atlanta and how they have taken over the city.
Jim Reineking from USA Today breaks down each MLS team's chances at winning the MLS Cup.
Making the playoffs during their opening season in MLS has created an unparalleled experience for the Atlanta United fan base. The exciting regular season has United fans everywhere wondering just how far the first-year team can go. If Atlanta is able to defeat the Crew, they'll be one step closer to becoming the second expansion team in MLS history to win the Cup during their first year in the league.