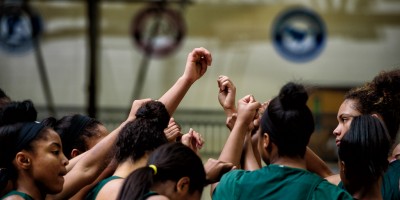 Photo By Ty Freeman
The top three in Class AAAAAAA remains unchanged, but under them there has been major movement. Archer climbs to No. 4 after beating South Gwinnett 55-42, who beat No. 10 Newton 64-58. The Rams slide five spots following their loss to the Comets and a 72-59 MLK Day loss to Fayette County. Mill Creek slips three spots to No. 7 after losing 54-47 to No. 5 Brookwood and 64-42 to No. 3 Collins Hill. Westlake and Tift County both fall out. The Lions (15-6) were upset by North Clayton 50-49 while the Blue Devils (15-6) beat Class AA No. 6 Fitzgerald 55-42, but were part of Lowndes' boys-girls sweep at the Palace, 46-41. Reentering the Top 10 is No. 8 Colquitt County and No. 9 Marietta. The Packers were road warriors in South Georgia, beating Lowndes in 2OT 78-71 and Camden County 53-36. The Blue Devils stopped North Paulding 69-59 and will run into buzz-saw No. 2 McEachern this Friday.
In Class AAAAAA, Lovejoy rises to No. 3 after beating No. 8 Stephenson 40-37 and Jonesboro 50-46. The Wildcats get a chance to score another resume building win as they visit No. 7 Tucker on Tuesday. The Tigers earned a 43-40 victory over Jonesboro and won at Forest Park 62-52 this past week. No. 6 Northview crushed Chattahoochee (14-5) in a Region 7 showdown 68-43.  No. 10 Gainesville reappears while No. 9 Mays is back in the poll after a long hiatus. The Raiders are gearing up for another postseason run and are now 10-7 riding a five game winning streak.
Buford suffered their first loss of the year against Class A-Private No. 1 St. Francis 53-45, but the Wolves still retain their No. 1 ranking in Class AAAAA. They scored wins at Loganville 47-35 and against Class AAAA No. 4 West Hall, 61-33. No. 3 Southwest DeKalb destroyed a good Arabia Mountain team in Region 5 action, 63-29. No. 7 Warner Robins held off No. 10 Harris County 51-49 on the road. Cracking the poll, finally, is No. 9 Eagle's Landing.
Cross Creek climbs up to No. 2 in Class AAAA after Carver-Columbus sinks all the way to No. 8. The Tigers lost to No. 3 Columbus 77-53 and at No. 6 Americus-Sumter 62-52. No. 5 Northwest Whitfield looks to stay perfect in Region 6 as they visit No. 7 Heritage-Catoosa. No. 1 North Oconee will have their hands full as they host Jefferson. Both teams are 5-0 in Region 8.
The stage is set in Class AAA as No. 1 Beach visits No. 2 Johnson-Savannah on Friday with the No. 1 ranking up for grabs in Round 3. Haralson County jumps up to No. 4 after handling No. 8 Calhoun 74-55 to pick up their 13th straight win. Franklin County survived Morgan County 66-61 and now sits at No. 6. Redan (13-4) was blown out at Lovett 49-28 and goes from No. 4 to unranked. The Raiders are replaced by No. 10 Peach County who has won 11-straight and is currently 8-0 in Region 4.
A pair of Wildcats are streaking in Class AA. No. 1 Laney has won 18 in a row while No. 3 Rabun County has reeled off 17-straight. No. 4 Model was drilled at Class A-Private No. 3 Wesleyan 81-46 and No. 6 Fitzgerald fell at Tift County 55-42, but both teams hold onto their rankings and are not punished for going out and playing premier competition.
There is a new No. 1 in Class A-Private, even though none of the top nine teams in the state lost a game. No. 1 St. Francis edges past No. 2 Holy Innocents' as the two match quality win for quality win. The Golden Bears went on the road and beat Class AAA No. 3 Greater Atlanta Christian 86-70 while the Knights handed Class AAAAA No. 1 Buford their first loss of the year at the ginormous Buford City Schools Arena, 53-45.
If there was any doubt who the best team in Class A-Public is, there shouldn't be anymore. No. 1 Pelham pummeled defending state runner-up Terrell County 70-19. No. 3 Woodville-Tompkins will attempt to beat Class A-Private No. 5 Calvary Day for a third time this Friday at Calvary. No. 4 Wheeler County went to No. 9 Treutlen and drilled the Vikings 55-38. Treutlen falls four spots.
Class AAAAAAA
1. Norcross (19-2)
2. McEachern (14-6)
3. Collins Hill (16-2)
4. Archer (16-4)
5. Brookwood (15-5)
6. Lambert (18-2)
7. Mill Creek (17-3)
8. Colquitt County (15-4)
9. Marietta (16-4)
10. Newton (16-4)
Class AAAAAA
1. Harrison (17-3)
2. Winder-Barrow (14-5)
3. Lovejoy (18-2)
4. Douglas County (19-3)
5. Grovetown (15-6)
6. Northview (17-3)
7. Tucker (15-4)
8. Stephenson (14-6)
9. Mays (10-7)
10. Gainesville (13-5)
Class AAAAA
1. Buford (17-1)
2. Flowery Branch (16-3)
3. Southwest DeKalb (18-4)
4. Griffin (19-0)
5. Maynard Jackson (16-1)
6. Carrollton (18-1)
7. Warner Robins (18-1)
8. Villa Rica (19-1)
9. Eagle's Landing (18-3)
10. Harris County (16-3)
Class AAAA
1. North Oconee (17-2)
2. Cross Creek (17-4)
3. Columbus (15-3)
4. West Hall (16-5)
5. Northwest Whitfield (16-4)
6. Americus-Sumter (16-3)
7. Heritage-Catoosa (19-2)
8. Carver-Columbus (15-4)
9. Sandy Creek (14-4)
10. Henry County (15-5)
Class AAA
1. Beach (18-1)
2. Johnson-Savannah (19-1)
3. Greater Atlanta Christian (12-6)
4. Haralson County (18-3)
5. Monroe (15-3)
6. Franklin County (15-4)
7. Hart County (17-3)
8. Calhoun (16-4)
9. Ringgold (15-5)
10. Peach County (14-3)
Class AA
1. Laney (19-1)
2. Dodge County (17-2)
3. Rabun County (19-1)
4. Model (15-5)
5. Vidalia (17-3)
6. Fitzgerald (13-2)
7. Bryan County (14-3)
8. Heard County (16-4)
9. Hapeville Charter (14-5)
10. Banks County (13-6)
Class A-Private
1. St. Francis (16-4)
2. Holy Innocents' (21-1)
3. Wesleyan (17-3)
4. Lakeview Academy (16-4)
5. Calvary Day (16-3)
6. Pinecrest Academy (14-3)
7. Landmark Christian (15-3)
8. Darlington (14-5)
9. Stratford Academy (13-4)
10. First Presbyterian Day (13-4)
Class A-Public
1. Pelham (16-1)
2. Telfair County (17-1)
3. Woodville-Tompkins (17-3)
4. Wheeler County (17-2)
5. Greenville (17-3)
6. Mitchell County (15-3)
7. Hancock Central (13-3)
8. Marion County (16-4)
9. Treutlen (13-5)
10. Macon County (13-6)