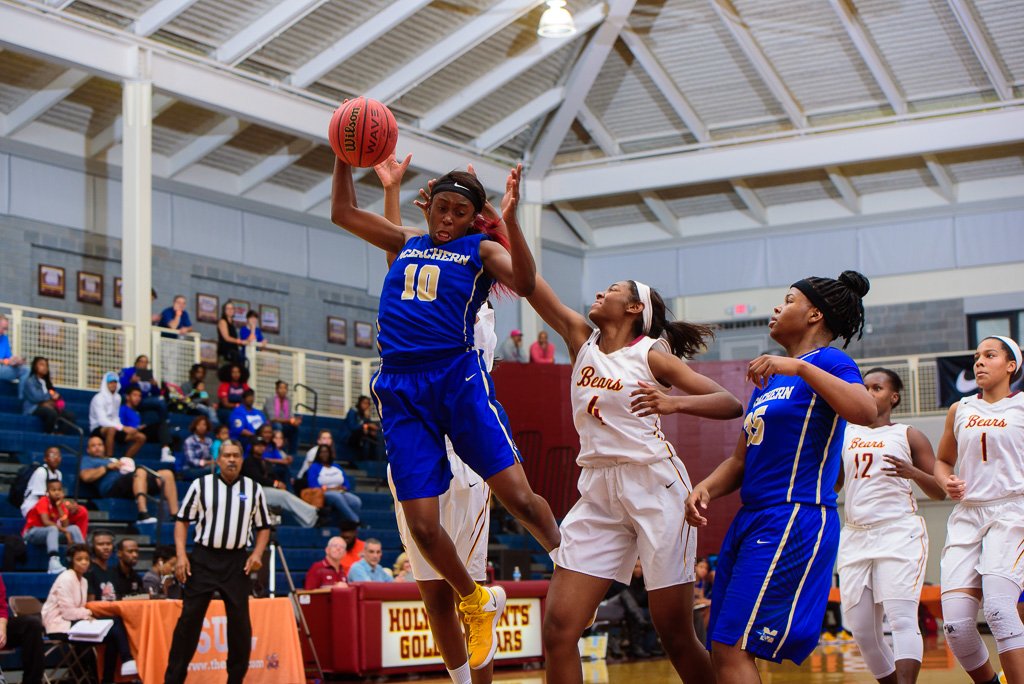 Photo by Ty Freeman
It was a status quo week in Class AAAAAAA with everyone winning out except for Marietta (18-5), who drops from the poll. The Blue Devils beat North Cobb 57-51 and 42-29, but sandwiched in between was an ugly 76-40 loss to rival No. 2 McEachern. The Lady Indians also blew out North Paulding 87-48. Replacing Marietta is No. 10 South Forsyth.
The top five teams in Region 4-AAAAAA all lost this week, leading to some shuffling. Lovejoy was upset by Mundy's Mill 49-41 after beating No. 8 Tucker on the road 42-37. The loss sees the Wildcats slip three spots to No. 6. Tucker rebounded with a 62-50 win over No. 9 Stephenson, but proceeded to lose against Class AAAAA No. 2 Southwest DeKalb 46-41. Over in Region 5, No. 3 Douglas County turned back No. 7 Mays for the second time this season, 63-54. Even with the loss the Raiders creep up two spots. Don't sleep on Mays. Out of their 8 losses, five have come out of state, two have come against Douglas County and one came against Class AA No. 1 Laney.  No. 5 Northview broke the school record in wins with a dominant 76-52 win over Region 7 foe Johns Creek.
In Class AAAAA, No. 1 Buford took care of No. 3 Flowery Branch for the second time this year 51-46, but were blown out at home by Class A-Private No. 3 Wesleyan 73-50. Even with their lopsided loss, the Wolves retain the top ranking. No. 2 Southwest DeKalb climbs over the Falcons after Flowery Branch fell to Class AAA No. 2 Greater Atlanta Christian 66-58. Griffin suffered their first loss of the season at Columbia, 52-48, dropping the Bears two spots to No. 6. Carrollton is on the rise, moving up to No. 4 with their second victory over No. 7 Villa Rica 58-52 in Region 7. Harris County (16-4) drops out after losing at No. 5 Warner Robins 53-46.
There is a changing of the guard in Class AAAA as North Oconee relinquishes their hold on the No. 1 spot and slips to No. 5 after suffering a 56-48 loss to Jefferson, who skyrockets back into the poll at No. 4 after grabbing ahold of first-place in Region 8. It is now Cross Creek's turn to have the No. 1 ranking target on their back. No. 7 Heritage-Catoosa took down No. 10 Northwest Whitfield 65-51. Sandy Creek (15-6) lost at Chapel Hill 59-46 and at last-place Cartersville 34-32, leading to the Patriots to drop out.
The best rivalry in the entire state lived up to its billing as No. 1 Beach won the season series against No. 3 Johnson-Savannah, scoring a 52-49 road win in Region 3-AAA. The Atomsmashers lose their grip on the No. 2 spot and are overtaken by Greater Atlanta Christian, who defeated Class AAAAA No. 3 Flowery Branch 66-58 after handling East Hall 71-49 on the road.
Class AA No. 2 Dodge County dispatched of Class A-Public No. 2 Telfair County on the road 58-48 to make up for an early season 66-64 loss. Rabun County was edged by No. 6 Banks County 49-45, dropping the Wildcats to No. 5.
Class A-Private puts the poll for the first time No. 9 Aquinas (17-5) and returnee No. 10 Fellowship Christian.
Mitchell County (15-5) was knocked from the Class A-Public Top 10 after a 54-41 loss to No. 1 Pelham and a 36-32 loss to Worth County. Greenville moves ahead of Wheeler County for the No. 4 spot following the Bulldogs' tough 62-51 loss at No. 3 Woodville-Tompkins.
Class AAAAAAA
1. Norcross (21-2)
2. McEachern (16-6)
3. Collins Hill (20-2)
4. Archer (18-4)
5. Brookwood (18-5)
6. Lambert (20-2)
7. Mill Creek (19-3)
8. Colquitt County (18-4)
9. Newton (18-4)
10. South Forsyth (16-7)
Class AAAAAA
1. Harrison (19-4)
2. Winder-Barrow (17-5)
3. Douglas County (21-3)
4. Grovetown (17-6)
5. Northview (19-3)
6. Lovejoy (20-3)
7. Mays (12-8)
8. Tucker (16-6)
9. Stephenson (16-7)
10. Creekview (16-7)
Class AAAAA
1. Buford (20-2)
2. Southwest DeKalb (20-4)
3. Flowery Branch (16-5)
4. Carrollton (21-1)
5. Warner Robins (21-1)
6. Griffin (20-1)
7. Villa Rica (20-2)
8. Eagle's Landing (19-3)
9. Wayne County (16-3)
10. Maynard Jackson (18-2)
Class AAAA
1. Cross Creek (19-4)
2. Americus-Sumter (19-3)
3. West Hall (18-5)
4. Jefferson (17-5)
5. North Oconee (18-3)
6. Columbus (17-4)
7. Heritage-Catoosa (21-2)
8. Carver-Columbus (18-4)
9. Henry County (17-5)
10. Northwest Whitfield (17-5)
Class AAA
1. Beach (20-1)
2. Greater Atlanta Christian (16-6)
3. Johnson-Savannah (19-2)
4. Franklin County (18-4)
5. Calhoun (18-4)
6. Ringgold (17-5)
7. Cook (17-6)
8. Peach County (17-3)
9. Haralson County (20-4)
10. Monroe (15-4)
Class AA
1. Laney (21-1)
2. Dodge County (20-2)
3. Model (17-5)
4. Fitzgerald (16-2)
5. Rabun County (21-2)
6. Banks County (15-6)
7. Bryan County (16-4)
8. Swainsboro (15-6)
9. Vidalia (18-4)
10. Dade County (17-6)
Class A-Private
1. St. Francis (18-4)
2. Holy Innocents' (23-1)
3. Wesleyan (19-4)
4. Lakeview Academy (19-4)
5. Calvary Day (18-3)
6. Pinecrest Academy (14-3)
7. Landmark Christian (18-3)
8. Darlington (18-5)
9.  Aquinas (17-5)
10. Fellowship Christian (13-7)
Class A-Public
1. Pelham (20-1)
2. Telfair County (19-2)
3. Woodville-Tompkins (19-4)
4. Greenville (20-3)
5. Wheeler County (18-3)
6. Marion County (18-4)
7. Hancock Central (16-4)
8. Macon County (16-6)
9. Wilcox County (17-5)
10. Taylor County (15-5)