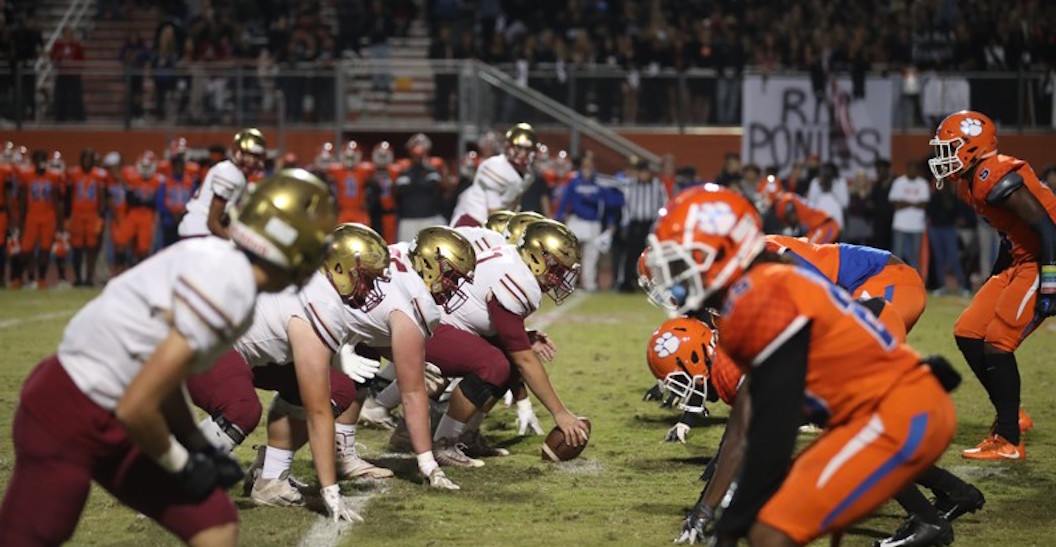 In Class AAAAAAA, No. 1 Lowndes improved to 9-0 with a 45-13 win over No. 10 Camden County. No. 2 McEachern is also undefeated and scored a 42-7 win over Kennesaw Mountain to move to 8-0. In Class AAAAAA, Mays' 28-7 win over South Paulding sent the Raiders to No. 9 and allowed Stephenson to replace South Paulding in the poll at No. 10.
Buford leads Class AAAAA again this week after a 30-7 victory over Loganville on Friday. Jones County, Carrollton, Dutchtown and Warner Robins make up the top 5.
Class AAAA saw movement outside of the top 5. North Oconee jumped to No. 6 and Carver-Columbus shifted up to No. 7 following Flowery Branch's slide from No. 6 to No. 8. Also, West Laurens replaced Burke County in the top 10 after its big 52-7 win over Mary Persons this weekend.
In Class AAA, Peach County is the team to beat entering a crucial region week. Cedar Grove is No. 2 after wrapping up the Region 5 title last week. Pierce County is No. 3 again ahead of Greater Atlanta Christian, which captured the Region 7 title on Friday. Jefferson, No. 7 again this week, grabbed the Region 8 title last week after it beat Monroe Area 26-7.
Rockmart is leading Class AA with Dublin, Hapeville Charter, Callaway and Rabun County rounding out the top 5. Two teams captured region titles last week, No. 4 Callaway in Region 5 and No. 10 Thomasville in Region 1.
Athens Academy is at the top of A-Private again this week with Holy Innocents', Darlington, Eagle's Landing Christian and Fellowship Christian in the top 5. North Cobb Christian and Aquinas fell from the poll, replaced by No. 9 Savannah Country Day and No. 10 Hebron Christian.
In Class A-Public, Bowdon dropped two places to No. 8 and Johnson County (7-1) replaced Turner County at No. 10.
Class AAAAAAA
1. Lowndes
2. McEachern
3. Colquitt County
4. Grayson
5. North Gwinnett
6. Hillgrove
7. Marietta
8. Parkview
9. Archer
10. Camden County
Class AAAAAA
1. Dacula
2. Harrison
3. Lee County
4. Valdosta
5. Lanier
6. Coffee
7. Johns Creek
8. Allatoona
9. Mays
10. Stephenson
Class AAAAA
1. Buford
2. Jones County
3. Carrollton
4. Dutchtown
5. Warner Robins
6. Rome
7. Wayne County
8. Veterans
9. Kell
10. Ware County
Class AAAA
1. Marist
2. Cartersville
3. Woodward Academy
4. Blessed Trinity
5. Sandy Creek
6. North Oconee
7. Carver-Columbus
8. Flowery Branch
9. Oconee County
10. West Laurens
Class AAA
1. Peach County
2. Cedar Grove
3. Pierce County
4. Greater Atlanta Christian
5. Appling County
6. Crisp County
7. Jefferson
8. Lovett
9. North Murray
10. Jenkins
Class AA
1. Rockmart
2. Dublin
3. Hapeville Charter
4. Callaway
5. Rabun County
6. Swainboro
7. Union County
8. Bleckley County
9. Washington County
10. Thomasville
Class A-Private
1. Athens Academy
2. Holy Innocents'
3. Darlington
4. Eagle's Landing Christian
5. Fellowship Christian
6. Wesleyan
7. Prince Avenue Christian
8. Christian Heritage
9. Savannah Country Day
10. Hebron Christian
Class A-Public
1. Irwin County
2. Clinch County
3. Pelham
4. Wilcox County
5. Mitchell County
6.  Commerce
7. Lincoln County
8. Bowdon
9. Manchester
10. Johnson County