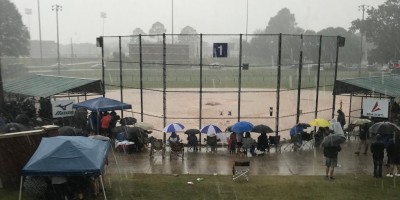 GHSA Twitter
Poor weather in Columbus on Saturday forced the postponement of seven of the eight softball championship games to Monday. The remaining games will be hosted by the undefeated team and will begin at the point on interruption.
One classification was able to complete its tournament before the deluge when Mount de Sales won its first-ever state championship after a flawless run through the Class A-Private bracket. The Cavaliers beat Wesleyan, the two-time defending champions, 2-0 in the championship game. Mount de Sales beat Stratford 3-2 in the first round, Wesleyan 4-2 in the second round and George Walton 2-1 to earn the finals berth.
When the games were called on Saturday, here is how things stood.
Class AAAAAAA: Mountain View, the unbeaten team, will host Grayson for the remainder of the championship series. Mountain View leads 3-1 heading into the fourth inning. Grayson needs two victories for its third state championship. Mountain View is one win away from its first-ever title.
Class AAAAAA: Pope will play host at 4 p.m. on Monday and it leads Lee County 3-0 in the top of the second inning. Pope is trying for its second state title after taking the AAAAA crown in 2014. Lee County is trying for its first championship.
Class AAAAA: Locust Grove is leading 4-0 entering the fifth inning and will host Harris County at 6 p.m. on Monday for the title. After a run through the loser's bracket, Harris County will need two victories over the Wildcats to claim its first title since 2000. Locust Grove is one victory away from its third-straight state championship.
Class AAAA: Heritage-Catoosa will host when play resumes and it trails Marist 3-2 in the seventh inning. Marist need two victories for its third state championship. Heritage is trying to defend its 2018 state championship.
Class AAA: Franklin County leads Ringgold 5-2 through four innings and will be the host when play resumes. The Lions are hoping to defend last year's title for their second-ever championship. Ringgold is trying for its second state championship and first since 2005 in Class AAAA.
Class AA: Banks County leads 2-1 through four innings over Bremen and will play host for the remainder of the series at 6 p.m. on Monday. Both programs are trying for their first-ever state championships.
Class A-Public: Through five innings, Gordon Lee leads Trion 4-1 and will play host when the series resumes. The Trojans are in the hunt for their 10th state championship and fifth in a row. Trion needs two victories for its first-ever state title.