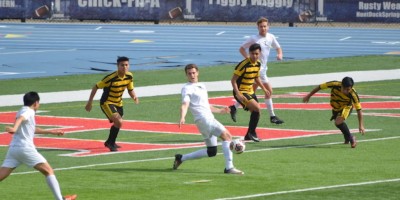 Lakeside-DeKalb starts the season at the top of the state's highest classification on the boys side and the Vikings lead South Gwinnett, Lambert, Peachtree Ridge and Lassiter in the top 5. Campbell, Forsyth Central, Hillgrove, Meadowcreek and Pebblebrook round out the top 10. Top-ranked Lakeside is 6-0-1 and coming off a 3-2 victory over Berkmar on Friday.
In Class AAAAAA, Harrison takes the top spot ahead of Sprayberry, Dalton, Gainesville and Houston County in the top 5. Chattahoochee, Heritage-Conyers, Sequoyah, Tucker and Pope finish out the top 10. McIntosh leads Class AAAAA ahead of Johnson-Gainesville, Starr's Mill, Rome and Cedar Shoals.
In Class AAAA, Woodward Academy has the top spot with Marist, Druid Hills, St. Pius X and Blessed Trinity in the top 5.
Westminster leads Class AAA ahead of Greater Atlanta Christian, Pace Academy, Coahulla Creek and North Murray. Union County is the team to beat in Class AA with Putnam County, Bremen, Thomasville and Harlem filling up the top 5.
St. Anne Pacelli is the team to beat in Class A-Private ahead of Paideia, Athens Academy, Atlanta International and Pinecrest Academy. In Class A-Public, Georgia Military tops the poll with Drew Charter, Atkinson County, Trion and Claxton rounding out the top of the class.
Class AAAAAAA
1. Lakeside-DeKalb
2. South Gwinnett
3. Lambert
4. Peachtree Ridge
5. Lassiter
6. Campbell
7. Forsyth Central
8. Hillgrove
9. Meadowcreek
10. Pebblebrook
Class AAAAAA
1. Harrison
2. Sprayberry
3. Dalton
4. Gainesville
5. Houston County
6. Chattahoochee
7. Heritage-Conyers
8. Sequoyah
9. Tucker
10. Pope
Class AAAAA
1. McIntosh
2. Johnson-Gainesville
3. Starr's Mill
4. Rome
5. Cedar Shoals
6. Carrollton
7. Whitewater
8. Cross Keys
9. Clarke Central
10. Decatur
Class AAAA
1. Woodward Academy
2. Marist
3. Druid Hills
4. St. Pius X
5. Blessed Trinity
6. Chestatee
7. Southeast Whitfield
8. Denmark
9. LaGrange
10. Columbus
Class AAA
1. Westminster
2. Greater Atlanta Christian
3. Pace Academy
4. Coahulla Creek
5. North Murray
6. Jefferson
7. Islands
8. Lovett
9. Benedictine
10. Savannah Arts
Class AA
1. Union County
2. Putnam County
3. Bremen
4. Thomasville
5. Harlem
6. Gordon Central
7. Jeff Davis
8. Coosa
9. Lamar County
10. Fitzgerald
Class A-Private
1. St. Anne Pacelli
2. Paideia
3. Athens Academy
4. Atlanta International
5. Pinecrest Academy
6. Whitefield Academy
7. Mount de Sales
8.  King's Ridge Academy
9. Wesleyan
10. Calvary Day
Class A-Public
1. Georgia Military
2. Drew Charter
3. Atkinson County
4. Trion
5. Claxton
6. Academy for Classical Education
7. Towns County
8. Dooly County
9. Elite Scholars
10.  Lake Oconee