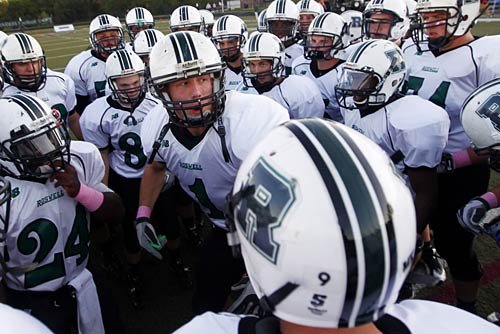 AJC.com
In Class AAAAAA, the six of the top seven teams were in action this weekend and dominated margin of victory at 36.3 points per game. No. 1 Archer held off Peachtree Ridge 26-10 on Saturday and No. 2 Colquitt County dominated Tampa's Plant (Fla.) 42-8. Third-ranked McEachern enjoyed a bye week before this Friday's showdown with Buford and Grayson (34-0) and Roswell (52-0) shut out Gainesville and Centennial, respectively. Etowah sprinted past neighboring Sequoyah 49-7 and Mill Creek erupted to a 51-13 victory over West Forsyth.  Lassiter's turnaround from last year has been one of the biggest storylines of the young season and the Trojans debut at No. 10 after a 27-9 win at Kell, where the defense did not allow a single point from the Longhorns offense.
In Class AAAAA, No. 1 Houston County cruised past Veterans 41-13 on Thursday and Ware County scored a 37-8 win over Hampton. Kell's loss dropped the Longhorns out of the poll and Coffee debuts at No. 10.
Jonesboro shook the Class AAAA poll with its 17-15 win over Sandy Creek and debuts at No. 5. St. Pius fell 17-6 to Blessed Trinity and takes No. 7. Dodge County debuted at No. 9 in Class AAA and Rabun County made its first appearance in the Class AA top 10.
Marion County took No. 1 in Class A-Public after Hawkinsville's 13-0 loss to Bleckley County. Treutlen debuted at No. 8. In Class A-Private Prince Avenue Christian's 42-12 win over Aquinas moved the Wolverines to No. 2 in the poll after Eagle's Landing Christian dropped to No. 3 after a hard-fought 28-21 loss to Stockbridge.
Class AAAAAA
1. Archer
2. Colquitt County
3. McEachern
4. Grayson
5. Mill Creek
6. Roswell
7. Etowah
8. Lee County
9. Norcross
10. Lassiter
Class AAAAA
1. Houston County
2. Ware County
3. Jones County
4. Stockbridge
5. Mays
6. Northside-Warner Robins
7. Creekside
8. Lanier
9. Coffee
10. Glynn Academy
Class AAAA
1. Buford
2. Cartersville
3. Woodward Academy
4. Griffin
5. Jonesboro
6. Sandy Creek
7. St. Pius
8. Marist
9. Mary Persons
10. Cairo
Class AAA
1. Blessed Trinity
2. Calhoun
3. Elberty County
4. Westminster
5. Jefferson
6. Cedar Grove
7. West Hall
8. Pierce County
9. Dodge County
10. Washington County
Class AA
1. Benedictine
2. Pace Academy
3. Greater Atlanta Christian
4. Fitzgerald
5. Wesleyan
6. Macon County
7. Screven County
8. Darlington
9. Vidalia
10. Rabun County
Class A-Private
1. Mt. Paran
2. Prince Avenue Christian
3. Eagle's Landing Christian
4. Calvary Day
5. Landmark Christian
6. Stratford Academy
7. Pacelli
8. First Presbyterian Day
9. Mt. Pisgah
10. Savannah Christian
Class A-Public
1. Marion County
2. Charlton County
3. Irwin County
4. Commerce
5. Dooly County
6. Clinch County
7. Hawkinsville
8. Treutlen
9. Emanuel County Institute
10. Jenkins