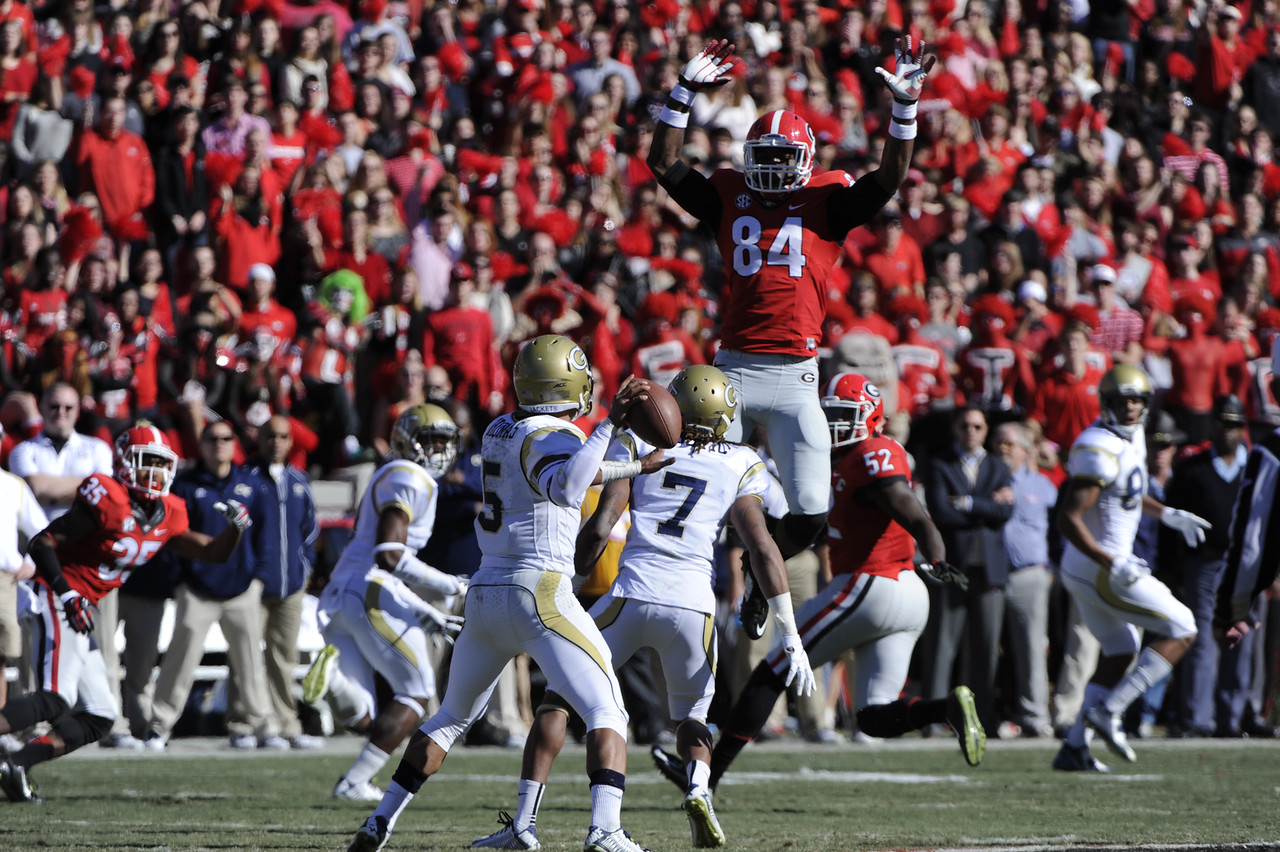 John Kelley
ATHENS, Ga.- – For the past two seasons, Georgia fans have gotten used to seeing number 84 Leonard Floyd making huge plays for the defense. During his two year career in Athens, Floyd has racked up 18 tackles for a loss and 12.5 sacks lining up on the other side from senior outside linebacker Jordan Jenkins.
This year Floyd's name came up in the preseason with much interest when he was listed on the "unofficial" depth chart at first team "Mike" linebacker alongside Reggie Carter. Plus, Floyd was listed as the "Sam" linebacker with Lorenzo Carter.
This raised the antenna for the Georgia media and fans to the plans that Defensive Coordinator Jeremy Pruitt had in store for him.
We've also learned that Floyd is used in certain situations at the "Star" position that is used in this defense. We've also heard that freshman Rico McGraw and redshirt sophomore Reggie Wilkerson get reps at this position as well.
Floyd is quickly showing his versatility and that got him quite the nickname from redshirt sophomore Davin Bellamy.
"I always say all the time that he's like the 'LeBron James of defense,'" Bellamy said. "He can play every position out there. So we know with Leonard playing other spots on the field, it frees up us. Those guys can plug us anywhere and we'll try to make it work."
CBSSports.com's Rob Rang says that Floyd has a "relentless motor" and shows "surprising power with his his hands." He does say that Floyd could use another year in the weight room and an injury free 2015 in order to improve his draft prospects for the NFL.
The good news is that many Georgia players say that this past summer under new strength and conditioning coach Mark Hocke was beneficial for all. Plus, Floyd is back from that shoulder issue that kept hi from playing in the Belk Bowl this past December.
Floyd having the opportunity to move around on this defense and showcase his ability to cover receivers on certain plays will help. Pruitt says he trust Floyd with this opportunity.
"He's gotten to work a lot of different positions," Pruitt said. "So, he's one of the few guys we've got that can kind of do that. With some injuries we've had, he's been the guy that's kind of plugged in with whoever's out. So, its been good for him and it's been good for us as a defense."
Georgia did get Floyd some good reps with the inside linebackers, while junior's Reggie Carter and Tim Kimbrough missing some of fall camp with injuries.
In terms of being surprised with the versatility that Floyd has shown on the practice field. Sophomore safety Dominick Sanders is one of the Georgia players that wasn't surprised at all.
"He's shown us that he can cover," Sanders said. "He's shown us that he play other positions and not have a hard time playing that other position."
The first chance to see Floyd showing off his versatility will come this weekend, when Georgia opens with ULM (Louisiana-Monroe) at noon inside Sanford Stadium. COLLEGE FOOTBALL IS FINALLY HERE!!!!