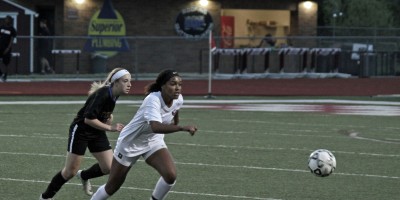 In the state's highest classification, Lambert overtakes Parkview as the team to beat. The Longhorns flawless season got a bit better with back-to-back 10-0 victories over West Hall and South Forsyth in the past week. Lambert has allowed just two goals all year and are riding a streak of nine straight shutouts since allowing a goal to St. Pius X on Feb. 14. Parkview fell to seconds. Peachtree Ridge and Lassiter remain third and fourth with Roswell replacing Brookwood at No. 5. Brookwood slid to sixth.
John's Creek leads Class AAAAAA after a 7-0 victory over Alpharetta on March 22. The Gladiators are ahead of No. 2 Harrison and No. 3 Dacula again this week. Heritage-Conyers, previously No. 7, climbed to No. 4 with Glynn Academy rounding out the top-5 at No. 5.
McIntosh is at the head of the pack in Class AAAAA with a 10-1-1 record despite a loss to St. Pius X on the road on March 22. Decatur, Starr's Mill and Veterans each hold the same spot in last week's poll with a new No. 5, Buford, entering the fray.
St. Pius is the new leader in Class AAAA after overtaking Blessed Trinity for the top spot. Blessed Trinity slid to third with Marist, previously third, taking the second.
Westminster is in control of Class AAA again this week and, again, Greater Atlanta Christian is chasing. Pike County, Lovett and Dawson County remain the same as the top-5 didn't shift.
In Class AA, Vidalia is the team to beat with St. Vincent's and Bremen at No. 2 and No. 3. Lamar County, previously No. 5, moved to fourth and Model, previously fourth, fell to fifth. In Class A, the top-5 did not shift with First Presbyterian Day leading the pack.
Class AAAAAAA
1. Lambert
2. Parkview
3. Peachtree Ridge
4. Lassiter
5. Roswell
6. Brookwood
7. North Gwinnett
8. Mill Creek
9. East Coweta
10. Norcross
Class AAAAAA
1. Johns Creek
2. Harrison
3.  Dacula
4. Heritage-Conyers
5. Glynn Academy
6. Houston County
7. Dunwoody
8. Cambridge
9. Alpharetta
10. Creekview
Class AAAAA
1. McIntosh
2. Decatur
3. Starr's Mill
4. Veterans
5. Buford
6. Union Grove
7. Warner Robins
8. Riverwood
9. Arabia Mountain
10. Whitewater
Class AAAA
1. St. Pius X
2. Marist
3. Blessed Trinity
4. Columbus
5. Flowery Branch
6. North Oconee
7. Woodward
8. White County
9. Northside-Columbus
10. Mary Persons
Class AAA
1. Westminster
2. Greater Atlanta Christian
3. Pike County
4. Lovett
5. Dawson County
6. Jackson County
7. Lumpkin County
8. Jefferson
9. Pierce County
10. Pace Academy
Class AA
1. Vidalia
2. St. Vincent's
3. Bremen
4. Lamar County
5. Model
6. Screven County
7. Harlem
8. East Laurens
9. Fitzgerald
10. Berrien County
Class A
1. First Presbyterian
2. Wesleyan
3. Pinecrest Academy
4. Brookstone
5. Athens Academy
6. Savannah Country Day
7. Providence Christian
8. Eagle's Landing Christian
9. Paideia
10. Stratford Academy