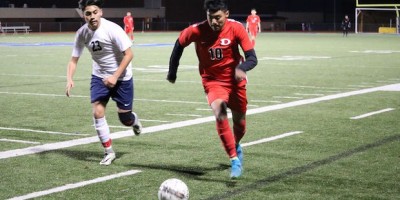 Hillgrove tops Class AAAAAAA again this week following a four-game road of North Paulding 5-2, Marietta 5-1, North Cobb 3-0 and McEachern 2-0. It's flawless at 13-0 and the team to beat. Mill Creek fell from No. 3 to No. 8 as Lakeside-DeKalb moved up from No. 4 to No. 3. Mountain View climbed from No. 7 to No. 4 and Collins Hill climbed from No. 9 to No. 5.
In Class AAAAAA, things stay similar with Dalton leading ahead of No. 2 Sprayberry again this week. Pope, previously No. 4 moved up to No. 3 and Chattahoochee, previously No. 3, dropped to fourth. Gainesville is fifth again this week.
Decatur leads Class AAAAA again this week with a new No. 2, Cross Keys, entering the mix after being third last week. Former No. 2, Clarkston, slid to fifth. McIntosh, previously No. 4, jumped up to third and Johnson-Gainesville moved from No. 6 to No. 4.
In Class AAAA, Upson-Lee leads Chestatee again this week. Northwest Whitfield, previously No. 3, fell to fifth. Eastside, previously fourth, climbed to third. Woodward Academy, previously No. 8, moved to fourth.
Westminster leads Class AAA ahead of Greater Atlanta Christian again this week. Benedictine fell from No. 3 to No. 6 as Islands and Pace Academy took the fourth and fifth spots, respectively.
In Class AA, Coosa leads again ahead of Putnam County, Woodville-Tompkins, Harlem and Jeff Davis. Paideia is leading Class A ahead of Atlanta International, Whitefield Academy St. Anne Pacelli and Wesleyan.
Class AAAAAAA
1. Hillgrove
2. Lambert
3. Lakeside-DeKalb
4. Mountain View
5. Collins Hill
6. Pebblebrook
7. North Gwinnett
8. Mill Creek
9. Colquitt County
10. Roswell
Class AAAAAA
1. Dalton
2. Sprayberry
3. Pope
4. Chattahoochee
5. Gainesville
6. Cambridge
7. Northview
8. Tucker
9. Greenbrier
10. Alpharetta
Class AAAAA
1. Decatur
2. Cross Keys
3. McIntosh
4. Johnson-Gainesville
5. Clarkston
6. Starr's Mill
7. Carrollton
8. Clarke Central
9. Rome
10. North Springs
Class AAAA
1. Upson-Lee
2. Chestatee
3. Eastside
4. Woodward
5. Northwest Whitfield
6. Oconee County
7. Marist
8. St. Pius X
9. Columbus
10. Blessed Trinity
Class AAA
1. Westminster
2. Greater Atlanta Christian
3. East Hall
4. Islands
5. Pace Academy
6. Benedictine
7. Lovett
8. Pike County
9. Jefferson
10. Morgan County
Class AA
1. Coosa
2. Putnam County
3. Woodville-Tompkins
4. Harlem
5. Jeff Davis
6. Vidalia
7. Thomasville
8. Fitzgerald
9. Bremen
10. Lamar County
Class A
1. Paideia
2. Atlanta International
3. Whitefield Academy
4. St. Anne Pacelli
5. Wesleyan
6. Mount de Sales
7. Pinecrest
8. Athens Academy
9. Holy Innocents'
10. Riverside Military