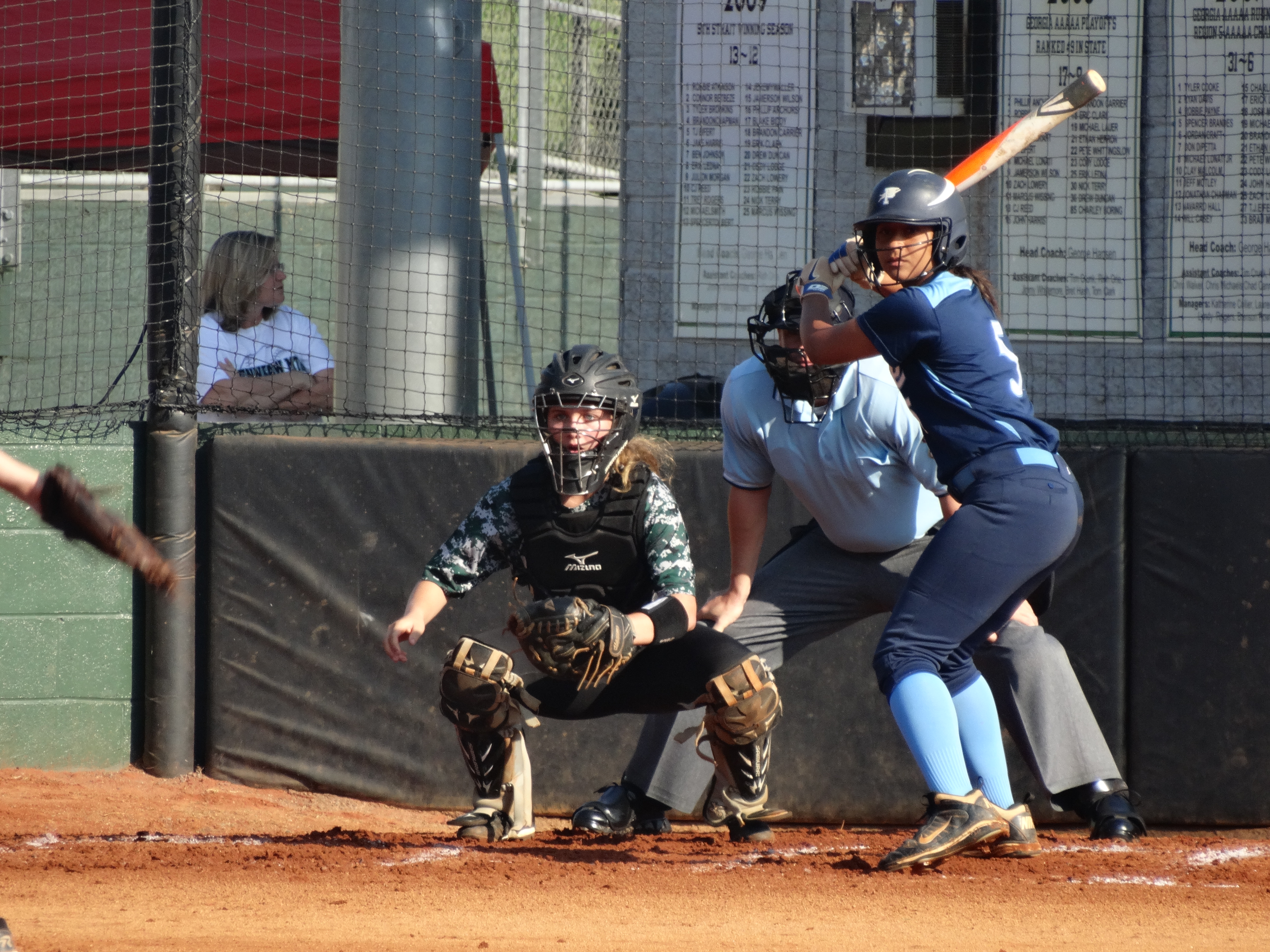 Photo by Pope Fastpitch
North Gwinnett rolled to 13-0 with a 5-0 win over Mountain View last Thursday. Class AAAAAA's No. 1 ranked team received five innings of shutout ball from Chandler Dennis. Haley Short drove home two runs while Makenna Dowell and Haley Griffith both added RBIs. Griffith, a junior, leads the Bulldogs with 12 RBIs this season and is batting .375.
No. 6 Harrison (9-1) and No. 7 Parkview (11-2) make their debuts in the polls this week. The Panthers picked up wins over Central Gwinnett, George Walton Academy and Class AA's No. 5 ranked Harlem Bulldogs. Against Central Gwinnett, Sami Rosa and Jada Lake combined to throw a four inning no-hitter to win 12-0. The Panthers defeated Harlem 9-1 and received a three-run homer from Lexi Walker to blow the game open. She would finish with four RBIs on the day.
No. 1 Cambridge (6-0) continued its dominance of AAAAA and posted three more shutouts last week. The Bears have not allowed a run all season and have outscored opponents 36-0. Heritage-Conyers has jumped from being unranked all the way to the No. 6 spot. The Patriots are 7-1 and pitcher Kam Toney tossed a perfect game against Clarke Central last Tuesday in a 12-0 victory. No. 10 Loganville (8-3) cracks the top ten after four straight wins, kicked off by a 7-3 victory over Class AAAA No. 10 Madison County last Monday.
In Class AAAA, Buford (9-2) clings onto the No. 1 spot with No. 2 Heritage-Catoosa (11-0) charging hard. The Wolves fell in nine innings to AAAAAA's No. 2 South Forsyth 3-1 on Saturday.  It was Buford's first home loss since October 2012. The Generals notched wins over Class AAA No. 1 Ringgold 3-2, Carrollton 12-0 and Veterans 1-0. Brooklyn Frazier has batted .370 while Sydney Smith has hit .400 to power Heritage.
Class AAA's weekend slate was highlighted by a showdown between two Region 6 juggernauts. Ringgold (7-1) entered ranked No. 2 while Calhoun (9-1) entered No. 1. Once the dust settled, the Tigers came away with a 9-6 win and swapped positions with Calhoun, taking the No. 1 ranking. Ringgold used a four-run sixth inning to push home the go-ahead runs. Ringgold managed to cool off Jana Johns and held her to a 0-2 night. Her average now dips to .645. The Yellowjackets' other top hitter, Emily Weatherman, provided the majority of the offense with two hits, two runs scored and two RBIs.
Vidalia (12-0) jumps from No. 3 to No. 1 in Class AA. Among the shuffling, Gordon Lee (7-1) holds strong at No. 2, while Union County (12-2) rises three spots to No. 3, Heard County (8-3) drops from their perch three spots to No. 4 and No. 5 Harlem (8-2) rounds out the top five. The Union County Panthers have been led on offense by junior Kendra Tanner and freshman Aladriel Arnold. Harlem's lone two losses came to top ten teams in their respective classifications, Parkview and Walnut Grove.
No. 1 Prince Avenue (5-0) continues to ride high in Class A-Private while ELCA (8-4) slides down two more spots to No. 4. Tattnall Square Academy (14-1) has jumped up to No. 2 after a 5-3 win over No. 8 Calvary Day (6-3).
No. 1 Johnson County (12-1) maintains their grasp atop Class A-Public, but No. 2 Wilcox County (11-1), No. 3 Charlton County (11-1) and No. 4 Baconton Charter (14-1) have all looked strong. Telfair County (8-2) rose to No. 6 after handing No. 5 Echols County (9-1) its first loss of the season.
Softball 8-24 Rankings
AAAAAA
1. North Gwinnett
2. South Forsyth
3. Archer
4. Woodstock
5. East Coweta
6. Harrison
7. Parkview
8. North Forsyth
9. Dacula
10. Lassiter
AAAAA
1. Cambridge
2. Greenbrier
3. Chapel Hill
4. Ola
5. Cross Creek
6. Heritage-Conyers
7. Creekview
8. Allatoona
9. Grovetown
10. Loganville
AAAA
1. Buford
2. Heritage-Catoosa
3. Walnut Grove
4. North Hall
5. Gilmer
6. Marist
7. Thomas County Central
8. Whitewater
9. Monroe Area
10. Madison County
AAA
1. Ringgold
2. Calhoun
3. Dodge County
4. Pierce County
5. Morgan County
6. Franklin County
7. Jackson County
8. Pepperell
9. Central-Carrollton
10. Southeast Bulloch
AA
1. Vidalia
2. Gordon Lee
3. Union County
4. Heard County
5. Harlem
6. Bremen
7. Bryan County
8. Jeff Davis
9. Social Circle
10. Wesleyan
A-Private
1. Prince Avenue Christian
2. Tattnall Square Academy
3. Brookstone
4. ELCA
5. First Presbyterian Day
6. Stratford Academy
7. Christian Heritage
8. Calvary Day
9. Mount Pisgah
10. Mt. Zion-Carrollton
A-Public
1. Johnson County
2. Wilcox County
3. Charlton County
4. Baconton Charter
5. Echols County
6. Telfair County
7. Trion
8. Treutlen
9. Georgia Military
10. Atkinson County