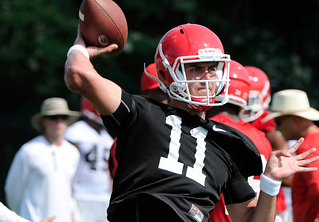 John Kelley/ Georgia Athletics
In a surprise move, Georgia head football coach Mark Richt announced Monday evening that junior Greyson Lambert will start for the Bulldogs in their season opener against ULM. Richt says that the decision was close and that he knew that Lambert would be the guy on Saturday. He just wanted to have one more conversation with his offensive coordinator Brian Schottenheimer before making it official.
Lambert wins the position over redshirt sophomore Brice Ramsey and junior Faton Bauta. Richt told the gathered media the news after Monday's practice.
"Lambert is going to start the game," Richt said. "There may be others that get in the game, but he's the starter. It's been a very, very close competition and it's still being contested. But at this point, we felt it was wise to name the starter and get him the reps with the No. 1 unit."
If you'll remember, Richt played both David Greene and Corey Phillips in the season opener back in 2001 to let the competition play itself out. Greene would eventually win out.
The same could possibly happen in 2015, as Richt eluded to today.
Richt says that Lambert won out based on "cumulative performance." He also says this decision was very tough.
"It really has been," Richt said. "It's a big deal because it's a big position, and it's one where normally you don't roll guys in and out. Every other position you do that, but quarterbacks tend not to do that. It was a tough decision because they're all extremely hard workers, they're smart and they're talented. They've all done well in our opinion."
The quarterbacks were told of the decision before practice today and the team was told just after work concluded.
Lambert comes to Georgia with two years of eligibility left, after transferring from Virginia. During his career with the Cavaliers, Lambert threw for 1972 yards with 11 touchdown passes and 13 interceptions in 16 games played.