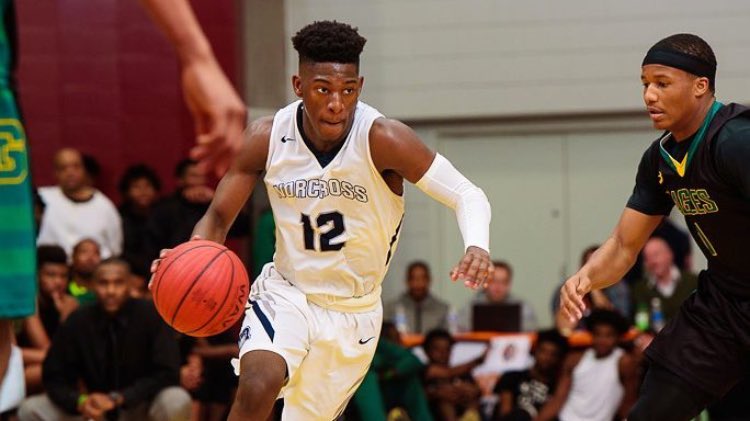 Photo by Ty Freeman
Ranked No. 2 in the nation to open the season, Wheeler now finds itself No. 7 in Class AAAAAAA after the Wildcats haven't been able to piece everything together. No. 3 Westlake greeted Wheeler rudely to Region 2 play, handing the 'Cats a 73-67 road loss, the Lions doing it without star guard Jamie Lewis. DeMatha, MD beat Wheeler 66-58 to continue the slide.
After a poor by his standards showing against Wheeler to open the season, MJ Walker has been on a tear for Class AAAAAA No. 2 Jonesboro. In their past three games, the Cardinals have hammered Tucker (69-49), Lovejoy (79-24) and Mundy's Mill (75-30), Walker averaging 28.6 points during the stretch. No. 4 Langston Hughes has navigated Region 5 successfully thus far with wins over Alexander (72-71), Tri-Cities (68-55) and Creekside (77-58). Tri-Cities has lost three straight, with Mays and No. 3 South Paulding handing them double digit losses, dropping the Bulldogs out of the rankings along with back-to-back state runner up Allatoona, who is now 3-3 with a 54-45 loss to No. 9 South Cobb who replaces them.
In Class AAAAA, No. 1 Buford cemented its status as tops in the state after holding off No.6 Cedar Shoals. Last week's No. 2, No. 3 and No. 4 teams all suffered losses, leading to shakeup. New No. 2 Eagle's Landing crushed Class AAA No. 2 Cedar Grove, 71-49. The Eagles rise three spots while No. 3 Fayette County also jumps three places. Miller Grove is on the move behind scoring machine Tae Hardy, as the Wolverines remained a thorn in the side of rival No. 5 Southwest DeKalb, beating the Panthers 51-42.
Sandy Creek picked up a major resume building win in Class AAAA by knocking off Class A-Private No. 4 North Cobb Christian 86-77 at the LakePoint Showcase. The Patriots received 24 points from Evan Jester, 21 from Xavier Brewer and 17 from TJ Bickerstaff. No. 6 Henry County's roller coaster season continued, losing to Julian Cameron and Woodward Academy 71-70 before bouncing back and stopping Salem 69-65. The Warhawks slip three spots. LaGrange jumps three spots after beating Class AA No. 5 Callaway 75-65.
No. 1 Westside-Macon was upset by newly ranked No. 6 Central-Macon, but the Seminoles retain their top ranking after No. 2 Cedar Grove, No. 4 Pace Academy and No. 8 Liberty County all lost. The Cedar Grove Saints made a statement, beating Pace 55-42, but were later throttled by Eagle's Landing. Liberty County plummets four spots, but hasn't been healthy as Davion Mitchell is still in a boot with a broken toe.
Even with a 65-54 loss to Class AA No. 1 South Atlanta, Therrell showed that it can play with the big boys and rises six spots to No. 2. Butler jumps four spots to No. 3 after stunning No. 9 Glenn Hills 70-69 at the buzzer. The Bulldogs head to 7-1 Josey on Tuesday. A win and a clean week for the Eagles likely guarantees a Top 10 spot for Josey. No. 6 Dublin and No. 7 Monticello had rough weeks and tumble out of the No. 3 and No. 2 spots, respectively. Monticello was upset by Banks County 57-52 and then lost to Jones County 66-59. The Irish got revenge against Class A-Public No. 8 Twiggs County, but lost to A-Public No. 5 Treutlen, 67-64.
North Cobb Christian's loss to Sandy Creek drops them to No. 4 in Class A-Private as No. 2 St. Francis remains undefeated and No. 3 Southwest Atlanta Christian drills No. 7 Holy Innocents' 88-61. Our Lady of Mercy exits the rankings following losses to Landmark Christian and No. 1 Greenforest. Darlington takes over No. 9.
Class A-Public is always fun to try and wrap my brain around and by fun I mean impossible. Calhoun County looks good at No. 2 in the state and will host No. 3 Quitman County on Tuesday to test the Hornets' legitimacy.
Class AAAAAAA
1. Norcross (8-0)
2. Newton (8-0)
3. Westlake (6-1)
4. Pebblebrook (5-3)
5. McEachern (4-0)
6. Collins Hill (8-1)
7. Wheeler (4-3)
8. Tift County (7-1)
9. Shiloh (5-3)
10. Meadowcreek (9-1)
Class AAAAAA
1. Gainesville (6-0)
2. Jonesboro (6-1)
3. South Paulding (7-0)
4. Langston Hughes (7-3)
5. Heritage-Conyers (5-2)
6. Brunswick (6-1)
7. Dacula (5-2)
8. Alpharetta (9-1)
9. South Cobb (6-2)
10. Richmond Hill (8-1)
Class AAAAA
1. Buford (7-0)
2. Eagle's Landing (6-1)
3. Fayette County (6-0)
4. Miller Grove (5-2)
5. Southwest DeKalb (7-2)
6. Cedar Shoals (6-2)
7. Columbia (5-3)
8. Riverwood (10-1)
9. New Hampstead (6-2)
10. Warner Robins (5-1)
Class AAAA
1. Sandy Creek (4-1)
2. Upson-Lee (9-0)
3. Thomson (2-1)
4. St. Pius X (5-2)
5. LaGrange (5-1)
6. Henry County (6-4)
7. Perry (8-1)
8. Westover (4-2)
9. Richmond Academy (7-2)
10. Eastside (5-1)
Class AAA
1. Westside-Macon (2-2)
2. Cedar Grove (3-1)
3. Greater Atlanta Christian (5-1)
4. Pace Academy (3-2)
5. Islands (5-2)
6. Central-Macon (3-0)
7. Calhoun (5-0)
8. Liberty County (4-4)
9. Morgan County (2-2)
10. Jenkins (4-4)
Class AA
1. South Atlanta (4-0)
2. Therrell (6-1)
3. Butler (4-1)
4. Thomasville (3-4)
5. Callaway (1-1)
6. Dublin (2-3)
7. Monticello (5-4)
8. Laney (4-1)
9. Glenn Hills (4-2)
10. KIPP Atlanta (5-1)
Class A-Private
1. Greenforest (6-2)
2. St. Francis (8-0)
3. Southwest Atlanta Christian (3-3)
4. North Cobb Christian (6-2)
5. Lakeview Academy (6-1)
6. Aquinas (3-0)
7. Holy Innocents' (3-4)
8. Tattnall Square (2-0)
9. Darlington (4-1)
10. Whitefield Academy (3-2)
Class A-Public
1. Wilkinson County (4-1)
2. Calhoun County (7-0)
3. Quitman County (8-1)
4. Taylor County (4-1)
5. Treutlen (5-0)
6. Crawford County (5-2)
7. Manchester (5-1)
8. Twiggs County (5-1)
9. Clinch County (2-0)
10. Montgomery County (6-0)