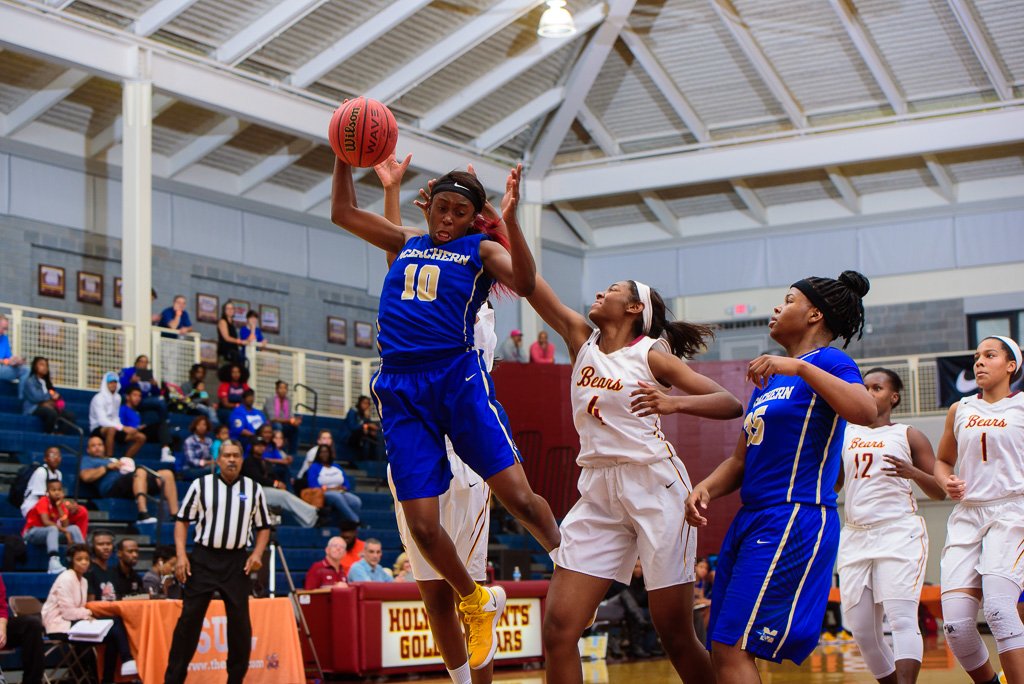 Photo by Ty Freeman
Three straight losses, all coming out of state, forces McEachern down to No. 3 in Class AAAAAAA. The Indians went 0-2 in the She Got Game Classic in Washington, D.C. Usually playing such good competition the Indians wouldn't be punished, but No. 2 Collins Hill looks like the real deal and will just sneak ahead of the Indians for their in-state work.
Harrison looked dominant as the No. 1 team in Class AAAAAA blitzed Creekview 63-37 and Hillgrove, 72-55. No. 3 Winder-Barrow got revenge against Loganville, 31-27 in another defensive struggle. Jonesboro had a week to forget in Region 4, losing to Tucker 57-43 and to Lovejoy 33-31.
Class AAAAA's No. 2 Buford took down Loganville 56-44, and in the process dropped the Red Devils from the Top 10. Replacing Loganville is No. 10 Maynard Jackson who is undefeated to open the year. No one else in the rankings lost, but that will change this week as No. 6 Villa Rica hosts No. 7 Carrollton in a clash of Region 7 unbeatens on Tuesday.
Americus-Sumter and Henry County both depart the Class AAAA poll following Americus-Sumter's 58-41 loss to No. 2 Columbus and the Warhawks' losses to Woodward Academy (55-48) and Salem (69-63). Debuting this week are No. 9 Baldwin and No. 10 Heritage-Catoosa.
South Georgia dominates the top of the poll in Class AAA while North Georgia fills the bottom as four teams from Region 6 go spots 7 through 10. Even with a loss to Heritage-Catoosa, Lakeview-Fort Oglethorpe continues its rise to No. 7 after defeating region foe No. 10 Haralson County 61-54. Back into the Top 10 is No. 8 Calhoun, who handed No. 9 Ringgold a region loss, 75-67. The Tigers held fast to their No. 9 spot however thanks to a 51-48 win against Northwest Whitfield. Defending state champion Morgan County drops out after a 3-4 start.
Putnam County's slide in Class AA continues as the Eagles fall from No. 4 to No. 9 after a loss to Baldwin. Pepperell exits after being ranked No. 10. No. 1 Model beat the Dragons 58-38. Into the poll for the first time this year is No. 10 Bryan County.
Wesleyan has cruised so far this season in Class A-Private. The top-ranked Wolves crushed Morgan County 81-46 and took it to St. Pius X, 56-18. Two surprises take over the No. 6 and No. 7 spots in Pinecrest Academy and Landmark Christian.
Four players are averaging double figures for Class A-Public No. 1 Pelham. The Hornets are powered by junior Mahogany Randall's 19.8 points per game. Terrell County slips to No. 4 after a strong showing loss to Monroe, 57-51.
Class AAAAAAA
1. Norcross (10-0)
2. Collins Hill (7-0)
3. McEachern (4-4)
4. Mill Creek (8-1)
5. Westlake (6-1)
6. Archer (6-2)
7. Newton (6-1)
8. Colquitt County (7-0)
9. Lambert (7-0)
10. North Forsyth (8-1)
Class AAAAAA
1. Harrison (7-1)
2. Mays (3-2)
3. Winder-Barrow (5-3)
4. Douglas County (8-2)
5. Lovejoy (8-0)
6. Grovetown (6-3)
7. Sequoyah (7-0)
8. Tucker (8-1)
9. Northview (8-1)
10. Jonesboro (6-3)
Class AAAAA
1. Flowery Branch (8-1)
2. Buford (4-0)
3. Griffin (8-0)
4. Southwest DeKalb (6-2)
5. Warner Robins (8-0)
6. Villa Rica (7-0)
7. Carrollton (5-0)
8. Harris County (8-0)
9. Arabia Mountain (8-0)
10. Maynard Jackson (5-0)
Class AAAA
1. North Oconee (7-1)
2. Columbus (6-1)
3. Cross Creek (4-3)
4. Carver-Columbus (7-0)
5. West Hall (4-3)
6. Sandy Creek (6-0)
7. Jefferson (5-2)
8. Northwest Whitfield (5-3)
9. Baldwin (5-1)
10. Heritage-Catoosa (8-0)
Class AAA
1. Johnson-Savannah (9-0)
2. Beach (8-0)
3. Greater Atlanta Christian (6-4)
4. Hart County (7-0)
5. Redan (7-1)
6. Monroe (6-0)
7. Lakeview-Fort Oglethorpe (8-1)
8. Calhoun (7-2)
9. Ringgold (6-2)
10. Haralson County (5-2)
Class AA
1. Model (5-1)
2. Laney (3-1)
3. Rabun County (7-1)
4. Fitzgerald (2-0)
5. Dodge County (4-1)
6. Vidalia (4-1)
7. Heard County (8-2)
8. Dade County (7-3)
9. Putnam County (3-3)
10. Bryan County (7-0)
Class A-Private
1. Wesleyan (8-0)
2. St. Francis (6-1)
3. Holy Innocents' (7-1)
4. Calvary Day (5-0)
5. Lakeview Academy (7-2)
6. Pinecrest Academy (6-1)
7. Landmark Christian (5-3)
8. Our Lady of Mercy (6-2)
9. Darlington (4-2)
10. Stratford Academy (5-1)
Class A-Public
1. Pelham (4-0)
2. Greenville (6-0)
3. Telfair County (7-0)
4. Terrell County (5-1)
5. Wheeler County (6-1)
6. Marion County (5-0)
7. Taylor County (4-1)
8. Wilcox County (5-2)
9. Woodville-Tompkins (6-2)
10. Treutlen (3-2)