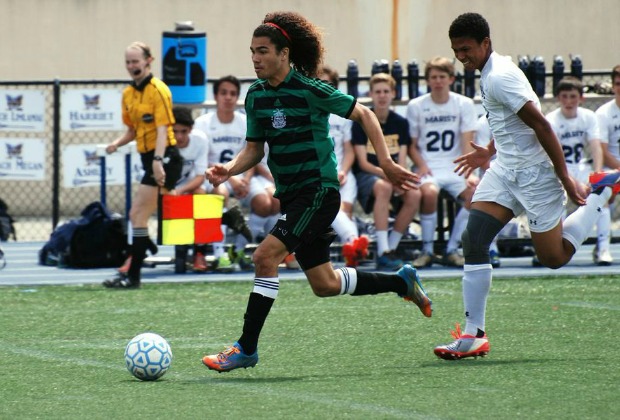 Lassiter falls out of the top ten in Class AAAAAA following back-to-back losses including a loss to No. 8 Milton. No. 1 Lakeside-DeKalb and No. 2 Chattahoochee remain undefeated. Lakeside pounded Alcovy 7-0 last week. No. 9 Pebblebrook debuts in the poll after an 8-0 start. The Falcons visit 8-2 Westlake this Tuesday for a crucial Region 3 bout.
No. 1 Dalton flexed its muscle as the team to beat in AAAAA by defeating No. 2 McIntosh 2-1. The Chiefs hold onto the second spot even after the loss. Sequoyah moves up two spots following a 4-0 shutout of winless Woodland-Cartersville. Clarkston drops from No. 5 to No. 10 after a 1-0 loss to Dunwoody (5-4).
Class AAAA remains the same with no movement. No. 3 Whitewater picked up an impressive 3-0 win over AA No. 4 GAC.
Decatur takes over No. 1 in Class AAA after knocking off Westminster 2-1. Blessed Trinity slips two spots to No. 10 after a hard fought loss to AA No. 1 Wesleyan, 1-0.
The only movement in AA comes at the No. 3 and 4 spots where Long County moves ahead of GAC.
Class A is yet to be decided. Defending state champion No. 7 Atlanta International continues its slide down the top ten at 2-6-1, but the Eagles are much better than their record suggests. In their six losses, their opponents are a combined 43-6-7. Once AIS moves into region play, expect the Eagles to lift off. No. 3 Paideia took care of No. 4 Whitefield Academy 4-0. No. 6 St. Anne-Pacelli out of Columbus has slowly risen up the poll and moves another two spots near the top.
BOYS
Class AAAAAA
1. Lakeside-DeKalb
2. Chattahoochee
3. Johns Creek
4. Mill Creek
5. Norcross
6. Parkview
7. Brookwood
8. Milton
9. Pebblebrook
10. North Gwinnett
Class AAAAA
1. Dalton
2. McIntosh
3. Houston County
4. Greenbrier
5. Sequoyah
6. Columbus
7. Starr's Mill
8. North Atlanta
9. Riverwood
10. Clarkston
Class AAAA
1. Johnson-Gainesville
2. St. Pius
3. Whitewater
4. Cross Keys
5. Northwest Whitfield
6. Southeast Whitfield
7. Spalding
8. Grady
9. Woodward Academy
10. Veterans
Class AAA
1. Decatur
2. Westminster
3. East Hall
4. West Hall
5. Dawson County
6. Oconee County
7. Savannah Arts
8. Islands
9. Jackson County
10. Blessed Trinity
Class AA
1. Wesleyan
2. Pace Academy
3. Long County
4. Greater Atlanta Christian
5. Riverside Military
6. Benedictine
7. Putnam County
8. Fitzgerald
9. Jefferson County
10. Bremen
Class A
1. Walker
2. Fellowship Christian
3. Paideia
4. Whitefield Academy
5. Savannah Country Day
6. St. Anne-Pacelli
7. Atlanta International
8. First Presbyterian Day
9. Stratford Academy
10. ELCA