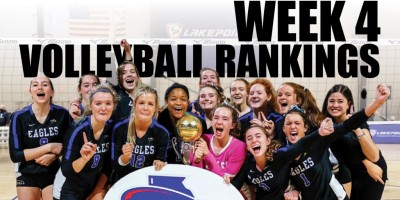 In Class 7A, No. 1 ranked Walton will host No. 6 Cherokee on Tuesday and look to improve to 4-0 against in-state opponents. The Raiders are 5-10 overall with out-of-state tournament losses, but have gone 3-0 in the state without dropping a set and get the nod for No. 1. No. 2 Buford is 19-4 with its only in-state loss coming to Class 6A Alpharetta. Additionally, undefeated and No. 3 ranked North Gwinnett (24-0) will face 10-2 Discovery on Tuesday. Lambert improved from No. 6 to No. 4 after North Cobb's loss to Kennesaw Mountain sent the Warriors down to No. 5
Class 6A No. 1 Pope (25-4) maintains its position at the top and has a 3-1 win over No. 2 Sequoyah on its resume that occurred on Aug. 25. No. 5 North Forsyth is 22-3 and has won its last 10 matches and No. 6 Allatoona recently scored a 3-0 win over No. 7 Woodstock. In Class 5A, Greater Atlanta Christian climbed to No. 1 following last week's 2-1 win over No. 2 Chattahoochee and undefeated Winder-Barrow climbed two slots to No. 2 after improving to 20-0 on the season. Chattahooochee dropped a slot to No. 3, McIntosh fell from No. 1 to No. 4 and Jefferson rounds out the top 5. Additionally, Ola (13-3) debuts at No. 10.
In Class 4A, No. 1 ranked Pace Academy has compiled a flawless 23-0 record and No. 2 Whitewater sits at 19-3. Central-Carroll dropped from No. 7 to No. 10 after its 2-1 loss to Starr's Mill and Chestatee climbed from No. 10 to No. 7. Chestatee will visit No. 8 Cherokee Bluff Tuesday. In Class 3A, Savannah Christian replaced Sandy Creek at No. 1 and Sandy Creek fell to No. 4 after a loss to Morgan County that propelled the Bulldogs up to No. 3. Additionally, No. 6 White County recently defeated No. 7 Dawson County 2-1.
In Class 2A, No. 6 ranked Athens Christian is riding an 11-match win-streak and No. 8 Providence Christian has won 8-straight. They both maintain their positions, despite their hot-streaks and the poll did not see any shifts this week. Finally in Class A, No. 4 Whitefield Academy will face No. 9 Mt. Vernon and No. 7 Atlanta International on Tuesday in a top 10 double-header.
Class 7A
1. Walton
2. Buford
3. North Gwinnett
4. Lambert
5. North Cobb
6. Cherokee
7. West Forsyth
8. Hillgrove
9. South Forsyth
10. Denmark
Class 6A
1. Pope
2. Sequoyah
3. Alpharetta
4. St. Pius
5. North Forsyth
6. Allatoona
7. Woodstock
8. Etowah
9. Dunwoody
10. Marist
Class 5A
1. Greater Atlanta Christian
2. Winder-Barrow
3. Chattahoochee
4. McIntosh
5. Jefferson
6. Harris County
7. Kell
8. Greenbrier
9. Northside-Columbus
10. Ola
Class 4A
1. Pace Academy
2. Whitewater
3. Lovett
4. Heritage-Catoosa
5. Westminster
6. Holy Innocents'
7. Chestatee
8. Cherokee Bluff
9. North Oconee
10. Central-Carroll
Class 3A
1. Savannah Christian
2. Hebron Christian
3. Morgan County
4. Sandy Creek
5. Wesleyan
6. White County
7. Dawson County
8. Oconee County
9. St. Vincent's
10. LaFayette
Class 2A
1. Mt. Paran
2. Landmark Christian
3. Savannah Arts
4. North Cobb Christian
5. Elite Scholars Academy
6. Athens Academy
7. Eagle's Landing Christian
8. Providence Christian
9. Windsor Forest
10. Davidson Arts
Class A
1. Mt. Bethel
2. Mt. Pisgah
3. Armuchee
4. Whitefield Academy
5. Dade County
6. Prince Avenue Christian
7. Atlanta International
8. Tallulah Falls
9. Mt. Vernon
10. Galloway