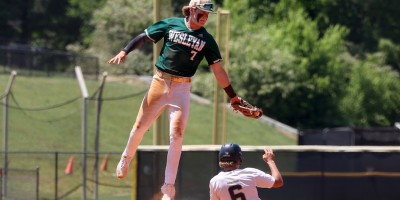 The Week 5 Baseball rankings introduced more than a dozen new teams to the polls as region play has forced a head-to-head measuring stick to the state's top playoff contenders. In Class 7A, No. 1 Parkview remains undefeated within the state of Georgia and is 8-3 overall with a four-game win-streak that has the Panthers currently ranked No. 10 in the MaxPreps National Poll—the highest of any Georgia school so far. At Parkview's heels is No. 2 Cherokee, who is 15-1 with a 14-game win-streak after its early loss to Class 6A's Etowah. Denmark split its series with South Forsyth and is 11-4 at No. 3 ahead of No. 4 North Paulding and Norcross—who jumped from No. 8 to No. 5. Forsyth Central and replaced Buford in the poll and comes in at No. 9.
In Class 6A, No. 1 Blessed Trinity is 16-1 and has won 16-straight since its 1-0 loss to Woodstock in the season opener. Lassiter moved up to No. 7 from No. 9, but has a big series remaining against Roswell. The Hornets opened this week's 3-game series with a 7-6 win over Lassiter. It's worth pointing out that the Hornets went 14-16 last season in arguably the toughest region in the state and a series win over Lassiter this week would significant. Roswell is currently 9-4 with three of its losses coming to No. 1 ranked Blessed Trinity—who has outscored its opponents 127-36 in total runs this season. Glynn Academy maintained its spot at No. 10 by following its 2-1 series win over Effingham County with a 6-0 victory over Lakeside-Evans on Tuesday.
In Class 5A, No. 1 Cartersville is 9-2 with no in-state losses and McIntosh climbed to No. 2 as a result of its tremendous 12-1 start to the season and Greenbrier's back-to-back losses to Class 3A No. 1 Harlem. In Class 4A, Cherokee Bluff took over No. 1 with its 13-0 start. The Bears got the nod for No. 1 after previously defeating defending state champion and top-ranked North Oconee to start the March segment of their schedule 6-2. In Class 3A, Pickens County replaced Pike County in the poll after a 2-1 series win over Wesleyan and Class 2A welcomed in ELCA and Brantley County to the poll. Brantley County's recent 3-0 sweep over Pierce County and Pierce County's lopsided loss to Appling County sent the Bears out of the poll and ELCA replaced Callaway after a 2-0 sweep (4-2, 3-0) over the Cavs.
In Class A Division I, Pepperell replaced Armcuhee in the poll and has won eight-straight since its 1-3 start to improve to 9-4 and Class A Division II saw ECI, Lanier County and Seminole County make their debuts
Class 7A
1. Parkview
2. Cherokee
3. Denmark
4. North Paulding
5. Norcross
6. South Forsyth
7. Walton
8. North Gwinnett
9. Forsyth Central
10. Lowndes
Class 6A
1. Blessed Trinity
2. Houston County
3. Pope
4. Allatoona
5. Woodstock
6. Etowah
7. Lassiter
8. Tift County
9. North Forsyth
10. Glynn Academy
Class 5A
1. Cartersville
2. McIntosh
3. Greenbrier
4. Locust Grove
5. Loganville
6. Cambridge
7. Harris County
8. Jefferson
9. Winder-Barrow
10. Flowery Branch
Class 4A
1. Cherokee Bluff
2. North Oconee
3. LaGrange
4. Whitewater
5. Benedictine
6. Cedartown
7. Troup
8. North Hall
9. West Laurens
10. Walnut Grove
Class 3A
1. Harlem
2. Savannah Christian
3. Calvary Day
4. Lumpkin County
5. Gordon Lee
6. Mary Persons
7. Pickens
8. Wesleyan
9. Long County
10. Thomasville
Class 2A
1. Mt. Paran
2. Fellowship Christian
3. Jeff Davis
4. Appling County
5. Model
6. Walker
7. North Cobb Christian
8. ELCA
9. Brantley County
10. Rockmart
Class A Division I
1. Prince Avenue Christian
2. Elbert County
3. Metter
4. Irwin County
5. Social Circle
6. King's Ridge
7. Crawford County
8. Whitfield Academy
9. Athens Christian
10. Pepperell
Class A Division II
1. Charlton County
2. Johnson County
3. Clinch County
4. Schley County
5. Wilcox County
6. Washington-Wilkes
7. Seminole County
8. Baconton Charter
9. Lanier County
10. ECI