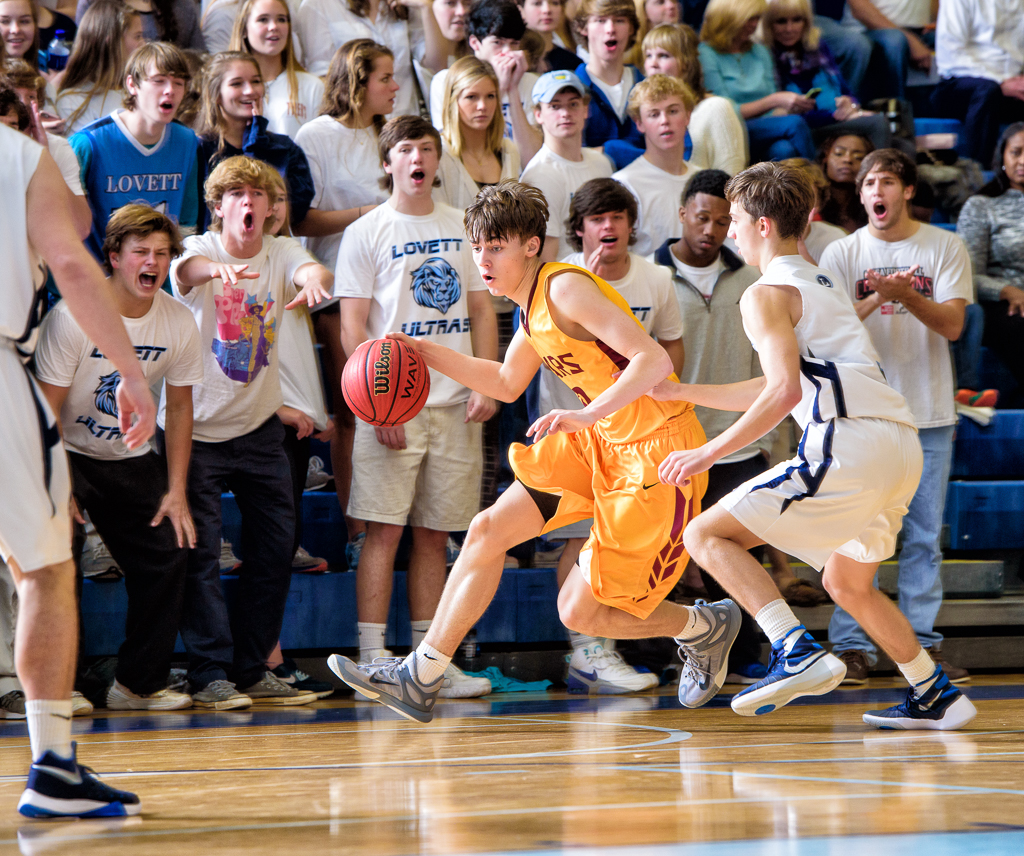 Photo By Ty Freeman
No new faces appear in the state's largest classification. Westlake holds onto No. 1 overall even after an out-of-state loss to Memphis East, 70-58. No. 3 Norcross swaps with No. 4 Wheeler after blowing out Collins Hill 93-72, who sinks three spots to No. 9. Rayshaun Hammonds was too much inside for the Eagles as he posted 25 points. Kyle Sturdivant, Jordan Goldwire and Dalvin White all had big games as well, scoring 19, 17 and 16 points respectively. Collins Hill was without starting point guard Max Clark (dislocated shoulder) and backup point guard Dez Howard (broken wrist). TeShaun Hightower scored a game-high 31 in the loss. No. 8 Dacula picked up three road wins in Region 8. On Tuesday the Falcons survived South Gwinnett in overtime, 69-68. They rallied from down 11 points with four minutes to play to force overtime. Derek St. Hilaire scored 25 while Kevon Tucker added 18 before fouling out. On Saturday things were a little easier with a 74-64 win at Central Gwinnett. Tucker poured in 33 points and 11 rebounds. St. Hilaire finished with 14 points and six rebounds while Gary Bishop sank 10 points.
Two surprising hot starts this season come via Johns Creek (8-0) and Mountain View (6-3).  The Gladiators are off to their best start in school history in search of their first ever winning season. A trio of seniors have played huge roles. Mark Lancaster powers the offense with 16.4 points and 5.4 rebounds. Mason Henkel adds 13.3 points and 5.9 rebounds per game and Ian Joseph chips in 10.6 points, 5.8 rebounds and 3.1 assists on average. Mountain View has already tied their win total from a year ago (6-20), and are finally seeing their youth pay off. They defeated 2ANo. 7 Lovett 60-57. The Bears have received a major boost from freshmen Brandon Green and Donnell Nixon. The 5-foot-6 Nixon led Mountain View with 20 points in a 63-53 win over Whitewater and scored a team-high 14 against Lovett. Sophomores Kevin Kayongo and Spencer Rodgers both scored in double figures against the Lions.
No. 1 Miller Grove holds onto the top spot in Class AAAAA after losing to Lone Peak (UT), 73-71 at the FreeTaxUSA.com Shootout on Saturday. No. 2 Gainesville pulled yet another game out of the fire to remain undefeated and atop the ever competitive Region 8-AAAAA, defeating No. 5 Cedar Shoals 80-77 in 2OT after trailing 34-25 at the half. GSU signee D'Marcus Simonds scored a game-high 40 points – 27 in the second half and 15 in the fourth – off the bench and was aided by Tae Turner's 16. Stavion Stevenson paced the Jaguars with a big first half and finished with 19 points and 10 rebounds. Jerrick Mitchell chipped in 18 points, six assists and four steals and Greg Smith, Snipe Hall and Phlan Fleming all scored 12 apiece.
No. 8 LaGrange moves up one spot after dropping 3A No. 7 Callaway, 80-68. The duo of Rico Smith (31) and a healthy LaPerion Perry (20) combined for 51 points and a handful of highlights. No. 10 Southwest DeKalb is still undefeated at 8-0 and will have a chance to shake the state as they visit No. 1 Miller Grove on Tuesday. The Panthers have an average margin of victory of 26.3 points per game this year and are eager to make a statement.
Unranked Effingham County (7-2) and Camden County (8-0) have gotten off to quick starts. Effingham defeated Statesboro 55-53 and got revenge over Swainsboro, 57-55 after losing 66-65 on Nov. 28. Deshaun Wilkenson is averaging 17.4 points per game while three other Rebels are scoring in double figures. Camden County has been powered by Ballard Logan (15.6 point, 6.1 rebounds) and Jaylen Smallwood (15.5 points, 9 rebounds).
There is no more denying No. 1 Grady as the Knights jump four spots to crown Class AAAA after four wins against ranked teams and a 62-52 win at previous No. 1 Lithonia, who falls to No. 3. The lightning quick guard play of Christian Bryant (19 points, 3 steals), Avi Toomer (16 points, 6 rebounds, 3 steals) and DJ Brittian (10 points, 5 rebounds, 4 steals) was too much for the Bulldogs who received 15 points apiece from Tyleen Patterson and Tyheem Freeman in the loss. Lithonia quickly rebounded the next night and won at No. 7 St. Pius, 55-44 behind 18 points from Jacara Cross and Freeman. Rodney Chatman scored nine points and handed out nine assists in the Region 6 victory.
Bainbridge (3-3) falls from the polls even after defeating Worth County (5-2) who also drops out. Perry makes an appearance at No. 9 thanks to the play of Damion Bagley and Georgia State signee, big man Chris Clerkley. No. 10 Monroe debuts in the poll and at 5-2, has not lost to a team in Georgia yet.
What is there to say about AAA other than it is anybody's ballgame? Three teams have been replaced in the ever evolving class. East Jackson (3-4) falls from No. 4 to out of the top ten after being upset by upstart Jackson County (5-3), 67-63. No. 3 Jenkins slips a spot after losing 70-62 to Berkmar at the Valhalla Classic. No. 6 North Clayton debuts after beating former No. 6 Cedar Grove, 52-48. No. 7 Banks County enters the top ten after defeating last week's No. 9, East Hall, 73-68. The final newcomer to the poll is No. 9 Lumpkin County. Coach Jeff Steele keeps on winning no matter where the location. The Indians are off to an 8-1 start in Steele's first year with the program after leading Johnson-Gainesville to a school-record 29-1 mark last season. Lumpkin finished just 9-20 in 2014-15, but behind a new found explosive offense led by Jack Howard, Brandon and Jacob Zarate and Zach Pulley, the Indians are well deserving of a top ten ranking in the topsy-turvy AAA. One team that has also incurred a great turnaround has been Coahulla Creek. The Colts are now 10-1 after a 14-11 season last year.
The top three of Seminole County, Crawford County and Thomasville aren't the perennial powers people in the Metro Atlanta area might be familiar with, but they are all dangerous teams that deserve respect. They are a combined 19-0 to begin the season. No. 6 Pace Academy finally won its first game of the season after a 0-3 start, capped by No. 4 GAC defeating them at Pace, 55-49. No. 7 Lovett notched a 67-63 win over No. 9 Holy Innocents'.
In Class A-Private, Whitefield Academy plummets from No. 4 to No. 7 after losing to King's Ridge (7-2), 63-55. No. 5 Lakeview Academy continues to ride Carter Reeves inside and receive great passing from Daniel Fadool. Drew Cottrell, Tre Gober and Josh Randolph are also key pieces to Coach Todd Cottrell's success. No. 8 Our Lady of Mercy and No. 9 Tattnall Square Academy both join the top ten. Tattnall picked up a 59-58 overtime win over No. 10 St. Anne-Pacelli.
Much like in AAA, Class A-Public is wild with No. 1 Treutlen and No. 2 Randolph-Clay taking over the top spots. The Red Devils of Randolph Clay beat defending state champion No. 8 Calhoun County 70-63. No. 7 Lincoln County enters the poll behind a pair of 6-foot-7 big men. Ahmad Rand was unstoppable for the Red Devils in a 78-72 win over Josey. He scored 23 points, grabbed 18 rebounds and swatted away 14 shots to post a triple-double. Zach Crite added a double-double of his own with 21 points and 10 rebounds.
Class AAAAAA
1. Westlake
2. Shiloh
3. Norcross
4. Wheeler
5. Tift County
6. Lambert
7. Newton
8. Dacula
9. Collins Hill
10. Douglas County 

Class AAAAA
1. Miller Grove
2. Gainesville
3. McIntosh
4. Allatoona
5. Cedar Shoals
6. Heritage
7. Riverwood
8. LaGrange
9. Warner Robins
10. Southwest DeKalb

Class AAAA
1. Grady
2. Jonesboro
3. Lithonia
4. Henry County
5. Liberty County
6. Sandy Creek
7. St. Pius
8. Walnut Grove
9. Perry
10. Monroe
Class AAA
1. Laney
2. Morgan County
3. Jenkins
4. Calhoun
5. South Atlanta
6. North Clayton
7. Callaway
8. Banks County
9. Lumpkin County
10. Southwest Macon
Class AA
1. Seminole County
2. Crawford County
3. Thomasville
4. GAC
5. Vidalia
6. Pace Academy
7. Lovett
8. Early County
9. Holy Innocents'
10. Temple

Class A-Private
1. Greenforest
2. St. Francis
3. North Cobb Christian
4. SWAC
5. Lakeview Academy
6. Landmark Christian
7. Whitefield Academy
8. Our Lady of Mercy
9. Tattnall Square Academy
10. St. Anne-Pacelli

Class A-Public
1. Treutlen
2. Randolph-Clay
3. Taylor County
4. Terrell County
5. Wilkinson County
6. Hancock Central
7. Lincoln County
8. Calhoun County
9. Hawkinsville
10. Atkinson County