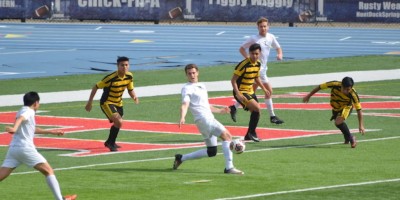 Collins Hill tops Class 7A this week and leads South Forsyth, Lambert, Walton and Hillgrove in the top 5. Mountain View, Mill Creek, Denmark, Milton and Meadowcreek round out the top 10.
Lassiter leads Class 6A with Johns Creek, Riverwood, Sprayberry and Lanier in the top 5. McIntosh leads Class 5A with Dalton, Clarke Central, Tucker and Chapel Hill filling the top 5. In Class 4A, Johnson-Gainesville tops Westminster, Southeast Whitfield, Perry and Chestatee in the top 5.
Columbus is the team to beat in Class 3A with Oconee County, Wesleyan, Coahulla Creek and Bremen rounding out the top 5.
Landmark Christian leads Class 2A ahead of Providence Christian, Fitzgerald, North Murray and Union County filling the top 5. In Class A Division I, Tallulah Falls leads the way and in Class A Division II, Lake Oconee Academy is ranked at the top.
Class 7A
1. Collins Hill
2. South Forsyth
3. Lambert
4. Walton
5. Hillgrove
6. Mountain View
7. Mill Creek
8. Denmark
9. Milton
10. Meadowcreek
Class 6A
1. Lassiter
2. Johns Creek
3. Riverwood
4. Sprayberry
5. Lanier
6. Blessed Trinity
7. Gainesville
8. South Effingham
9. Veterans
10. River Ridge
Class 5A
1. McIntosh
2. Dalton
3. Clarke Central
4. Tucker
5. Chapel Hill
6. Greenbrier
7. Kell
8. Midtown
9. Villa Rica
10. Cambridge
Class 4A
1. Johnson-Gainesville
2. Westminster
3. Southeast Whitfield
4. Perry
5. Chestatee
6. Islands
7. North Oconee
8. Whitewater
9. Lovett
10. East Hall
Class 3A
1. Columbus
2. Oconee County
3. Wesleyan
4. Coahulla Creek
5. Bremen
6. Savannah Christian
7. Pike County
8. Savannah Country Day
9. Harlem
10. Hebron Christian
Class 2A
1. Landmark Christian
2. Providence Christian
3. Fitzgerald
4. North Murray
5. Union County
6. Model
7. Putnam County
8. Savannah Arts
9. Tattnall County
10. Pierce County
Class A Division I
1. Tallulah Falls
2. Paideia
3. Atlanta International
4. Bacon County
5. Bleckley County
6. Whitefield Academy
7. Trion
8. Dalton Academy
9. Woodville-Tompkins
10. Mount Vernon
Class A Division II
1. Lake Oconee Academy
2. Georgia Military
3. Atkinson County
4. Christian Heritage
5. Dooly County
6. Portal
7. Aquinas
8. Chattahoochee County
9. Echols County
10. Hawkinsville