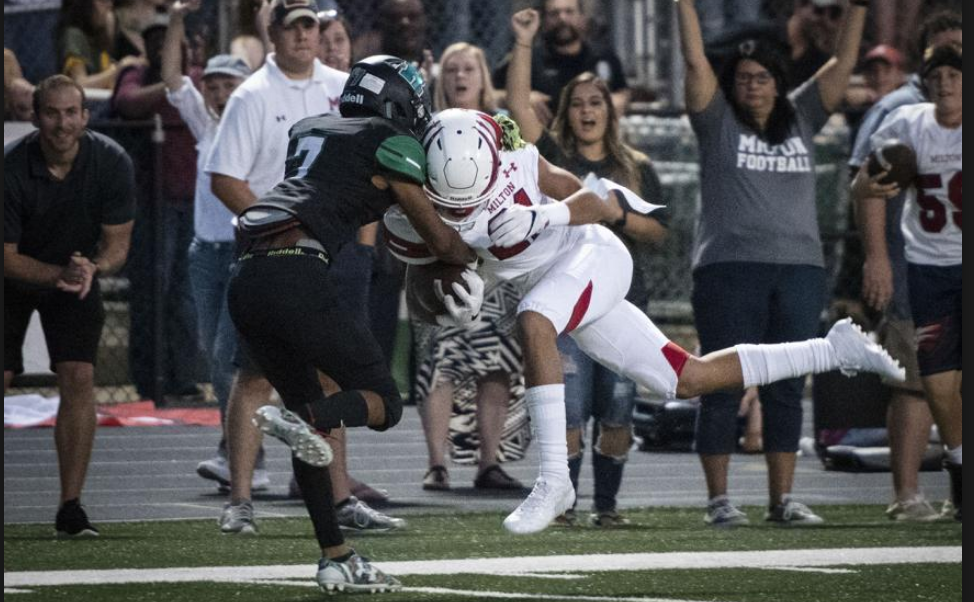 In Class AAAAAA, No. 1 Colquitt County cruised past Warner Robins 41-14 and No. 2 Walton squeezed out a 27-24 win over No. 4 North Gwinnett. Milton dropped to No. 7 after a 22-20 loss to rival Roswell, which debuts at No. 9 after its 4-0 start and first signature win of the season.
Class AAAAAA No. 1 Lee County moved to 5-0 with its 50-0 victory over Southwest on the back of a four-touchdown performance from Kyle Toole. Coffee beat Miller Grove 35-0 to move to 5-0 on the season after scoring on five of its first six possessions. Harrison, Creekview and Sequoyah round out the top-5.
No. 1 Rome won a 65-51 shootout against Class AAAAA No. 4 Carrollton and Kell's 33-31 loss to East Paulding dropped the Longhorns out of the poll and made room for Southwest DeKalb to debut at No. 10.
In Class AAAA, Troup replaces Marist at No. 4 and St. Pius jumped to No. 5. A shift in the top-5 also occurred in Class AAA as No. 3 Peach County dropped to No. 5 following its home-loss to Class AAAA No. 2 Mary Persons. Calhoun is the top-team in the class with Cedar Grove at second again. Monroe Area is third ahead of No. 4 Westminster. Peach County settled at fifth.
Top-ranked Hapeville Charter beat Therrell 58-0 after leading 51-0 at the half and is again the team to beat this week. Callaway, Thomasville, Bremen and Rockmart make up the top-5 this week. Second-ranked Callaway fell to AAAA No. 5 Troup 37-20 yet remains at the No. 2 spot.
Eagle's Landing Christian is in the lead of Class A-Private again this week after defeating Holy Innocents' 48-14. Athens Academy, which had the week off last week, is chasing. Third-ranked Prince Avenue, fourth-ranked Darlington and fifth-ranked Calvary Day make up the top-5.
In Class A-Public, Irwin County used a 21-3 win over former No. 1 Clinch County to take over the top spot.
Class AAAAAAA
1. Colquitt County
2. Walton
3. Grayson
4. North Gwinnett
5. Parkview
6. Archer
7. Milton
8. McEachern
9. Roswell
10. Marietta
Class AAAAAA
1. Lee County
2. Coffee
3. Harrison
4. Creekview
5. Sequoyah
6. Valdosta
7. Northside-Warner Robins
8. Alpharetta
9. Douglas County
10. Tucker
Class AAAAA
1. Rome
2. Buford
3. Stockbridge
4. Carrollton
5. Jones County
6. Warner Robins
7. Wayne County
8. Ware County
9. Dutchtown
10. Southwest DeKalb
Class AAAA
1. Blessed Trinity
2. Mary Persons
3. Cartersville
4. Troup
5. St. Pius
6. Flowery Branch
7. Marist
8. Eastside
9. Woodward Academy
10. Burke County
Class AAA
1. Calhoun
2. Cedar Grove
3. Monroe Area
4. Westminster
5. Peach County
6. Greater Atlanta Christian
7. Benedictine
8. Jefferson
9. Pace Academy
10. Dawson County
Class AA
1. Hapeville Charter
2. Callaway
3. Thomasville
4. Bremen
5. Rockmart
6. Dodge County
7. Rabun County
8. Washington County
9. Vidalia
10. Brooks County
Class A-Private
1. Eagle's Landing Christian
2. Athens Academy
3. Prince Avenue Christian
4. Darlington
5. Calvary Day
6. Savannah Country Day
7. Aquinas
8. Mt. Paran Christian
9. George Walton Academy
10. Fellowship Christian
Class A-Public
1. Irwin County
2. Clinch County
3. Commerce
4. Pelham
5. Marion County
6. Charlton County
7. Manchester
8. Mt. Zion-Carroll
9. Turner County
10. Trion