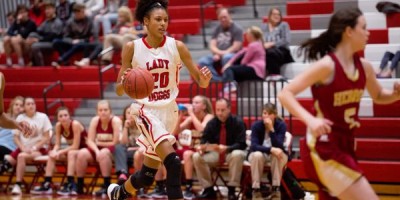 Olivia Nelson-Ododa of Class 6A No. 1 Winder-Barrow.
Class AAAAAAA has a new No. 1 with Westlake and two new teams debuting in the poll with No. 9 South Gwinnett and No. 10 Cherokee replacing Lambert and Mill Creek. Colquitt County jumped Newton to crack the top 5 and former No. 1 McEachern slides down to No. 2 after suffering its second loss of the season.
In Class AAAAAA, Northview dropped to No. 5 with its second loss of the year and undefeated Winder-Barrow is the new No. 1. Buford and Flowery Branch remain No. 1 and No. 2 in Class AAAAA, while strong starts by Bainbridge and Harris County force Warner Robins and Griffin out of the poll.
Carver-Columbus has protected its status as Class AAAA No. 1 with a 6-0 start and Marist and Baldwin have used their own 6-0 runs to start the year to debut in the poll at No. 9 and No. 10 respectively.
The top-ranked and defending-champion Beach Bulldogs are still in control of Class AAA. GAC, which fell to Beach in the semifinals last year, is second. Franklin County, Central-Macon and Johnson-Savannah round out the top 5.
The defending-champion Laney Wildcats hold the top spot in Class AA. Star De'Sha Benjamin, an Alabama-signee, averages nearly 28 points, 9 rebounds and five assists per game. Rabun County, last year's runner-up, is in the No. 2 spot. Swainsboro, Fitzgerald and Model finish out the top 5.
Holy Innocents' claimed Class A-Private No. 1 over rival Wesleyan and St. Francis rounds out the one-loss top 3. In Class A-Public, top-ranked Pelham is safe after 6-0 start to the season and Greenville jumped two spots to No. 5 after a 5-0 start to the season.
Class AAAAAAA
1. Westlake
2. McEachern
3. Norcross
4. Collins Hill
5. Colquitt County
6. Newton
7. Brookwood
8. North Forsyth
9. South Gwinnett
10. Cherokee
Class AAAAAA
1. Winder-Barrow
2. Lovejoy
3. Harrison
4. Alpharetta
5. Northview
6. Forest Park
7. Sequoyah
8. Stephenson
9. Tucker
10. Northside-Warner Robins
Class AAAAA
1. Buford
2. Flowery Branch
3. Carrollton
4. Eagle's Landing
5. Jackson
6. Villa Rica
7. Dutchtown
8. Southwest DeKalb
9. Bainbridge
10. Harris County
Class AAAA
1. Carver-Columbus
2. Spalding
3. Henry County
4. Luella
5. Northwest Whitfield
6. Jefferson
7. West Hall
8. Madison County
9. Marist
10. Baldwin
Class AAA
1. Beach
2. Greater Atlanta Christian
3. Franklin County
4. Central-Macon
5. Johnson-Savannah
6. Lovett
7. Dawson County
8. Haralson County
9. North Murray
10. Hart County
Class AA
1. Laney
2. Rabun County
3. Swainsboro
4. Fitzgerald
5. Model
6. Putnam County
7. Banks County
8. Dodge County
9. Berrien
10. Dublin
Class A-Private
1. Holy Innocents'
2. Wesleyan
3. St. Francis
4. Landmark Christian
5. Stratford Academy
6. Our Lady of Mercy
7. Christian Heritage
8. Athens Academy
9. Fellowship Christian
10. Pinecrest Academy
Class A-Public
1. Pelham
2. Telfair County
3. Wheeler County
4. Marion County
5. Greenville
6. Woodville-Thompkins
7. Wilcox County
8. Macon County
9. Terrell County
10. Mitchell County