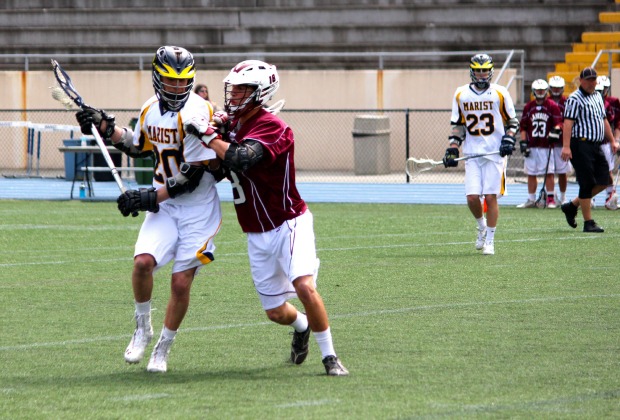 In Class 6A-7A, top-ranked Lambert's 8-1 start to the season encases a 7-0 record against instate opponents.  The Longhorns' perfect 7-0 start boasts a whopping 17.1 goals per game average and an average margin of victory of 13.4 goals per game. Lambert's most recent victory came in a 17-3 blowout against Walton on Saturday. Lambert is listed as the No. 3 team in USLacrosse Magazine's South Top 10. The only other Georgia team currently represented on this top 10 is Centennial, which Lambert defeated on the road 20-11 on Feb. 28.
While Lambert strengthened its uninterrupted grasp on No. 1, a surprising new No. 2 in Class 6A-7A emerged. The Mill Creek Hawks have risen to No. 2 by using a 10-0 start that includes signature victories over ranked opponents. Mill Creek has defeated South Forsyth (13-2) and Johns Creek (10-9) this season, but the victory over Johns Creek holds the most influence in the Hawks' rise to No. 2.  Johns Creek defeated Pope 11-9 on Saturday and would be undefeated other than the one-goal loss to Mill Creek on March 3. Pope, which was also in the running for No. 2 last week, has now suffered an 11-10 overtime loss to Centennial and a 11-9 loss to Johns Creek in back-to-back weeks to help open the door for the Hawks. Centennial's only loss this season was to No. 1 Lambert and its win over Pope was enough to push the Knights into the top 4. Last week's No. 2 Lassiter was replaced by Mill Creek for No. 2 after the Trojans fell to Westminster 7-6 on Saturday. Unlike Lassiter, Pope defeated Westminster on the road in an 8-6 battle on Feb. 25. Pope's back-to-back losses dropped the Greyhounds in the poll, and the result was Lassiter's loss to Westminster failing to stack up to Mill Creek's 10-0 start.
In Class A-5A, Westminster scored a 7-6 victory over Lassiter to protect its spot at No. 1. No. 2 Lovett defeated Buford 18-5 and No. 3 Marist extended its winning streak to five games with a 7-4 win over Chattahoochee Wednesday night.
In Class 6A-7A girls, Milton dropped a trio of cross-state matches last week but sit at No. 1 with five more out of state games still on the slate this season. No. 2 North Gwinnett defeated previous No. 4 Mill Creek 14-12 and undefeated Lassiter jumped the Hawks for this week's No. 4. Northview and Lambert replaced Hillgrove and Lakeside-Evans in the poll.
Fellowship Christian scored a 16-9 victory over Woodward Academy to knock the War Eagles to No. 9. Wesleyan, which lost to Woodward Academy 11-7, but defeated Fellowship Christian 13-10, takes over at No. 7.
BOYS
Class 6A-7A
1. Lambert (8-1)
2. Mill Creek (10-0)
3. Centennial (7-1)
4. Johns Creek (7-1)
5. Lassiter (5-1)
6. Pope (8-2)
7. Milton (6-2)
8. Walton (6-2)
9. West Forsyth (11-1)
10. Cambridge (6-2)
Class A-5A
1. Westminster (7-1)
2. Lovett (7-1)
3. Marist (6-2)
4. Buford (5-3)
5. Greater Atlanta Christian (3-3)
6. Blessed Trinity (7-4)
7.  Starr's Mill (8-1)
8. Woodward Academy (6-2)
9. Whitewater (6-1)
10. Whitfield Academy (7-2)
GIRLS
Class 6A-7A
1. Milton (5-3)
2. North Gwinnett (11-0)
3. Walton (6-1)
4. Lassiter (7-0))
5. Mill Creek (7-3
6. Cambridge (8-2)
7. Johns Creek (6-2)
8. Pope (3-4)
9. Northview (6-1)
10. Lambert (7-3)
Class A-5A
1. Westminster (6-3)
2. Starr's Mill (5-0)
3. Blessed Trinity (8-2)
4.McIntosh (7-0)
5.St. Pius (8-2)
6. Marist (6-1)
7. Wesleyan (4-3)
8. Kell (3-6)
9. Woodward Academy (2-4)
10. Pinecrest Academy (7-3)